We are working with a lot of government organisations, whether it is state or city boards or different police organisations. So while the SWANs are going on parallel, we are working on a lot of other things", says Lt. Col. H. S Bedi, VSM, CMD, Tulip IT Services Ltd. in an exclusive to egov magazine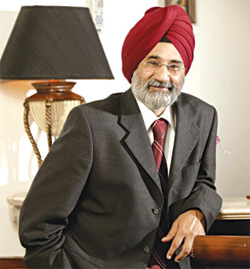 The government of India plans to provide rural connectivity across the country. Tulip is an IT infrastructure and connectivity provider. How is Tulip set to utilise this opportunity?

When you talk about e-Governance, there are different initiatives that the government is rolling out. One of course is the setting up of the State Wide Area Networks (SWANs), the second is the connectivity we require for various e-Governance initiatives. As far as setting up of e-Governance networks is concerned, Tulip is a major player in this field, we have already been awarded three SWAN networks, for Haryana, which has just been completed, Assam and West Bengal. For the fourth state, which is Uttranchal, we are awaiting the order to be awarded. As far as providing connectivity is concerned, Tulip today has the largest network that reaches over 1100 cities & towns. Going forward, we intend to have a network that reaches every village in the country. We believe that we will probably be among the best placed, to be able to provide these services.
Tulip has the largest wireless roll-out infrastructure and combination of networking skills, and thus an automatic partner for rural connectivity. Please tell us about some of your projects with the government, especially the Akshaya project in Kerala, for providing rural connectivity?

As far as Akshaya is concerned, it was the first large scale project of this kind and probably the largest that has been done, where the benefits of the project were to be extended to all subscribers in the district. This actually became the case study on the basis of which e-Governance projects have been taken up. Going forward, we are looking at implementing a large number of similar projects
We are working with a lot of government organisations, whether it is state or city boards or different police organisations. So while the SWANs are going on parallely, we are working on a lot of other things. Simultaneously, we are working with organisations that are setting up Citizen Service Centres because these centres will require a high amount of bandwidth and the only option available other than ours is VSATS, which has major shortcomings in terms of latency and the amount of bandwidth that can be delivered. So we believe that terrestrial solution, which we offer, is the only way forward and we are working really hard for that. We expect to be able to provide connectivity to a large number of Common Service Centres (CSCs).
What are the IT solutions that Tulip offers to the government in its mission to deliver services to the citizens?

We are not into applications, we are more into IT infrastructure, so where ever requirements come up for IT infrastructure, we will be there. We are also looking at providing solutions in the data centre space, since the government also has data centres coming up, we will also be bidding for the data centres. We have already set up some data centres for two of the state governments- government of Goa and government of Uttranchal. Data centres are one part, besides that of course, every other service that goes with IT solutions, we are going to pitch for.

What is your opinion regarding National e-Governance Plan (NeGP). What are some of the challenges and how can we overcome them?

The National e-Governance plan is primarily trying to create an infrastructure on which government services could be rolled out and using which connectivity and services to the various government departments can be given. I do feel that one place where it is lagging is the availability of applications. I think that it is one area where adequate progress has probably not been made and we do not yet have applications to meet the large number of requirements. Other than that I think that things are going well.

How important are the private sector partnerships in implementing NeGP?

The private sector has come forward very well, for every bid, you find a very large number of bidders and you find the bids becoming more and more competitive, so obviously the private sector is very upbeat about participating in these projects. The private sector has a major role as government is a policy making body and an enabler but the projects need to be rolled out by network integrators and vendors-public or private. I think, in that regard, the private players have come forward in a big way, I feel everyone has been very upbeat about it.
Could you tell us more about what you think is the strength of the private sector (vis-a-vis the government)?

The government is an enabler, it is a coordinator, it is not a vendor. To implement the projects, government needs vendors. Thus the role played by the government is paramount because they are conceptualising the citizen centric IT services, interacting with technology partners, and ensuring the availability of funds, in a very transparent and organised manner. In fact the website of the National e-Governance plan, showcases the entire plan.
The private sector players on the other hand are more in to actual ground level implementation of these projects. They bring to the table their expertise, strengths and experience in handling similar projects with ease. They are able to own the entire implementation process and ensure timely technology and commercially compliant solutions Tulip has ventured into providing end-to-end fibre connectivity in major cities in India. Please tell our readers more on this. Basically we lease fibre between cities from multiple service providers, with a view to create high levels of redundancies in our core networks. Recently we have laid out our own fibre in all major cities of the country. The aim being that we should be able to reach wherever we have customers, as others may not be reaching there, secondly to put a firewall between our customers and our vendors so that our customers are not visible to everybody else and also to increase our network reach and our ability to provide connectivity the way we want. With that aim, we started moving on in ten major metropolitan cities in India, but going forward, based on the demand that is generated, we will keep increasing this. We are looking at rolling-out fibre in a few states, right across the states. We have identified three states where we would probably be rolling out fibre right across the states.
What are some of your plans to expand your market in India and outside?

We are looking at impressive growth charts in the near future. We are now investing much more in R&D, hiring the best people for multi dimensional roles, and we continue to expand our network to cover each and every corner of the country. As a matter of fact, we plan to cover each and every village in the country in the next 2 years. We are looking at growing quite substantially domestically and internationally.
Follow and connect with us on Facebook, Twitter, LinkedIn, Elets video