Lic-Private-Partnership (PPP) provides an  opportunity for private sector participation in financing, designing, construction, operation & maintenance of  public sector Programmes and projects. Educomp Solutions Limited works very closely with various Governments, Ministry of IT, Ministry of HRD, and Govt. of India  in the execution of educational programs, teacher  training and content development projects under the  PPP model.
Assam: Winds of change

The North East is one of the most ethnically and linguistically diverse regions in India, comprises States of Arunachal Pradesh, Assam, Manipur, Meghalaya, Mizoram, Nagaland, and Tripura. North East India is a region with strong natural and human resources. However, it has remained backward in the field of communications and even after 60 years of Independence, the region has a poor economy and connectivity remains a problem. While various development schemes and tools have been devised over the years, the emergence of Information and Communication Technology (ICT) as a tool of development across different parts of the world opens up new possibilities.
It is widely accepted that the integration of modern Information and Communication Technologies (ICT) into the teaching learning process has great potential. The use of computers in High & Higher Secondary schools is basically vision as a teaching and learning aid besides to develop computer literacy amongst the children. Computer aided learning will help to make the present teaching learning process joyful, interesting and easy to understand through audio-visual aids.
AMTRON on behalf of State government of Assam has moved ahead to tap these opportunities for High and Higher Secondary Schools across the state in phase manner by harnessing the potential of Information Technology to aid educational transaction to improve its quality education.
The Rajiv Gandhi Computer Literacy Programme (RGLP)-an innovative effort of Government of Assam in introducing computer literacy and computer aided learning in schools, was launched in the year 2003. RGCLP is a good beginning for disseminating education among rural children effectively and economically. The gap between people and information technology and education which exists due to lack of infrastructure facilities is now being bridged. Schools in the most rural and remote area have been turn into an information-hub under this project. Educomp Solutions Ltd. has been entrusted by the Government of Assam to implement the programme on Build, Operate and Transfer (BOT) basis in 100 numbers of High Schools under Phase-IV across 10 districts in the state.
As a part of the programme a state-of-art ultra modern computer lab is being constructed in the 100 schools wherein IT Infrastructure have been installed in one of the classrooms of the school and two Computer Faculties have also been deployed in each school. An interactive training has also been provided to all the Computer Faculties for transacting the classes covering both theory and hands-on sessions. Printed guidelines, manuals and lesson-plans have also been provided to the trainees for ready references. More than 60,000 students of Class V-X are being covered through the project. It not only contains school curriculum but each student are taken through an eventful journey of self discovery, positive relationships, and creative expression through an innovative methodology including Observation, Retention and Implementation.
Educomp Solutions Ltd. has taken up the challenges in translating the dreams into reality by converting remote classrooms into an IT hub by traversing the hurdles which includes areas inhabited by ethnic tribes, militant and difficult groups. Our LABs are first in areas like remote forest in Kokrajhar [Assam-Bengal border] and in Char-reverine areas of Dhubri where in only communication is though country boats. It's a challenge for us and we are committed in this eventful journey
Orissa: Impact of BICEP (Biju Pattaniak Computer Aided Education Project)

Educomp Solutions Ltd. has been selected by Orissa Primary Education Program Authority (OPEPA) as an implementing agency to set up the Computer Lab & to provide  the Multimedia Based Content CDs in Science,  Mathematics, Computer Literacy and English in Oriya and provide Training to 600 teachers covering 300 Schools  across the state.
Kanak Manajari Devi, Asst. Teacher, Bapuji Nagar UP School, Bhubaneswar, has been instrumental in bringing a slum girl, Suneeta Digal to the school. Suneeta is severely deprived of minimum amenities of livelihood. Suneeta, although had enrolled her name in the school but happened to be irregular attending the school due to poverty and deprivation. She works as a part-time babysitter in a nearby house in terms of some food and money. Her mother works as a maidservant in the nearby household to sustain her family. Her father works as a daily laborer.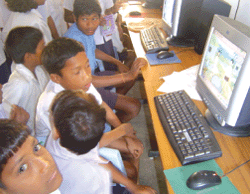 Once Kanak Manjari Devi came to know that in Suneeta's master's house there was a computer for his children and she is allowed after her household work to see the computer being operated by her masters children. Suneeta showed her eagerness towards computers before the teacher who then clarified her that State government of Orissa has provided computers to the schools under Biju Patnaik Computer Aided Education Programme (BiCEP) and the students are  allowed to learn computers free of cost. Then she got interested to come to school and learn computers. Next day Suneeta came to school properly dressed and with  seriousness. Then Kanak Manjari took her to the CAE lab and made her exposed to CAE, and then she became so excited that she told that it's just like dream becoming true for a  poor girl like her.
Kanak Manjari Devi has taken a personal initiative to  bring Suneeta back to school. Devi is very sincere and takes extra effort to make girls becoming literate as good as computer literate.
Chhattisgarh: A step towards creation of Knowledge Society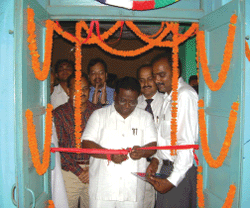 The Government has expressed a strong commitment  towards education for all; however in India Schedule Caste and Tribal population still lagged behind. But in order to improve the quality of economic, social and spiritual lives and coping with changes to their living standards, as well as for  providing protection from exploitation. Further without appropriate levels of education opportunities are  being restricted for Schedule Caste and Tribes to fulfill their collective responsibility to participate in bringing about
social change.
Seeing & Understanding the need to educate the SC/ ST Student Department of Tribal Welfare, SC/ST Development, Govt. of Chhattisgarh has moved ahead to provide Computer Education to the SC/ST Students to make them computer literate. Educomp Solutions Ltd. was chosen by the Government of Chhattisgarh to implement the programme on Build, Own & Operate (BOO) basis in the selected 340 Hostels across nine districts in the state.
The project includes setting up a computer lab in each hostel across the State. The computer lab will be equipped with computer hardware, software, multimedia based educational content & teaching materials and basic facilities. A full time teacher is deployed at the respective Hostel in Hostel to guide students on the usage of computers and impart computer aided education (CAE).
The programme will initiate a new learning revolution in bringing learning to life and in opening new gateways for every child. The programme aims at providing education for all round development of a child.
(written based on contributions from Ibrahim Nafis, Lalatendu Mohanty, monika Talwar and Subrat Biswas) .
Follow and connect with us on Facebook, Twitter, LinkedIn, Elets video