Increasingly defence organisations are relying on technologies-databases , middleware, collaboration capabilities and business applications-based on open standards. These help organisations get more from existing technology.
Defence organisations are turning to advances in Information Technology to help them modernise their military. In the past few decades, the challenges that the defence organisations have confronted have been dramatically different from the past.  Troops continue to guard not only international borders but also play a key role in preventing infiltration by anti-national elements. While defence budgets are increasing, the initiatives that need funding are also increasing.  There is a need to equip soldiers with 21st century weapons. However, increased spending on weapons modernisation must compete with the increased budgetary allocations on priority sectors like education, health and social welfare.
The armed forces must also compete with the private sector to attract, retain and develop a highly skilled, professional workforce. The battlefield environment is now dominated by sub-conventional warfare and the forces are combatting an enemy that is hidden and undefined. This demands a workforce that possesses a high educational standard, is physically fit and mentally alert.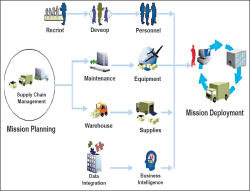 The above challenges have highlighted the need for a revolutionary change in the nation's defence systems and processes. The vision is to have a coordinated organisation that can flexibly respond to military threats and use Information Technology as a key asset. There is a growing realisation that Information Technology must facilitate the transformation of the defence forces and strengthen India's military capabilities.
Defence Information systems must support the achievement of the following outcomes:
Force Readiness: Hire, support, and retain military and civilian personnel with the skills to meet the mission needs.

Logistics Modernisation: Provide logistics support that responds to the needs of the warfighter at an affordable cost.

Network Centric Operations: Support information based warfighting with interoperable network centric systems.
Force Readiness

Human capital is a key differentiator for the defence forces. Today, agencies like US Navy Recruiting Command are adopting 'Targeted Marketing Campaigns' to recruit the right people. The right candidates need to be attracted and their interest sustained through regular interactions. Such interactions also help capture new recruit priorities and preferences. Job candidates are approached in the same way as prospective customers: carefully identified and targeted, attracted to the defence force and its brand, and then sold on the job.
Having recruited the right people, it is vital to align the officer's action with the mission and goals of the defence agency.
To achieve this, organisations must follow the editorial best practices for communicating internal news and events. Knowledge Portals enable employees to submit information within their departments as well to a broader audience. A centralised knowledge repository also helps relieve employees of the administrative burdens of accessing information while enabling them to remain focused on the job at hand.
The tracking of the skills and qualifications of personnel and enabling detailed insight into performance and career path progression helps increase employee satisfaction.
Logistics Modernisation
As war strategy becomes more dependent on rapid implementation and quick response, it is essential that real-time logistics systems be in place that can get the troops the resources, provisions, weapons and machine parts that are needed to support them.
Business processes to 'manage and maintain assets' make sure that assets are serviced and are always ready for use.

Device Relationship Management uses the Internet to access real-time information trapped in intelligent devices and transforms it into business insight.

With remote diagnostic ability, the service delivery model does not have to be reactive in nature.

With a proactive service delivery, service organisations can become more customer-centric by anticipating problems.
Preventive Maintenance Solutions provide the ability to proactively keep the customers up and running without costly downtime. With multi-trigger ability, preventive maintenance is no longer tied to monthly, quarterly, or annual time intervals. Usage and threshold triggers fire-off whenever there is a sign that equipment requires preventive maintenance.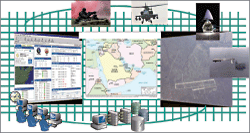 Network Centric Warfare Operations

Military organisations are undergoing their most extensive transformation since decades and are rapidly evolving from an industrial-based model to a 21st-century information-based war fighting force. Network-centric warfare is emerging as the guiding paradigm for driving this transformation and, in a reversal of roles from previous transformations, is drawing its guidance from the commercial business world.
Imagine a scenario when soldiers on ground – or horseback- using laptops or PDA's send latitude/longitude to orbiting aircraft which then launch precision-guided munitions to defeat enemy armor and artillery.  This is an example of information-based war-fighting, where systems are inter-connected in near real-time and provide order-of-magnitude improvements in the ability to bring commander's intent and overwhelming force to the enemy at precise points.
The current issues facing the military are how to best make use of Information Technology (IT), how should the military's 21st century IT infrastructure be built, and how will forces organise to make the most use of IT.
The military is beginning to realise the power of finding and sharing relevant information and using it in a timely manner to keep our enemy off balance. Threats, targets, intelligence analysis, logistics information, and personnel data can now be weaved together to paint that common operational picture and allow the theatre commander to prioritise missions much more rapidly than before. The theatre commander must have information systems that can recognise sensitive information and the users who need it in a flexible yet secure way.
Network-centric operations require a high degree of collaboration over a robust technology infrastructure. Real-time target planning, intelligence sharing, 'self synchronisation' and the ability to get inside the enemy's decision loop all require users in different locations to be able to share information simultaneously. Collaboration technologies provide electronic chat rooms, virtual whiteboards and the ability to manage voice, video and data.
A critical element of establishing the common operational picture is the ability to represent data in geographic terms, such as force structure and threats arrayed on a map. This helps the commander, war fighting forces, and intelligence analysts and logistics providers to synchronise and respond to events in much shorter time-frames. In a network-centric information infrastructure, geographic imagery is referenced to predefined spatial coordinate systems to provide accurate targeting and intelligence analysis capabilities.
CONCLUSION

Increasingly defence organisations are relying on technologies –databases, middleware, collaboration capabilities and business applications –based on open standards. These help organisations get more from existing technology.
Physical assets are less important than the intelligent use of knowledge. Agencies with technology infrastructures and business practices that help them get inside the decision cycle of their enemies are at a decided advantage
Follow and connect with us on Facebook, Twitter, LinkedIn, Elets video