Enabling Environment for e-Governance
A Suggested Model for e-Government Project Assessment
Piyush Gupta, National Institute of Smart Government, Hyderabad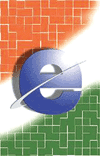 Abstract: Electronic Governance (e-Governance) has received a tremendous interest world over.  Significant amount of money is being put into making e-Governance a reality.  A number of Projects are being taken up at various levels, it therefore becomes important to make reasonable means of assessment to see whether the projects have achieved or are going to achieve their planned goals. Proper assessment of these projects gives us crucial learning on the kind of changes needed to be done to make them successful. This paper is based on the research work being done by the author. The paper addresses the key issues and challenges in assessing e-Gov projects and proposes a model for project assessment.  The proposed model approach and focus is on the value it derives for the various stakeholders. One of the components of this model has been piloted in one of the assessment studies at the National level in India.
Emerging e-Government Challenges:  Past Imperfect, Present Tense but Future Promising
Dr .Dinesh Chandra Misra, Indian Administrative Services (Retired)
Abstract: This paper overviews the e-government scenario as it obtains at the end of 2007 and identifies sixteen emerging e-government challenges which can help policy makers in e-Government policy formulation and implementation highlighting the central position of efficient public service delivery and certain e-Government developments like global and national league tables, information explosion, knowledge utilisation, technology forecasts, management information systems (MIS's), e-Government project monitoring, wiki technology, semantic web, artificial intelligence (AI), legal enablement of government-to-government (G2G) and government-to-citizen (G2C) e-governments, public policy and e-Government and concludes that e-government's past has been imperfect and its present is also tense but its future continues to be very promising.
Integrated Delivery of e-Services
Integrated Delivery of e-Services –  Lessons Learned from International Experience
Joan McCalla, Distinguished Fellow, Internet Business Solutions Group, Cisco Systems Inc.
WINNER OF THE BEST PAPER AWARD FOR THE YEAR 2007-2008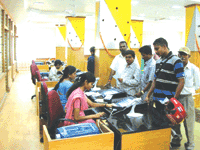 Abstract: Governments around the world are harnessing the potential of network based technologies to improve convenience and speed of service delivery to their citizens and businesses as well as to increase overall efficiency and effectiveness of government.  Based on almost 30 years of public service experience, most recently as the chief strategist with the government of Ontario, Canada with responsibility for leading the government's successful e-Government strategy, and now as a member of the global public sector team with Cisco's Internet Business Solutions Group, this paper presents practical lessons learned by the author on how to plan, manage, and deliver a successful integrated service strategy.  After a brief section to identify the challenges, the paper suggests multiple parallel solutions for consideration and discussion of the conference attendees.
Public-Private Participation in Public Service Delivery in Kerala- The Akshaya Experience
S N Mukhopadhyaya, COO, Infrastructure Leasing & Financial Services Ltd., New Delhi

Abstract: This paper intends to explore the unique PPP model adopted by Akshaya project implemented in the State of Kerala for delivery of integrated e-Services. Akshaya centres in Kerala has primarily leveraged on   the development focus of the local body institutions for bringing ICT to the root level. This paper delves into the organisational framework of the Akshaya centres and the background under which a PPP model at the panchayat level for e-Services is put in place.
e-Governance and Development
Computerisation for Process Reforms in Public Works Department, Assam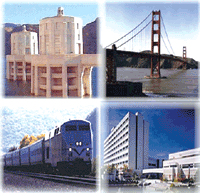 Diganta Goswami, Assistant Engineer, PWD and Nodal Officer, Chief Engineer, PWD (Roads), Chandmari and Rameesh Kailasam, Director, Oracle India e-Governance Center of Excellence, Gurgaon Abstract: Good roads, bridges and building infrastructure is a critical input for the growth of a state's socio-economy, not only for Assam but the entire North Eastern region in India or the World for that matter. The Public Works Department (PWD) in the state of Assam is engaged with the task of construction and maintenance of roads, bridges and buildings infrastructure. Assam has the potential to be among the better states in the country by virtue of being the gateway to north-east India in addition to possessing the potential to be the business hub of South Asia from China to Indonesia and Singapore because of the land route it offers. A quantum jump in the functioning system of PWD Assam is inevitable to gear itself up to deliver the goods. The Assam PWD Computerisation Project (APCP) is a project designed against the backdrop and is being implemented to revitalise the department through business process reengineering and workflow based systems. This paper shares the process of Commercial off the Shelf (COTS) ERP implementation (Oracle and Primavera) in a complex government department like PWD and how our learning can be applied to other departments.
Role of e-Governance in Development
Prinima Gupta and Jyoti Pruthi, Dr B.B Bansal, Manav Rachna College of Engineering, Faridabad.
Abstract: India is facing a large number of challenges that are typical of developing countries. New information and communication technologies can make a significant contribution to the achievement of good governance goals.  e-Governance can make governance more efficient and more effective, and bring other benefits too. The Indian government has for the past three decades widely acknowledged that expanded use of ICT in the public and private sector can offer important benefits such as improved planning and monitoring mechanisms, cost savings and more effective administration and delivery of certain public services. Today, wide range of e-governance projects are being implemented in different parts of the country including projects aimed at reaching areas and people that had traditionally not been connected to the outside world. The paper outlines the application of e-Government framework and the potential role of e-Government in the development of India. It is not only concerned with the way e-Government model can be adapted by India, but also clearly explains its potential impact to the society's life, business sector and economy as a whole.
e-Governance and Rural Sector
Methodology to Establish a Traceability Matrix using ICT for e-Governance in Rural Development
Indu Gupta, Scientist, Prashant Kr.Mitta, Scientist, Sunita Jain, Vikas Aggarwal, National Informatics Centre, Rajasthan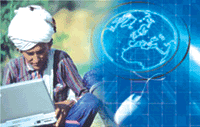 Abstract: In this paper a methodology has been suggested to map the scheme and beneficiary through the ICT, which has been implemented in the state of Rajasthan by the State Rural Development Department. In the proposed methodology, the focus would be on enforcing uniform identifiers for location, scheme and citizens.
e-Governance Aiding Rural Development
Anupama Sharma and Piyush Pant, Institute of Rural Management, Anand, Gujarat

Abstract: Agriculture sector has been under scrutiny over ages in India but due to lack of production scheduling and lesser use of information technology small- and marginal farmers have faced tough times. Agriculture management needs integrated agriculture development practices which facilitates production inputs, credit facilities, microclimate mapping, marketing and monitoring that can ration to decrease information asymmetry by using ICT to solve the vagaries. Initial database using GIS, including demographic, socio-economic, and bio-geo-physical factors of a particular village, needs to be prepared and accordingly production scheduling being done at sub-district or block level so as to produce as per agro-climatic conditions of the area. It will help to reduce the glut in market and lead to decrease of huge losses of farmers as ICT will help in networking between various knowledge systems in agriculture eventually aiding in rural development.
e-Governance and Education
e-Admissions:  Online Entrance Test and Online Counseling in Technical Courses in Haryana
Ajit M. Sharan, (Financial Commissioner and Principal Secretary to Government of Haryana), Vineet Kumar, Joint Director, (HSCS), Anita Singhrova, Lecturer, IST Murthal, Amita, Directorate of Technology Education Department, Susheel Kumar, Technical Director, NIC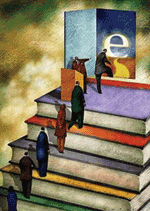 Abstract: The pace of technological advancement has increased many folds. To keep pace with the changing times the Haryana Government and the Directorate of Technical Education, Haryana started Online Off Campus web based counseling (for admission in various technical courses in Haryana) from the session 2006-07 onwards. Prior to this the counseling was manual. The entrance test for Pharmacy, Hotel Management and catering Technology, Masters of Computer Application, Lateral Entry to Engineering and Pharmacy was also made online from the session 2007-08.  National Informatics Centre (NIC) was entrusted to accomplish the challenging task of online counseling and online entrance test. This paper highlights the issues in manual counseling and draws the comparison with online counseling. The success of new counseling method is indicative with proportionately large number of registrations and admissions. Further, the new approach has increased the transparency in admission procedure and e-Readiness in technical institutes in the state of Haryana, manpower wise as well as infrastructure wise and the state has taken a lead in the country by introducing online off campus Counseling for admissions to all under-graduate/post-graduate/diploma courses and online entrance test in the purview of technical education.
e-Governance and Education using ICT
Sambhu Nath Mukhopadhyay, Chief Operating Officer, Infrastructure Leasing and Financial Services Limited, New Delhi
Abstract: This paper reviews the functionality of ICT enabled multi-channel mode of delivering education and content using different frameworks under e-Governance perspective. It discusses the social impact of digital intrusion in the education field. The paper also highlights the best practices and also analyses and concentrates mostly on the rural and not so advanced sectors.
e-Governance and Health
Telemedicine in Health care: A Multidimensional Perspective Gyan Prakash, Department of Industrial and Management Engineering, Indian Institute of Technology Kanpur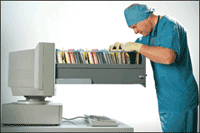 Abstract: Governments in developing countries are hard-pressed to achieve equitable outcomes in health care through efficient utilisation of resources, while simultaneously assuring quality of care. This paper highlights the role of telemedicine– the delivery of health care across geographically dispersed locations using ICTs for diagnosis, treatment and prevention of diseases, research, evaluation, and training – as an alternative way of increasing the reach of tertiary health care and achieving the triple goals of equity, efficiency and quality. Prioritisation of telemedicine, appropriate technology, quality standards, public-private partnerships, and international cooperation, can contribute towards harnessing the potential of telemedicine to achieve improvements in health. Mobile Nomadic Healthcare in Rural Areas
Monideepa Roy and Nandini Mukherjee, Department of Computer Science Jadavpur University, Kolkata

Abstract: This paper suggests a mobile medical framework by using JINI in resource constrained devices,  which could possibly aid in bridging the large gap in disbursement of proper medical treatment faster and more efficiently, to the large chunk rural and remote areas of developing countries. Here the mobile devices can overcome restrictions of space to function as service providers as well as service clients
Follow and connect with us on Facebook, Twitter, LinkedIn, Elets video