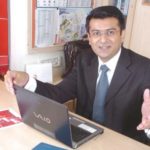 Digvijay Chudasama has been with Elitecore since 2000. He has contributed  immensely towards sales growth and in building a channel partner network for  Cyberoam, 24online and other products.
Cyberoam's solutions have received the 2007 Global Excellence Awards for   Integrated Security Appliance and Unifi ed Security. Please tell us about the  growth and operations of Cyberoam.
Cyberoam's growth as a product has covered various milestones that are refl ected in Awards like the one mentioned. In fact, 2007 has been a rewarding year in which Cyberoam also won VAR India Editor's Choice Award for Best UTM (2007), "Tomorrow's Technology Today" Award for Unifi ed Security, was granted 5 Star Rating in UTM Review 2007 and listed in 2007 CRN Emerging Tech Vendor List.
There has been tremendous growth rate – over 100%- of Cyberoam since its inception in  2000. Elitecore Technology is expanding its footprints around the globe by taking its product  like Cyberoam to the global market. The company has presence in USA, West Asia, Africa,  India, Singapore, Taiwan, Malaysia, Indonesia and more. Elitecore is driving its expansion  plans through the creation of a global distribution channel in addition to leveraging its  operational effi ciencies on account of its low-cost operations based in India. In India, Elitecore  has entered into a strategic alliance with Redington for national distribution of its Cyberoam  appliances.. The company which has traditionally focused on the SMB market is also now  aggressively targeting the enterprises with its next generation appliances. With the release of   R25i it has also focussed on the SOHO ROBO market.
How critical is it to secure networks and information, especially for the government which handles sensitive information of citizens?
From the local to the central level, government agencies are entrusted with sensitive information. Corporate enterprises share similar concerns over how best to protect information, yet for government agencies the stakes are perhaps even higher.
The current Internet threat environment is characterised by creation of targeted, malicious  code for the purpose of stealing confi dential information that can be used for fi nancial gain.  The threat to government vertical is ever on the rise with the widespread adoption and  dependence on Internet connectivity as e-Governance assumes priority with the government.  Moreover, government networks have to continuously deal with a variety of potentially  devastating Internet attacks and vulnerabilities such as viruses, spam, malicious code, web  defacement, insider abuse and theft of intellectual property. The government network is  opening up to provide access to partners, suppliers, customers, offi cials who can be the  potential threat sources. The instances of insider threats are also witnessing signifi cant  growth as the internal employees are communicating over multiple protocols and are getting  anytime-anywhere access to critical data through DHCP-Wi-Fi environments.
Thus there is a need for comprehensive security such as the Unifi ed Threat Management  solution like Cyberoam which not only protects against external attacks but also links user identity to security to instantly identify the attacker and the victim within the network. This  is a completely new approach from the traditional network security solutions, as  Cyberoam promotes user-centric network security rather than IP address based security. It  hardens the internal network against future attacks and audits how sensitive assets are used  and by whom.
What solution does Cyberoam offers to governments and enterprises for network security? What are some of the competitive advantages of your network security solutions?
Cyberoam offers a complete range of security features comprising identity-based fi rewall,  VPN, gateway antivirus, gateway anti-spam, intrusion detection and prevention, and  content fi ltering, as well as bandwidth management and multiple link management – all over a single platform.
The user is proving to be the weakest link in the security chain today as the Internet attacks  today are getting usertargeted. The motive of such targeted attacks is to escape attention of  the security vendors, fi nancial theft and to steal confi dential information from specifi c  companies – Identity theft. Cyberoam identifi ed the need for making the user identity an  integral part of security. Cyberoam is the only UTM that embeds user identity in fi rewall  rule matching criteria. This offers instant visibility and proactive controls over security  breaches. It recognises the user anywhere, anytime in the network and offers the user  identity – not just IP addresses in its reporting
As the next generation UTM solution, Cyberoam ensures high levels of security even in dynamic IP environments like DHCP, Wi-Fi.

COMPETITIVE ADVANTAGES

User Identity based security: Linking user identity to security is the key to current security, which Cyberoam delivers. Cyberoam is the only UTM that embeds user identity in fi  rewall rule matching criteria, eliminating IP addresses as intermediate components to   identify and control the user. This offers instant visibility and proactive controls over security breaches even in dynamic IP environments.

Easy Policy Confi guration: User Identity binds the security features: Firewall-VPN, Anti-virus, Anti-spam, IDP, Content Filtering – to create a single, consolidated Cyberoam security unit enabling the administrator to change security policies dynamically while accounting for user movement- joiner, leaver, rise in hierarchy and more – through easy to confi gure policies.

No Per User Licensing: Cyberoam is not licensed based on the number of users but on throughput parameters, which saves software-licensing cost. Add to that savings on manpower and post-sales services etc, and the cost advantage is visible.

Lower cost: At operational level Cyberoam low cost operation base in India with its design, engineering, development, support, global distribution and marketing in Ahmedabad, India, enables it to penetrate in price sensitive markets.

What are government requirements in terms of network threat management? Tell us about some of your government sector clients?
As mentioned above, the government network is opening up where the external users like  partners, suppliers, delegates, customers are getting access to critical data. Also, the internal users are communicating over multiple protocols which can cause the threat entry in the  government network. Moreover, the nature of internet attacks today is getting targeted to attack specifi c users who have business critical information. Thus there is a need of  comprehensive network security solution which can protect the government organisations from all such threats.
Cyberoam has been deployed at the following government sector clients – STPI, ONGC, State Government of Gujarat, DRDO-LASTEC/ISSA/DTRL (Ministry of Defence), Power Finance Corporation (PFC), BHEL, Bharat Electronics Ltd., DGAR (Director General of Assam Rifl es),RAPS (Rajasthan Atomic power station), AIIMS, IARI.
The Cyberoam benefi ts to the government organisation include:
Cyberoam is a product of India
Cyberoam extends Trust Mark – thus government does not have to depend upon unreliable Chinese, US & Foreign Products that can open Back Doors.
Cyberoam helps government save forex drain.
Cyberoam can curtail Foreign Government Espionage & Sabotage Activities.
Cyberoam – Gives access to it's R&D facility for inspection
Cyberoam – Can sign long term commitment towards government security initiatives.
Cyberoam is the only solution that works on Identity Based Platform that is a must in Sensitive and Confi dential Networks of the Government.
Cyberoam can work closely with Government's IT departments to develop future ready features for ICT
How do you see the e-Governance scenario in India? How can private sector add value to the implementation of the national e-Governance plan of India?
e-Governance scenario is on an upward growth trend undoubtedly. Broadly defi ned a form of  e-Business in governance comprising of processes and structures involved in deliverance of  electronic services to the public, viz. citizens. Various initiatives like e-Governance in the Offi  ces of Director General for Foreign Trade, e-Panchayat which provides hardware and software  solutions for government departments, Computer-aided Administration of Registration  Department (CARD), etc. are indicators that with e-Governance the day is not far when all  transactions with government can be done through one counter without having to wait in  queues. As a security company we believe that for e-Governance to succeed there is a need to  integrate systems, share information intelligently and organise better defence against blended threats, reduce management and cost requirements and automate. In these terms we  can add value to the e- Governance projects by providing an up-to-date security solution and  staying one step ahead from the evolving threats.

What are some of your future plans to expand your market further in India?
Cyberoam plans to further expand its partner network across India, to expand its reach in  class B and class C cities. Also, Cyberoam continuously upgrades its product range to enhance  the technical offering and provide comprehensive up-to-date Internet security to its customers.