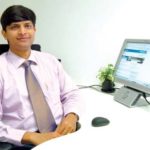 Princy Bhatnagar, as Director of Xerox's Offi ce Group of Xerox India Limited, is  responsible for the implementation of Xerox's Offi ce products, solutions and  services strategies in India.
What is the vision and goal of Xerox India?
Xerox India Limited's strategic intent is to become the leader in the document market in India by helping improve customer work processes and positively impacting productivity and costs. In other words 'helping people fi nd better ways to do great work'.

Please tell us about the growth of your company since its inception in ushering in world's best document processing products.
Xerox forayed into India in the year 1983 at a time when the photocopying industry was at  its nascent stage. Over the past 20 years, Xerox India has shaped the document management industry in the country by bringing the world's best document processing products and  bringing in innovative value-added concepts to provide the consumer with better options with respect to their needs and requirements. Xerox India Limited has successfully transitioned  three major movements in India since its inception, from copying to printing, black & white to  colour and stand-alone analog to digital, networked products.
Xerox today provides products and solutions in various areas spanning from digital printing  targeted at commercial printers to Offi ce products for SMBs and large enterprises and document outsourcing process services to vertical segments such as BFSI, pharma etc.

Xerox India has shaped the document management industry in India. How do you see the document management market in India?
1 in 5 workers spend at least 60% of their time dealing with documents. Up to 30% of the  identifi ed document output expenditure within an organisation could be saved by passing  control to a document expert (According to Gartner). Document management is fast  becoming an important aspect of every business with businesses realising its benefi ts. This is  a huge opportunity and Xerox with its cutting edge solutions aims to reduce the hidden costs  by as much as 40%. Document management is a relatively new concept in India and there is  a need for creating awareness about the advantages of document management solutions and  processes. In India, people are still to realise that 3% of their revenue is spent in order to save documents and data.
Xerox's Document Management Services provides a onepoint contact for people to save on  their documents and guarantee cost cutting by a huge amount. Slowly but steadily, document management scenario is catching up with the Indian companies because they to  have realised the need to save documents.
What are some of the Xerox India's products for document management and processing?
Xerox has a specialised division to deal with the document management needs of the industry.  Xerox Global Services has a fully integrated portfolio of services for the enterprise,  from offi ce to operations to IT services and print production support. Xerox's Smarter  Document Management Technology suite is based on recognised and established Xerox  technologies and processes aimed at making paper and digital documents accessible and  intelligent. Document management and processing is a part of Xerox global services, which  offers the following services:
Business Process Services:
1. Imaging and Archive Services: This includes capturing, converting and managing the images.
2. Content Management Services
1. Repository and Workfl ow
2. Consultation
3. Document Process Outsourcing Services: This includes Client Account Lifecycle, Finance and Administration, Records Management, Product Lifecycle Services.
4. Industry-Specifi c Offerings: Engineering Drawing Management.
Xerox Offi ce Services: It is a suite of services for managing document output and  infrastructure assets to help organisations deliver measurable effi ciencies, reduce costs and improve productivity.
Document Outsourcing and Communication Services (DOCS): DOCS is a full range of  consulting and managed services aimed at optimising costs from document design and  composition to production and distribution. The service line was launched in October 2006  and targets BFSI, manufacturing, retail and advertising agencies in India.
What are the government sector requirements in the fi eld of document management, in view of the fact that it is implementing e-Governance in India in a big way? How are you catering to their needs?
Xerox can help the government to enable business process confi rmation, as well as provides effi cient print and storage solution and software solutions for converting paper to online documents.
Please tell us about research and development (R&D) activities of your company for ensuring innovative products and services as per the client's requirements.
R&D is an ongoing process and like all other printing vendors, Xerox also has a signifi cant focus on R&D to bring new and more cost effi cient technologies for its customers.
We are working towards defi ning new ways to conduct work through documents, and we are defi ning entirely new forms of 'the document.' One way to look at the mission of Xerox R&D is that we are continually:

Reinventing our machines and our systems,
Re-thinking how people work,
Redefi ning the document.
Some of the interesting innovations of Xerox:
MicroText Specialty Imaging Font:
Xerox scientists at Rochester have developed the new MicroText Specialty Imaging Font in  2006, the font which is just 1/100th of an inch high, is designed to help make valuable documents with personal information such as birth certifi cates, personal identifi cation  papers, and checks even harder to forge.

Erasable paper:
Xerox scientists have invented a way to make prints whose images last for only a day, so that the paper can be used again and again. The technology, which is still in its nascent stage of development, blurs the line between paper documents and digital displays and could  ultimately lead to a signifi cant reduction in paper use.
Colour language:
Xerox scientists are developing a new technology that will make adjusting colours in a document as easy as simply describing the colour. Users can type 'make the sky a deeper blue' or give a voice command 'make the background carnation pink' and the software will do the work. The invention, still in the research stage, creates 'colour language' by translating  human descriptions of colour into the precise numerical codes that machines use to print colour documents.

Xerox has recently launched two colour multi-functional products for A4 segment. What is the 'colour opportunity' in India in terms of improving work processes for small and mid-sized businesses?
Xerox India currently offers laser technology based solutions for SOHO (small offi ces and  home users), SMB (small and medium businesses), corporate and large enterprise customers.  One of the customer segments we do not have a product offering is the consumer multi- functional devices- MFDs (based on the inkjet technology). Xerox has always focused on low  total cost of ownership solutions across its range of MFDs. Xerox India recently forayed into the  A4 MFD space with the launch of the Xerox Phaser 6110 MFP and Xerox Phaser 6115  MFP. It will be focussing on establishing a strong presence in A4 colour multifunctional  segment with the launch of these two colour MFDs.
'Colour' is expected to grow to 1/3 rd of the total printing market in India by the end of this  year. 'Colour' is fast becoming the preferred solution for SMBs. Keeping this in mind, Xerox  India has launched the new range of A4 colour laser printers, the Xerox Phaser 6180 and  Xerox Phaser 6360, especially designed to suit the requirements of the SMB customers.
Xerox has a formidable technology; 'Solid ink' technology for colour laser printers. The  network A4 printers running on 'Solid Ink technology' offer extremely low running cost as compared to other standard laser technologies. A Xerox Solid Ink Network Laser printer  customer saves more than 50% on TCO in just one year period as compared to a standard  colour laser printer customer and over a period of three years, his savings can go up to 500%.  The Solid Ink printers offer high ROI and are also environment friendly.

Xerox also provides consulting services to identify the opportunity for performance improvement. Are you providing such services to the government? What are your plans to involve them?
Yes, we do provide consulting services to identify the opportunity for performance  improvement. We provide solutions to government owned insurance companies and Public  Sector Undertakings (PSUs). However, we have not effectively engaged with the government  through e-Governance initiatives.

What are some of your future plans to expand your market further?
We will be focussing on the transition from copying to printing, black and white to colour and  stand-alone analog to digital, networked products.
Follow and connect with us on Facebook, Twitter, LinkedIn, Elets video