The MCA21 project is the flagship e-Governance initiative of the Ministry of Corporate Affairs (MCA), Government of India. Envisioned to provide anytime and anywhere services to businesses. MCA21 project was the first mission mode e-Governance project implemented in the country. The MCA 21 project was initially launched on pilot basis at Coimbatore on 18th February, 2006 and then at Puducherry, and Ernakullum. The project was launched at Delhi by Hon'ble Prime Minister of India on 18th March, 2006. It became operational at all 20 Registrar of Companies (RoC) offices by the end of July, 2006. And 48 Registrar Front Offices have been established across India to facilitate filing for the stakeholders. All services of the RoC offices, Regional Directorate offices and Ministry of Corporate Affairs are now available online through the www.mca.gov.in portal. The portal gets an average of 3.5 million hits a day, making it one of the most popular government portals.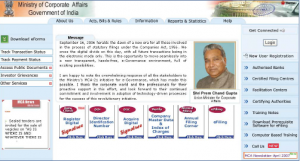 The e-Filing of all documents, using digital signatures of authorised representatives of the companies was mandated under law with effect from September 16, 2006. The MCA21 has led to automation of processes related to the proactive enforcement and compliance of the legal requirements under the Companies Act, 1956. The project has both the virtual and physical front office. The physical front office is a replacement to the existing RoC counters. The user can avail the following services on MCA21 portal: e-Filing, viewing public document, requesting certified copies, registering investor complaint, tracking transaction status.
About 3.5 lakh filings have been made till date by about 2 lakh companies, and the Ministry is available to the stakeholders anywhere and anytime on a 24×7 basis. The Ministry has mandated e-Filing for all companies from September 18 onwards with the use of digital signature certificate (DSC) by the authorised signatories of the companies and all filings now are being done with digital signatures of authorised signatories. Once e-Filing has been successfully processed by the MCA21 system, all data is extracted into an MCA corporate database. This database will serve as the base for various analysis and MIS reports for the Ministry this will be done on a continuous basis.
National Institute of Smart Government (NISG) has been entrusted with the responsibility of implementing the MCA21 project. TCS has been selected as the implementation partner for the end-to-end implementation on a build-own-operate-transfer (BOOT) model till 2012.
The biggest challenge in implementing the project was e-Filing, which eliminates the physical interface. More than 100 awareness sessions were conducted at approximately 40 cities across India, with one-to-one interaction of the TCS team in collaboration with key stakeholders such as company secretaries, chartered accountants, and cost and works accountants.
Initiatives are being taken to revamp the cadre management of Indian Company Law Service (ICLS). A proposal to set up "Indian Institute of Corporate Affairs" has been included in the eleventh five year plan with an estimated outlay of INR 2110 million. The institute would function as a think tank for the ministry of corporate affairs, provide a single window service to various stakeholders including corporate and professionals and take up training and capacity building measures for the ICLS. An accounting and records management project has been undertaken in the official liquidators offices in the four metros to computerise the complete accounts of the companies which are under liquidation in order to enable an effective control over the inventory– cash/bank balance, stock, plant and machinery, land and building, debtors etc
Follow and connect with us on Facebook, Twitter, LinkedIn, Elets video