The article describes an e-Governance model based on Open Source Systems (OSS) and localisation and its effectiveness for developing countries like India.
ICT-driven development is fast becoming the cornerstone of the new development paradigm for the global economy. e-Government programmes can bring reforms in public sector governance by building up an infrastructural base and by improving service delivery. It would also be helpful in engaging the citizens into a multi stakeholder partnership towards the development of a knowledge society. e-Governance initiatives by the state can create awareness among the stakeholders about the potential of ICT in economic and social empowerment in a knowledge economy.
Some of the services being provided through e-Governance includes service delivery to citizens through on-line facility/ portals/community managed service centers, record manage-ment, public grievance handling, tax-collection, reservation systems etc. More can be done in health, education, transport, judiciary where government has a major delivery role to play. The functionality of application deployed can range from data collection, information processing, MIS, decision support systems to knowledge management.
One of the obstacles in reaping the benefits of e-Governance programmes is the digital-divide, which appears across the world, not only in developing countries where it is  commonly perceived to exist, but also within developed countries, due to the fact that, in most countries only the well off are getting the benefit of ICT. This divide has to be bridged for regions and countries to reach full ICT deployment. Further, e-Governance models used in a developing country should be based on innovative application of knowledge and technology. It should bring more people under the governance sphere and aim to improve the services being provided under the governance sphere.
In a country like India where diversification exists due to language, literacy, geographical and cultural variations as well as economic differences, the digital divide is quite prominent. In order to make e-Governance initiatives effective, the penetration of ICT needs to be increased.
An increasing number of Indian government initiatives in e-Governance are being employed to improve the delivery of public services to the people. The synergy obtained through the interaction between new technologies, educated population and an enabling environment for knowledge-based economies can make India a knowledge economy. The Government of India has put efforts through its Linux initiatives for taking technology to masses at low cost. Further, localisation efforts for providing the language interface to the IT products are other initiatives to bring benefits of ICT to the masses. The efforts are many fold from academics, research community, private players as well as government agencies . This article elaborates on the e-Governance initiatives of Government of India. It describes an e-Governance model based on Open Source Systems (OSS) and localisation and its effectiveness for developing countries like India.
OSS , Localisation and e-Governance
Open source philosophy describes practices in production and development that promote access to the end product's sources. The term open source gained popularity with the rise of the Internet and its enabling of diverse production models, communication paths, and interactive communities.
Some of the reasons for using open source softwares include low total cost of ownership, lack of software piracy issues, availability of source code leading to high degree of customisability and scalability, adaptability for variety of applications, community cooperation and extensive support freely available on Internet.
Localisation

Literacy in developing countries is significantly lower than that in developed countries. Further, users do prefer their native language instead of English as a medium of communication, thus imposing a requirement on application interface. Therefore one of the major parameters for successful e-Government implementation is the deployment of applications in local languages so that every citizen of the country can access it, without any hassle.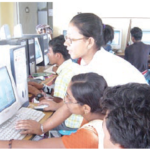 India has 22 languages listed in the constitution and also about 500 versions of spoken languages. Only 3 percent of the Indian population can speak in English while close to 40 percent of the Indian population speak Hindi or one of its variants. English being the available interface, the divide between population having access to computing and the ones that do not, become more.
The Technology Development for Indian Languages (TDIL) of Ministry of Communication and Information Technology has been mandated to bridge the digital divide by developing IT tools in local languages in India. Since 1991, TDIL has sponsored research in developing Indian language computing resources, processing systems, tools and translation support systems and localisation of software for Indian languages. The use of Indian languages so far has been in office management applications mainly in the government and the public sector.
OSS and Localisation

In the open source environment, it is easier to modify things according to specific needs in contrast to proprietary software. The open source development stack is becoming popular among students and developers due to its easy availability and widespread community support. Localisation of open source software is a transparent and community-driven process. Governments need to encourage the use of local language applications in their departments.
In context of India, it is equally important to ensure that most of the softwares for workflow process and documen-tation systems is enabled in local languages. Open source philosophy offers the perfect solution for easy computerisation and mass spread of technology – both from a localisation and cost standpoint. Some of the efforts, such as provision of language interface with applications, development of IndLinux, AnkurBangla, PUNLINUX, etc, for creating language interface on open source operating systems, have been made by Government of India and communities working for bringing IT to masses .
As India is advancing towards efficient delivery of  e-Government services, and empowering more Indians with the power of IT, there are compelling political, economic and cultural reasons for India to consider radical and fresh approaches based on open source philosophy.
The Indian Government does not rule out the use of proprietary software in favour of open source software. Government agencies like Centre for Development of Advanced Computing (CDAC), National Informatics Centre (NIC) and state governments are extensively using and advocating the use of open source. Back in the year 2002, the Government of India had announced that all government tenders would stop specifying Microsoft or any other vendor's name, while floating software tenders, thus opening ways for Linux and other OSS vendors. It plans to set up special interest groups, which will include people from academia, and industry, which will explore means to deploy Linux in e-Governance, defence and education.
Why Open Source

In the context of developing countries two major impediments for e-Governance initiatives are adoption of technology and change management. Open source based solutions offer low cost solutions as an alternate to rapid advancement of technology and for increasing expectations of stakeholders.
As open source solutions are developed using open and collaborative methods, additional modalities for verification and assessment of deliverables and project performance are available to the evaluation process. Open source can improve the efficiency and cost-effectiveness of solutions provided through government policies and services. For citizen services, in addition to enabling cost-effective solutions, open source can improve the delivery of citizen services by promoting interoperability and long-term accessibility.
Open source IT solutions facilitate transparency through public observation and accountability. Finally, encouraging open source in e-Governance policy can benefit projects for which collaboration is important. Most importantly from an economic perspective, encouraging open source in government policies can also help meet the economic goals of local regions, especially in developing nations. Open source has the potential to develop local enterprises and to develop manpower with fewer resources. Incorporating open source into e-Governance will provide flexibility, and local economic development, especially valuable for developing economies.
A limited number of Indian language based applications are developed and deployed in e-Governance domain for generating static reports, using Indian language template. Most of these applications still have English interface. Few applications are enabled at data input-output in local languages. Common Service Centre (CSC) development plan of Indian government  is one major initiative with emphasis on local language interface.
CDAC Initiatives

CDAC, Noida is putting efforts for localisation to IT products for a long time. Some of the  products developed by CDAC, Noida, include Lekhika – platform independent word processor,  Chitraksharika: optical character recognition (OCR) for Hindi, translation support.
Follow and connect with us on Facebook, Twitter, LinkedIn, Elets video