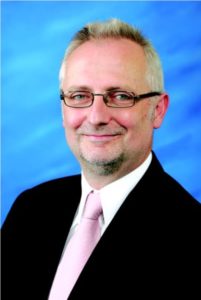 "With the emergence of e-Government applications such as e-Passport, National e-ID, addressing security concerns has become of higher importance since it relates to national security. Infineon is efforting to drive the adoption of secure chip card technology in e-Government applications," contends Markus Mosen, Vice President, Chip Card Business, Infineon Technologies, in an interview to Danish A. Khan of egov

Please tell us about Infineon Technologies. What are its key areas of activity?
Infineon Technologies AG, Munich, Germany (www.infineon.com), offers semiconductor and system solutions for automotive, industrial and multimarket sectors, for applications in communication, as well as memory products through its subsidiary Qimonda (www.qimonda.com). With a global presence, Infineon operates through its subsidiaries in the US, in the Asia-Pacific region from Singapore and in Japan from Tokyo. In fiscal year 2006 (ending September), the company achieved sales of EUR7.93bn (US$10.46bn) with about 41,600 employees worldwide.
In what way is Infineon collaborating with the public sector?
In collaboration with the public sector, Infineon emphasise on the increasing importance of high-level security for e-Government applications. With the emergence of e-Government applications (e.g. e-Passport, National e-ID), addressing security concerns is of even higher importance since it relates to national security.  Infineon is in the prime position to drive the adoption of secure chip card technology in e-Government applications. We have over 20 years of experience in driving and implementing security and certification standards.
Tell us about e-Government solutions that Infineon offers?
Infineon offers a wide selection of security controllers and cryptocontrollers that meet the high-security project demands typical of this sector. These include Contact-based/Contactless/Dual-Interface controller chips with our SLE 66 product family for high security applications such as e-Passport, e-ID, eHealthcare and eDriving License. We have consistently rea-ched the highest security levels for our complete product portfolio according to Common Criteria EAL5+ (high) BSI PP0002.
What initiatives Infineon is planning for the future?
Leveraging many years of security expertise in chip development and production for cards and security applications, Infineon is armed with its broad portfolio of security controllers, security memories, and other semiconductor and system solution. Infineon would continue to focus on ongoing research and development predominantly on secure solutions for the rapidly expanding communications, payment, identification, computing and pay-TV market segments.
Any major roadblocks you have faced in marketing your solutions to the government?
The issue of security has shifted from an afterthought to a key issue. In the present age, few, including the government, question the need to protect communication and secure transactions. For some market players, the increased security requirements have indeed set up a tough market entry barrier. To meet government requ-irements, Infineon calls for robust silicon-based security solutions that are tailored to the individual requirements of each application achieving the highest level of Government security.
In what manner is the RFID technology used in Smart Card applications? What are its advantages?
The term "RFID" spans the entire contactless identification products spectrum, including the controller products, secure memory products and also the object identification RFID tag products. There are three main categories for RFID in smart card applications, namely for Government ID (e.g. e-Passport, e-ID, health care, driving license), Personal ID (e.g. transportation, access control) and Object ID (e.g. inventory tagging, asset tracking). RFID smart cards differ from traditional contact smart cards by not requiring physical connectivity to the card reader.  In general, the advantages of RFID include ease of use, faster transaction time and ease of reader maintenance.
Where are the greatest areas of demand for RFID technology? In what applications and in what industries?
Recent market studies (e.g., Frost & Sullivan, 2006) confirm that for the year 2005, the greatest demand for contactless technology comes from mass transit applications, followed by Government ID, payment and access control.  In the upcoming years, the demand will move towards Government ID applications.
The use of biometric smart cards by government agencies and other establishments raise security concerns in the manner that they pose unseen threat of greater personal surveillance of the users. How is this concern being addressed?
For government projects requiring contactless smart cards support, there are many security features in place to ensure that the integrity, confidentiality and privacy of the information stored in the smart cards are well protected. This includes mutual authentication technology, which ensures the authenticity of the reader before starting a secure transaction; strong date security whereby data are encrypted to prevent eavesdropping; tamper-resistance smart cards to counter security attacks; and many other security features. Infineon's security controllers has in-built more than 50 security features as counter-measures against the different attacks including semi-invasive, observing and manipulating attacks.
What is the current scenario of the adoption of RFID technology and Smart Cards globally?
Besides SIMs, smart cards are meanwhile adopted globally for payment functions. Here, 2006 has seen a significant increase of the contactless portion, namely in US and Asia: Paypass, T-Money Korea, Japan Felica, just to mention some prominent examples. The use of smart card technology in the Government sector, e.g. for e-Passports or National IDs, is ramping quickly. Eurosmart expects a growth of more than 50% in this segment.
How do you perceive the future of RFID and Smart Cards in the years to come?
The growth for smart card market is expected to be around a CAGR of 9% from year 2005 to year 2011 (source: Frost & Sullivan 2006).  Key market drivers include high-end SIM ICs; Government ID projects; contactless technology for secure travel document, payment and transport; and EMV migration push. Apart from this, we expect a higher security demand also for new applications apart from card form factor card. The TPM (Trusted Platform Module) is a recent example for chip card-based technology entering the PC world.
Follow and connect with us on Facebook, Twitter, LinkedIn, Elets video