Role of information in governance

Good governance rests on the pillars of knowledge where information should be acquired and used strategically for public purposes. e-Governance helps in dissemination of useful governance information, which already exists in the public domain into the wider public domain through the use of ICT. This enables citizens to understand what governance services are available for them and allows people to judge better the existing governance related services and make them informed opinion about their performances.

For accessing public information on the digital network by a common citizen, it is essential to have clear strategy to access local level databases maintained in regional languages as well as to use appropriate interfaces in local languages. However to use information to it's fullest potential, the data is needed in properly summarised form. This can be possible by using Content Management Systems. Content Management System is a software, which can automatically maintain and manage information or contents. The information is regularly and frequently upgraded through this system. Content management systems are aimed at facilitating the process of uploading, publishing, archiving, searching and removing of the website's content in an easier and manageable way. They also facilitate to place the content online in a real time without specialist help.
Though lot of content management system has been developed, several weaknesses remain as follows (1):
a)   Content collection is an ongoing process and hence needs effective ways to organise, manage and publish them.
b)   None of the existing content management systems address the specific needs of the local community.
c)   Current solutions are not cost effective
d)   Lack of processes in place to make CMS more useful.
e)   Lack of coordination and contribution from public, private and people.
f)    Lack of personalisation and customisation facilities.
g)   None of them aim to move the content in a effective way near the user.
Centre's intervention
To overcome the weaknesses of content management system, ICT Research and Training Centre (2) at Centre for Development of Advanced Computing (CDAC) Bangalore has developed 'CMS4C', a Content Management System for Community under CCDN (Community based Content Delivery Network) project that addressees the above mentioned weaknesses of the existing solutions.
Community based Content Delivery Network (CCDN)
It is an effort to cater the internal information needs of rural masses by creating e-communities and enabling information exchange in an effective way. Some of the key issues in developing such a solution are quality of service, multicasting, intelligent content routing, content peering, efficient delivery mechanisms, content security, content organisation and management. 
CCDN is the enabling technology that permits transparent coupling of geographically dispersed data resources. This affects efficient distribution of content as also movement of the content nearer to the user.  The CCDN server provides the local community the ability to generate, manage and deliver customised content.  It includes mechanisms for managing and delivering different types of information namely local information, domain/application specific information, and generic information from web.

CCDN (the main project) has been divided into two sub projects "ECKO" and "V-CAN".

ECKO  (Empowering Communities through KnOwledge) (4):
ECKO (Empowering Communities through KnOwledge) is a Content Management System for creating, capturing, sharing and utilising local knowledge of the community.  It focuses on building communities by collaborating and sharing their knowledge.
V-CAN (Virtual Community Aware Network):
V-CAN is an overlay network that addresses the delivery of content near the user by carrying out the functionalities like content discovery, content peering, caching, security and quality of service. V-CAN enables the end-user of ECKO to get relevant information from other communities if it is not available in the local kiosk. The system in-turn builds an electronic network of community with strong interaction between various community kiosks. The system evolves as a Content Distribution Network. V-CAN uses the concepts of peer-to-peer networking for efficient delivery of content by moving it near to that particular e-Community.
Framework of Community based Content Delivery Networks (CCDN)
 The ECKO framework sitting with V-CAN will provide value added services in the form of knowledge inferences that has to be made from the multi-dimensional repositories which in-turn has to be created from the sharing of information among the various e-Communities across domains. The inferences drawn from the repositories would in turn help various cross-sections of the community, like decision makers, entrepreneurs, and government organisations. In fact, it would give valuable insights to the needs and requirements of the people.
Evolution of ECKO
Content management system for community:
CMS4C is a content management system for the management of content, enabling users even without technical knowledge to publish on the Internet and administer it. The main goal of CMS4C is to encourage the rural community to contribute, consume and encash their local knowledge by enabling them to produce, manage, organise, publish, archive and distribute local content. CMS4C has been renamed as ECKO (Empowering Community through Knowledge), which is not only a CMS but is a platform to build e-communities. 
ECKO
ECKO is application software, a framework for building and nurturing e-Communities. e-Community can be referred to a people of a geographical location, using ECKO as the dais for communication and mutual benefits.  This web-based application is more than a content management system, which provides a framework for better communication, increases knowledge sharing and mutual benefits leading to community empowerment.  The information generated and provided through ECKO is local, time specific, language specific and in accordance to the social norms, culture etc. Localisation is the main mantra for this application which starts with a local language interface to local content generation and later on communication in local language. The major aims of ECKO can be stated as follows:
• To create and integrate E-Communities of different regions.
• To communicate and share information within and across the community.
• To do intelligent analysis of the community data and draw inferences from them to project it for decision-makers.
Utility of ECKO can be classified into a medium for communication, providing specific services  like market information, weather information, supporting general services like matrimonial,  classifieds and also helping in local content generation and capturing tools. The unique feature  of this system is its ability to communicate with other ECKO systems used by various  communities.
Features of ECKO

Content management
This feature enables producing, managing, organising and using the contents that are generated by the rural community. Envisaging the sustainable model, a cost pattern is also designed so that the kiosk operator can sustain by providing content services to the end user.
Event management
This feature enables the community to organise and communicate events like Polio-camp,  health camp, local festival, functions at homes etc to the local community. This feature also supports a calendar and provides easy interface for adding events.

News management
The feature enables collection and dissemination of local news for the consumption of the local community.
Web services
Web services provides various local specific services like weather information, matrimonial information, market price (vegetable, bullion, etc), transport schedules (bus, train, taxi), calendar, and other useful community services. Government can host the information.
Discussion forums
The feature acts like electronic meeting place, where community members can share their knowledge amongst themselves. This also facilitates to ask questions to experts for which they can get answers. Citizens can interact with Government machinery.

Architecture view of ECKO

Users of ECKO
The users of ECKO are categorised into four types: visitors, users (members of e-Community), data provider and administrator. There is no limit to the number of users but authority to approve (each new member of the e-Community lies with the administrator) also publishing and removal of contents lies with the administrator.
A visitor is a casual user (non-member) who browses through the system to know what is  happening in the community (the non member can get himself updated to the news of the  community). That is he can view the community news and events and get information on  display at the kiosk centers in the info base published by the administrator depending upon the  need of the hour. Users can provide news, article, events information, upload content and  participate in the discussion
forum. Data providers provide specific information such as current market price, weather  information, government information etc. Any number of data providers can administer the  content but each of them is responsible only for their specific contents (for which they had  been choosen; for example, Gold market rate data provider is a person who is authentic and  is responsible for fixing the market rate for gold at that particular locality. He provides only the  information for gold market rates). Here the responsibility of the administrator is more as  he/she would be the person responsible for the data validation.
The implementation model of ECKO can be captured in the following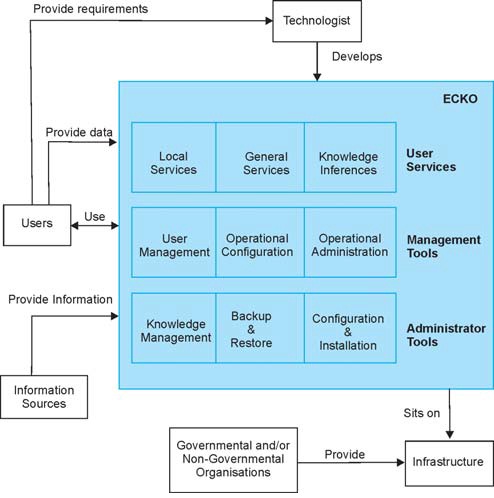 Centre's sustainable approach: From lab to land
The Centre follows a holistic and seamless approach in translating enabled technologies into  usable products. ECKO has been pilot deployed at different places all over India. The places  are Maharashtra, Orissa, Tamilnadu, Pondichery, Andhra Pradesh, Gujarat, Rajasthan.  Although the lack of basic infrastructure like power and connectivity, limit the widespread  usage of ICT applications in the rural areas, but the feedback we have been getting is that the end users are very enthusiastic. Due to its localisation support in different Indian regional  languages, its simple and friendly user interface it attracts the users. Feedback from partner's  helps us to understand the user's perception about ECKO; to get insight into level of usage of  ECKO; usefulness of the services offered in ECKO; to map the community needs and  requirements to the features of ECKO and to plan for further improvements.

Conclusion
The aim of the ECKO project is not restricted to just installing a system. It is much beyond that  and tries to address the following aspects: improvement of the system design, ensuring  that the contents are need based, relevant, up to date and accurate, no duplication of content,  localised presentation of both local and global information and that the system is interactive to  a large extent. ECKO is certainly a different approach as the project is having the element of direct interaction of the public or the consumers or the services provided by ECKO with the  system. ECKO can be used to promote more efficient government services, allowing more and  more public to access to the government information in the same form to all access  points and make government more accountable to the public. ECKO aims in putting ICT to  provide better governance, which is transparent, fair, effective, efficient, accountable and  receptive to the need of the citizens. The bottom – up approach makes it a more citizen's  centric system than the government.
Follow and connect with us on Facebook, Twitter, LinkedIn, Elets video