Nickie Van Zyl
Recognising the increasing importance and potential of e-Government, the South African government has established the eGov KnowEx to provide efficient service delivery to the people and meet the country's information challenges
Over the past few years, e-Government has become increasingly important in South Africa. South Africans  have become aware of e-Government's potential role in improving the operations and efficient service delivery by the government. The eGov KnowEx has been established in South Africa to meet the country's information challenges. This initiative will assist in the various ways such as bringing together government, industry and research and academic institutions to build networks and confront e-Government challenges; creating a platform for government departments to share requirements and solutions to avoid duplication; and ensuring that learning and knowledge-sharing are parts of shaping policy and action in the field of e-Government.
Key departments in e-Government
South Africa's e-Government initiatives are at present supported by all government departments. It is, therefore, difficult to single out specific departments, but especially e-Government initiatives announced by the Department of Public Works and Administration (DPSA) deserves mention. In addition to DPSA, the Department of Trade and Industry (DTI) also appears to be active in this field. The Department of Communications (DoC) and the Government Communication Information System (GCIS) are equally important players in adopting e-Governance.
Although no clear vision is known in terms of e-Government, what is to be achieved by e-Governance clearly points to the future role of e-Government. South Africa's e-Government policy is to be established in four phases: (i.) Disseminating service information to citizens by means of the World Wide Web; (ii.) Setting up ICT-based two-way communication, which is to enable citizens to provide less sensitive information (changes of address, application forms etc.) to government; (iii.) Improving security and privacy regarding information exchanged; and  (iv.) Integrating several services into entities based on needs and functions.
E-gateway Project and service delivery
The South African government has launched the first phase of its "people first" Internet gateway. This is to offer individual organisations and foreigners a single entry point to government services and information. South Africa's e-Government gateway, www.gov.za, can be subdivided into services for individuals, services for organisations and services for citizens from other countries. At present, these services are not formally organised within particular structures.
Information on services for South Africans is organised according to so-called life events, in other words, focusing on giving birth, a place to live, the world at work, relationships and sexuality, dealing with the law, and similar matters.
It is currently envisaged that the gateway project would be extended to poor citizens and those living in remote areas by means of, amongst others, public information terminals at post offices and other points.
The next phase of South Africa's e-Government project is to focus on progressing from information dissemination (currently, as indicated, of a more generic nature) to service delivery. The focus will then be placed on the services which are available, who qualifies for such services and where and how to access such services. This phase, therefore, aims to enable users to become involved in online transactions.
In South Africa, the services such as pension payouts, payment of taxes, housing subsidies, and birth and death registrations are regarded as those which are in high demand and crucial to proper service delivery. For this reason, such services are earmarked as those that should first be e-enabled. The Centre for Public Service Innovation (CPSI) predicts that the basic access level of e-Government in South Africa will be in operation in the course of 2006 or 2007.
e-Governance delivery in remote areas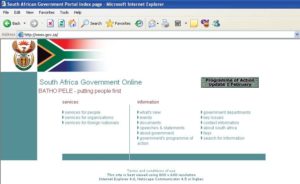 Reference was already made to e-Government portals being made available in remote areas by means of Public Internet Terminals. The setting up of such terminals, mainly at Post Offices, is at various stages of completion. No empirical information currently exists on its progress.
In addition to Public Internet Terminals, Multi-purpose Community Centres (MPPSs) are to play a vital role in rolling out e-Government application. Since July 2003, approximately 46 MPCCs have been established. Twenty-three of these centres provide services beyond those of government, and 400 services in total are made available in rural and under-serviced areas. The services in nine of the centres will initially be extended mainly through access to the central e-Government Gateway portal. The services are delivered under the auspices of GCIS, together with provinces and local authorities, and are to be provided by the Universal Services Agency (USA). The central portal will be based on the infrastructure of the State Information Technology Agency (SITA). Other channels for government services include ATMs (Automatic Teller Machines) and Uthingo outlets.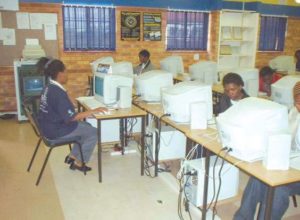 It is envisaged that specially trained community development workers at nine selected MPCCs and 55 postal facilities would assist citizens. Thus far, 40 development workers have been trained to carry out the programme in Gauteng.
e-Government challenges and assessment
At present, bureaucratic structures hamper effective service delivery. Interaction between government departments and other players takes place on a formal basis and is governed by rules, regulations and procedures. Although such measures are required to ensure equitable and fair access to services, these rules tend to become inefficient and expensive. The exact cost of these bureaucratic measures has not yet been calculated in South Africa, but their adverse effects are sometimes evident. Legislation, such as the Electronic Communications and Transaction Act, Act 25 of 2002, the Public Finance Management Act, Act 1 of 1999, the Public Service Amendment Act, Act 13 of 1996, and convergence legislation points to an effort by the South African government to regulate e-Government but at the same time to minimise bureaucracy.
Currently, various levels of success of e-Government application are indicated in different South African provinces. The Western Cape has recently announced progress towards e-Government to provide quicker access to various provincial government services. In 2003, a walk-in centre was launched in Cape Town, staffed by operators trained to provide residents with information they might require. Its focus is to provide information by means of online research methods to residents, researchers and students. Government documents on policy and research reports are kept and information is provided about non-governmental organisations (NGOs) and other organisations. Telkom sponsors the Cape Gateway Project.
e-Government projects in other provinces, their focal areas and their popularity have not been formally researched, but indications are that these are in various stages of progress, and they have not yet been reported and/or researched.
Mobile government and its significance
The concept of mobile government has developed substantially over the past decade, with particular reference to the application of mobile and wireless technologies and their application towards more efficient public management. The significance of mobile government is especially evident in developing countries such as South Africa in providing access to services in particularly under-serviced (rural) areas.
In South Africa, the Centre for Public Service Innovation (CPSI), together with the Research and Development SITA and the Meraka Open Source Centre have implemented four pilot projects using mobile and wireless technologies. Its focal areas are the identification of emerging technologies, solutions and methodologies which have not yet been applied in the public service environment but which could assist in improving service delivery and access to government services.
Future of e-Governance programmes
The Roadmap for e-Government in the Developing World Project offers the best means of South Africa's position. This project focuses on (developing) countries such as Egypt, India, Mexico, South Africa, Thailand, the United Arab Emirates and others. In assessing South Africa's e-Government, the platform of e-Government initiatives remain country's' information technology (IT) infrastructures. Regarding improvements in access to voice telephony (particular mobile telephony), most countries in Africa still do not have (regular) access to communications.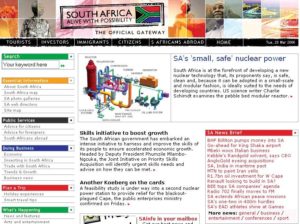 Africa, including South Africa, is still behind global averages on major ICT indicators. Since 2003, there had been a growing gap between countries with access to communication services and those without. Although progress, particularly in South Africa, had narrowed this gap, but the digital divide remains a reality. The challenge, therefore, remains the establishment of sufficient infrastructure to carry e-Government initiatives, supplemented by a well-trained and skilled workforce to make a positive contribution.
The future of e-Government and other mobile government initiatives is therefore inextricably linked to the creation of a sufficient IT and ICT infrastructure, (human) capacity building and the creation of sustainable public-private partnerships.
There is no doubt that South Africans have been sensitised to the value of e-Government. Future programmes would focus on IT and ICT application, together with e-Government, in improving administration and planning by the government. It is widely accepted in South Africa that future e-Government initiatives are to be based on the vision of taking government to the people and making it accessible to all citizens. Despite the stumbling block of inadequate infrastructure, the cost of communications remains one of South Africa's (and Africa's) most daunting challenges.
The South African government, however, is not the only government faced by the challenge of IT, ICT and e-Government application in improving its efficiency. A recent study found that up to 80% of public sector IT applications have resulted in partial or total failure due to legacies of political patronage and histories of heavily centralised government.