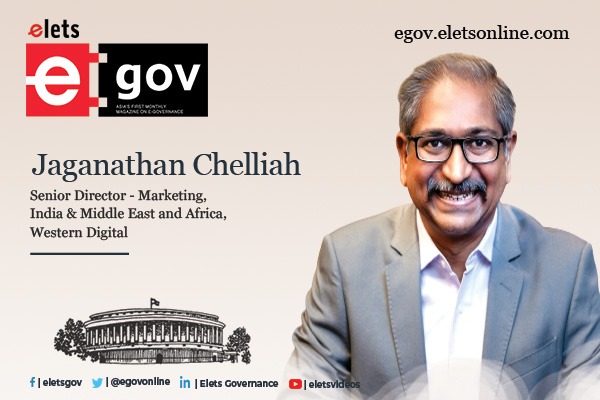 Through initiatives like the Smart Cities Mission and Digital India, the Indian government seeks to create interconnected smart cities using IoT solutions to give its people a better quality of life, clean and sustainable environments, and essential infrastructure. Jaganathan Chelliah, Senior Director – Marketing, India & Middle East and Africa, Western Digital on the usage of IOT in making cities truly smart in an exclusive interview with Ritika Srivastava of Elets News Network (ENN). Edited excerpts:
Why is IoT important to the idea of smart cities?
Data and technology are the foundations of smart cities. The goal of smart cities is to improve efficiency in all aspects of management to provide inhabitants with a higher standard of life. Unlocking the potential of data and influencing decision-making is the secret to creating a smart city. Many cities are still working to upgrade their infrastructure, but smarter cities are adopting technologies like artificial intelligence (AI), machine learning (ML), the Internet of Things (IoT), and big data to promote sustainable development, fulfill residents' expectations, and enhance their resilience.
IoT is one of the most important technologies even though different technologies have diverse applications. The use of IoT devices such as connected sensors, lights, and meters collect and analyze data. Reports estimate[1] that by the year 2025, 55.7 billion connected devices will be generating almost 80 zettabytes (ZB) of data. To properly collect, protect, access, and transform this data along its journey—not just in cloud data centers but also at edge servers and endpoints—smart cities will need a strong data architecture. The efficiency of various systems within a city, like transportation, energy use, and public functions, can then be optimized and improved using this data. IoT also makes it possible for real-time monitoring, management, and communication between various systems, which makes cities smarter and more connected. IoT, or the Internet of Things, is crucial to creating environments that are efficient, sustainable, and liveable in smart communities.
How can IoT help develop and improve smart cities?
The Internet of Things (IoT) can enhance and create smart cities in several ways. IoT sensors and devices can be used to monitor and control vital utilities and infrastructure, including transportation, energy distribution, and water supply, increasing effectiveness, and lowering costs. Smart city movement is made possible by intelligent transportation systems that are driven by computer vision, smart cameras, and reliable storage solutions. Another feature of smart cities is that deep learning (DL) and artificial intelligence (AI) algorithms are used to support smart videos to guarantee public safety. Smart waste management, improved healthcare access, and a more sustainable environment are some additional IoT applications. Whatever the focus of smart cities may be, data is essential to achieving the intended results.
Storage is therefore essential for smart cities, which are developing at a rapid rate to keep up with digital technologies and their use cases. Depending on the need, various storage options are required. High-capacity and high- performance hard disc drives (HDDs), for instance, are perfect for storing big data so that they can be used to reveal meaningful insights. Performance NVMeTM SSDs are also necessary for apps that demand high data availability and low latency. Additionally, storage on the edge or on the camera is necessary for CCTV or video monitoring. India is pushing hard for the smart city plan to provide residents with a better quality of life. Smart cities are also being created quickly to accommodate the challenges presented by urbanization's growth. Data-driven technologies and data are essential for smart communities to advance towards sustainability. As a result, storage systems will become more and more significant.
What are the challenges of IoT in Smart Cities?
IoT has the potential to completely transform smart cities. Nevertheless, there are some difficulties in putting IoT ideas into practice. For many IoT applications, it has become essential that data be screened, examined, and even transformed where it is produced
– from car sensors, security cameras, drones, personal devices, robots, gateways, etc. Delivering real-time analytics at the network's edge can increase operational effectiveness, make roads safer, foster more secure environments, anticipate forthcoming maintenance, pinpoint customer purchasing patterns, and open up a world of possibilities.
Network delay presents a problem. It takes too long to store and forward data, whose value exists now. To deliver quick and useful insights at the device level, edge storage handles data capture and offers compute capabilities that aggregate and analyze that data in real-time.
The enormous amount that sensors produce can be a problem as well. The enormous volume of data makes it difficult to effectively access, use, and extract insights from the vast and varied world of data gathered.
Governments and businesses equally need adaptive solutions to handle everything from small-footprint storage for the application stack of the smart sensor to an Edge gateway server that is also resistant to high temperatures and humidity to meet the varied challenges. The storage options available from Western Digital are designed to meet the changing demands of the IoT industry.
How do you view the Smart Cities mission in India?
Through initiatives like the Smart Cities Mission and Digital India, the Indian government seeks to create interconnected smart cities using IoT solutions to give its people a better quality of life, clean and sustainable environments, and essential infrastructure. In line with this mission, the Indian government recently announced a significant expansion of its Smart Cities Mission with the ambitious goal of modernizing 4000 cities before 2023 ends.Internet of Things, Integrated Command and Control Centers (ICCCs), mobile technologies like GPS, smart cameras for security and surveillance, smart meters, drones, mobile apps for telemedicine, and digital platforms are some of the areas of focus.
The creation of smart policies, smart governance, and smart citizenship is made possible by the government's use of technologies like big data, the Internet of Things, data analytics, artificial intelligence, digital twinning, cloud computing, 5G, and virtual, augmented, and mixed reality. The technology platforms used by cities must be created in a manner that fosters government efficiency and gives the general public access to useful data. These platforms include data centers, sensor networks, cloud computing services, and traffic management systems for managing traffic on roads as well as on public transit networks like light rail and subways. Policies built on top of these platforms include e-government portals and e-government services that allow citizens access to data on shared Application Programming Interfaces, leveraging the information for community benefits.
How is technology empowering smart cities in India?
The Smart Cities project, which was introduced in 2015, has received strong support from the Indian government. According to media reports, as of March 3, the 100 cities have issued work orders for 7,799 projects worth Rs 1.80 lakh crore. Out of these, 5,399 projects worth Rs.1.02 lakh crore have been completed, and the rest are ongoing.
Many cities have made strides and used IoT for several answers.A few interesting use cases include Surat's IoT-based smart water[2]metering system that enables real-time monitoring of water usage, reduces water wastage, and improves billing accuracy. Another use case is of Pune smart city working[3] to deploy all 24 smart city features in a "future ready" manner.By augmenting garbage trucks, following vehicles with RFID tags, using an RFID-based attendance system, and keeping an eye on garbage areas, the city hopes to achieve its goals of 10% wastewater recycling in the ABB region
and zero waste and garbage in that area.
India is making significant progress in its efforts to create smart cities that leverage technology to improve the quality of life for its citizens. The Indian government is investing heavily in digital infrastructure such as high-speed internet, mobile connectivity, and smart grids to enable the seamless flow of data and communication among various systems and devices.
"Exciting news! Elets eGov is now on WhatsApp Channels 🚀 Subscribe today by clicking the link and stay updated with the latest insights!"
Click here!