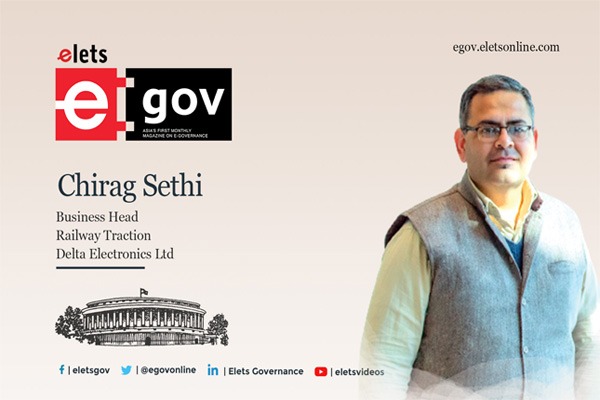 Energy efficiency is a core part of Delta's identity. Through its intelligent solutions and varied products' portfolio, it is striving relentlessly to create a sustainable world for future generations, shared Chirag Sethi, Business Head, Railway Traction, Delta Electronics Ltd, in an exclusive interaction with Anuj Sharma of Elets News Network (ENN).
Edited excerpts:
What according to you are the key trends in the railway traction industry and how is Delta electronics positioned to meet the evolving needs of the customers?
Delta is a relatively core player pertaining to developing railways infrastructure solutions and in the last five years we've had a more focused approach towards this. There have been three visible trends in railways in recent years. First is the policy shift of railways moving from a combination of diesel and electric locomotives to complete electric traction, which has accelerated the demand for electric rolling stock and led to growth in rolling stock production of 3-phase locomotives. The second is the railway's initiative of achieving 100 per cent electrification, which also led to the increase in demand for contractors, equipment vendors as well as solution providers to help railways achieve this feat. As on date, Indian Railways is very close to achieving 100 per cent electrification of the railway network. The third is sprawling growth in the metro projects which started with railways targeting a metro system for each city having more than one million population.
What are some of the strategies that you have adopted to ensure a reliable and efficient power supply in railways? How has Delta leveraged innovation to drive growth in this area?
Identifying the trends and then bringing solutions that fit and serve the demands is something precisely what Delta has been doing for the last 4 to 5 years. Looking at increased demand for rolling stock locomotives as well as metros, we entered the domain of rolling stock propulsion equipment – an area in which Delta had the technical expertise as we were already having a good footprint in solar and wind applications. So we developed propulsion equipment for rolling stock (3-phase electric locomotives) which are manufactured by railways at Patiala, Varanasi, and Chitranjan.
Secondly, when we talk of 100 per cent electrification, that automatically means the power requirement of railways, which is already one of the biggest consumers of energy in India, calls for some specific and effective solutions to circumvent the challenges occurring in sustainable energy supply and ensure good power quality.
Delta has specifically designed a product portfolio for railway applications. It offers power quality solutions to meet the power quality standards set by the Central Electricity Authority. These standards and norms are becoming more stringent, and railways, as a consumer, must comply with it. Delta provides solutions which will enable railways to comply with the regulations.
Where does Delta stand on net-zero carbon emissions and how does it align with this mission?
Energy efficiency is a core part of our organisation's identity. Delta's corporate website clearly highlights its initiatives towards sustainability. We, at Delta, keep energy efficiency at the core of all development and strive to create a sustainable world for future generations.
Majority of Delta's factories and offices are certified green buildings and our solutions also reflect this environmentally-conscious ethos.
Incorporating the latest advancements in power quality and electronics technology, we have developed and deployed a highly efficient power quality solution for the Indian railways as well as for metro systems. Delta has translated the technologies that till a few years ago was only found in academic research papers, into a practical product. We have deployed it in Southern Railway, Indian Railways, and also in Chennai Metro, thereby bringing direct economic benefits to the customer in the form of lower energy bills, improved power quality, and longer equipment life.
Delta has utilised global technological expertise and localised it to suit the Indian requirements. It has been in successful operation in India for more than 3 years.
What are your perspectives on advanced intelligent transport systems and your plans to embrace innovation in this sector?
The current state of transportation shows that roads have a higher share in transportation compared to railways. Railways have a large network across the country, which it is trying to enhance and trying to catch up and increase their share in freight handling as well as ensuring better connectivity.
With regard to providing intelligence, as a solution provider, we try to incorporate and make our solutions more intelligent in the sense that it provides enhanced value to customers as well as makes life easy for us. This includes features like mechanisms where equipment data is transmitted to a cloud and can be accessed by both the customer and the provider. This allows for real-time monitoring of the system and makes it easier to troubleshoot any issues. The stored data can also be used to generate reports and track system performance to see how the system is performing.
The railways are also interested in utilising technology to monitor the health of the rolling stock through embedded sensors which can give real-time information, and aid in predictive maintenance, allowing timely identification and redressal of any potential issues before they become bigger problems.
What are your views on the budget session and what do you expect from the government?
The actions taken by the government or railway organisations focus on improving a few key factors such as increasing speed, safety, enhancing passenger amenities, and optimising efficiency to improve the operating ratio. They also aim to make rail transportation more attractive to passengers through modern stations and improved speed and faster movement of goods/freight traffic. A well thought-out policy, complemented by a responsible and mature procurement structure of Railways must ensure all sizes of companies have some assured business to survive in this market. This includes both large companies which have the capability to handle mega projects and small and medium enterprises that also play a crucial role in maintaining the supply chain. Government must devise railways' policies in a way that allows all these companies to survive and prosper.