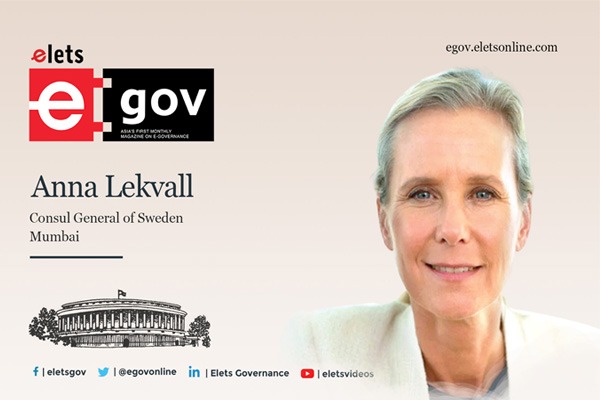 Sweden is seriously committed to the carbon neutrality target and it aims to achieve the same by 2045. We are the leader in the whole of Europe in terms of renewable energy usage. Sweden works in triple helix modes which means close association amongst governments, businesses and academia. With transformational initiatives and massive investment in clean technologies and smart energy, India has shown its commitment towards its transition to sustainable and green energy, shared Anna Lekvall, Consul General of Sweden, Mumbai at the 4th Elets National Energy Summit.
She stated, "India is rapidly undergoing sustainable green transformation. We have calculated and understood that there are investments worth about 700 billion USD over the next decade in this sector. It's showing the strength and seriousness that India is now embarking on in this area."

She was pleased to share that India and Sweden have a very strong partnership in the whole sustainability and innovation sector. "We have multiple platforms to share innovative solutions but also to co-create together."
Additionally, she said, "We have a strong framework signed by the highest of our authorities at Copenhagen during the Indo-Nordic Summit. Our prime ministers have had a joint action plan since 2018 but it's also regularly renewed and developed. This platform puts emphasis on innovation in key areas like Climate technology, Climate action, and green hydrogen."
There's something called sustainability by the Swedish ecosystem in India where we have long-term partnerships with major conglomerates and institutions. Sweden works in triple helix modes which means close association amongst governments, businesses and academia.
"We have partnerships that look at this together for any engagements we do. We use Academia, Science, and research along with the government institutions and businesses together to drive the change. We recently launched another platform a month ago called the "Green Transition Partnership" which is very much a focus on the business side of collaboration between Swedish and Indian businesses. This partnership focuses on hardware-based sectors like cement, iron & steel, pulp & paper. We also have the India-Sweden Innovation accelerator which is a key engine of collaboration where we really co-create together. It's a very good example of how we, in the last 10 years, have been able to promote Energy Efficiency and do over 200 collaborations.
Also Read | India leapfrogging Energy transition
"The Swedish energy agency is working in tandem with the Indian Department of Science and Technology, both providing joint funding to this collaboration. We have signed MOUs in this area and this innovation accelerator actually was awarded the high-impact program for Energy Efficiency in 2022. It's a very relevant platform for our collaboration that continues to thrive.', she added.
Concluding the session she averred, "Sweden and India are working together leading the United Nations industry transition group. It drives the heavy industry sector towards carbon neutrality."