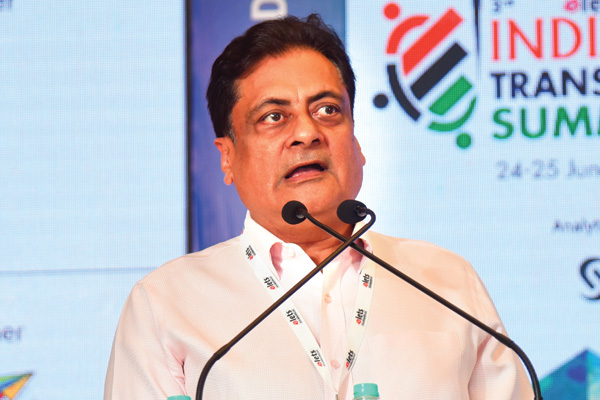 "We all know our honourable Prime Minister is very proactive about technologies and innovations. He has launched several initiatives and programmes to transform India into a tech- driven nation," said Vipul Mitra, Assistant Chief Secretary, Government of Gujarat, at the Elets India Transformation Summit.
Narrating a story of how Vipul Mitra, Assistant Chief Secretary, Government of Gujarat, as a Development Commissioner during Narendra Modi Chief Ministership, worked to transform the village lives and livelihoods, he said, "CM sir had given us a mandate of taking digital transformation to even the remotest village level, and to bring government services right to the place where rural people live, so that they don't need to travel longer distances in the want of various government related schemes and others. Accordingly, the task of connecting all the 14,000 villages of Gujarat to the Internet was started. For achieving such a mammoth target, we created a separate society- eGram Vishwagram and made it a special purpose vehicle. CM sir had also mandated the use of 5Es – Ease, Economy, Efficiency, Effectiveness and Ethics in the governance module."
"We had a huge infrastructural challenge before us. First, we had to build the Panchayat buildings and electrify them, bring computer-related devices, connect them to the internet and finally, we needed the manpower to oversee the technological aspects and indulge in the operational mechanism of service delivery. To bring electricity to villages and panchayats, the state government launched Jyotigram Yojana. Through the Jyotigram Yojana, we separated agriculture feeders from domestic feeders, so villages in Gujarat began to get 24/7 electricity." he said, adding that to address manpower issues, they came up with an idea of launching a village computer entrepreneur framework.
He said that lots of funds were utilised in making robust digital infrastructure at village level. "Around 20,000 manpower was needed at village level in digital operation departments to deliver online services to the people. So, we launched a village computer entrepreneur for each panchayat. He would charge money for the service he offered. We had to face the political dilemma too, thinking how people would react. Because we were making people pay for the services that meant to be totally free," he said, adding that each and every government department was mandated to bring all their services to village level.
Highlighting the present condition of Gujarat, he said around 98 per cent of villages have internet connection and each panchayat has a village computer entrepreneur. He said the Digital Seva Setu, started by the Gujarat government in 2017, was instrumental in providing as many as 280 services at the village level. Referring to the crucial role being played by the village computer entrepreneurs, he said, "They have become representatives of all the departments at the village level. In fact, they have become even more powerful than Patwaris. As they are privately appointed fellows, they can be easily removed and appointed if any discrepancies are found from their ends. Also, their removal power has been given to Block Development Officers (BDO) and not to higher officials so that decisions can be taken immediately. On an average, around 500 or 600 village computer entrepreneurs are removed and appointed on a daily basis. You can imagine the scale of changeability."
Highlighting the impeccable role being played by technology, he concluded by mentioning the Gujarat government's initiative of taking WIFI services to every village of the state, which he believes will be truly transformational and a game changer.