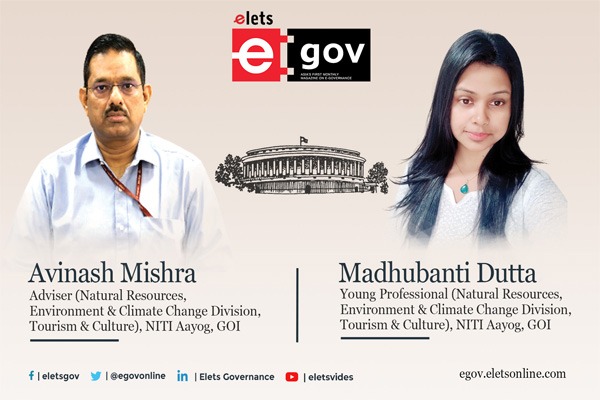 INTRODUCTION
Tourism is seen as a highly climate- sensitive economic sector, similar to agriculture, insurance, energy, and transportation, due to its significant association with environment and climate. The various effects of a changing climate are becoming apparent throughout the world which in turn is influencing decision-making in the tourism sector. Tourism has been the hardest hit by the COVID-19 pandemic with an unprecedented impact on jobs, businesses, communities, and the economy as a whole. The country must focus on recovery and ensuring new opportunities for 'People, Planet and Prosperity'. India must be able to synergise strongly and move harmoniously to prepare economic revival plans supported by tourism. Accordingly, the economic revival can be realized by increasing employment opportunities in the tourism sector. We need to continue to support a rapid, resilient, inclusive, and sustainable recovery of the tourism sector, with a special emphasis on "safe mobility and seamless travel and sustainability and digitalisation." In India, tourism has mostly been constrained to a few traditional cities and towns of historical, architectural, and cultural interest. Due to a lack of infrastructure, communication, and restrictive policies, many magnificent sites remain unknown or underexplored. This necessitates a holistic strategy and consistent policy execution across the country.
Furthermore, we require planning and financial support from both the state and the Centre in order to develop all of these areas with a systematic and holistic approach.
Climate Change and Tourism
Climate action is understood as the efforts to measure and reduce GHG emissions and strengthen adaptive capacity to climate induced impacts.
The COVID-19 pandemic has led to a 7 per cent reduction of GHG emissions globally in 2020¹, providing a concrete reference to the magnitude of the effort still ahead in order to achieve the goals of the Paris Agreement, which will require around 7 per cent reduction of emissions on an annual basis throughout the next decade². According to UNWTO/ ITF latest research, released in December 2019 at UNFCCC COP25, CO2 emissions from tourism are forecasted to increase by 25 per cent by 2030 from 2016 levels, against the current ambition scenario. Therefore, the need to scale up climate action in tourism remains urgent as emissions could rapidly rebound once operations restart and, ultimately, the cost of inaction with regards to climate will be in the long run larger than the cost of any other crisis.
The Glasgow Declaration, officially launched at COP26 UN Climate Change Conference, proposed a coordinated plan for tourism to support the global commitment to halve the emissions by 2030 and achieve net zero by 2050. It also urged the participant countries to make concrete commitments around planning, evaluating and reporting. The tourism sector is highly vulnerable to climate change and at the same time contributes to the emission of greenhouse gases (GHG), which cause global warming. Accelerating climate action in tourism is important to make the sector resilient.
Also Read | Adopting and Implementing Integrated Policies and Plans Towards Adaptation to Climate Change
The IPCC has indicated that anticipated climate change is likely to result in an increase in the frequency or intensity of several weather and climatic extremes (such as heat waves, droughts, floods, and tropical cyclones) (IPCC 2007a).These modifications will have a significant negative impact on the tourism sector through an increase in infrastructure damage, an increase in the need for emergency preparedness, greater operating costs (such as insurance, backup water and power systems, and evacuations), and service disruptions.
A wide range of climate-induced environmental changes will have significant implications on tourism at the local and regional level, since environmental condition is an important resource for the tourism industry. Tourism will be impacted to varying degrees by changes in water availability, biodiversity loss, reduced landscape aesthetic, altered agricultural production, increased natural hazards, coastal erosion and floods, infrastructure damage, and the rising prevalence of vector-borne diseases³.
A wide range of measures should be taken in mitigation strategies, which would range from low-cost initiatives like energy-efficient lighting to strategies requiring more money and effort, including buying more fuel- efficient cars or restructuring energy systems.
Importance of Ecotourism
With the phenomenal rise of the tourism industry worldwide, the Indian government has implemented several policy initiatives to boost tourism. To make "Incredible India" an attractive tourist destination globally, new tourism goods and packages such as business tourism, health tourism, rural tourism, ecotourism, cultural tourism, pilgrimage tourism, adventure tourism, and sustainable tourism are being developed. A healthy environment is also directly connected with the competitiveness of the tourism sector and in many destinations, conservation efforts are largely dependent on tourism revenue. Supporting such conservation efforts can enable a greener recovery.
The tourism sector should be accountable for its emissions, and make reasonable efforts towards mitigating the negative impacts of emissions. The challenge of integrating circular economy processes in tourism, which can further promote innovation, is the creation of new sustainable business models and green jobs.
Policy approach and objectives of Ecotourism
Ecotourism has been identified as one of the niche tourism areas by Ministry of Tourism for development in the country. Promotion and development of tourism, including ecotourism, is the primary responsibility of the state governments/ UT administrations. However, Ministry of Tourism provides financial assistance under Swadesh Darshan Scheme for the development of tourism-related infrastructure and facilities in the country. Recognising the potential for the development of ecotourism in the country, the Ministry of Tourism has identified "Eco Circuit" as one of the 15 thematic circuits under the Swadesh Darshan scheme. The commitment of the tourism stakeholders to transform the sector is supported through the policy towards 'Transition to a Green Travel and Tourism Economy'.
Also Read | Water for All Roadmap for Water Management & Conservation
Recognising the potential of rural tourism in the country, the Ministry had chosen Rural Circuit as one of the 15 thematic circuits for development under the Swadesh Darshan Scheme, and also niche tourism sectors for growth in the country. The Ministry has developed a draft national strategy and roadmap for rural tourism, which focuses on developing and promoting local products through tourism. This resultantly will lead to the generation of income and employment in rural areas and empower local communities, youth, and women to realise Aatmanirbhar Bharat's vision.
The priority issues are steering of recovery funds towards better tourism to balance the urgent support needed for business survival, job retention and the restart of tourism operations with longer-term goals such as the protection of ecosystems and climate change which not only underpin the global economy, but also offer opportunities for creating green and decent jobs. This will also eventually apprehend the potential of green jobs in tourism sector.
Strategy and roadmap for Ecotourism
India ranks relatively poor in the development of ecotourism globally, despite its natural resources and potential. The COVID-19-induced lull in the tourism industry offers an opportunity to reevaluate and reset the direction of tourism as well as the standards by which success is measured. Following the pandemic, there will be a shift toward ecotourism, adventure tourism, wildlife, and nature, with mass tourism becoming less popular⁴. UNWTO is committed to accelerate progress towards low carbon tourism development and the contribution of the sector to international climate goals, in line with the recommendations of the One Planet Vision for a responsible recovery of the tourism sector from COVID-19 to:
Strengthen the measurement and disclosure of CO2 emissions in tourism
Accelerate the decarbonisation of tourism operations
Engage the tourism sector in carbon removal
A growing number of tourist stakeholders agree that the industry's capacity to adopt a low-carbon pathway and reduce emissions by 50 per cent by 2030 will be crucial to its long-term sustainability. The Glasgow Declaration aims to obtain significant actions and commitment as well as build urgency about the need to expedite climate action in the tourism industry. The participants of the Glasgow Declaration on Climate Action in Tourism have pledged to act now and accelerate climate action to cut global tourism emissions by at least a half over the next decade and reach Net Zero emissions as soon as possible before 2050. Their actions are aligned with 5 pathways defined in the Declaration: measure, decarbonise, regenerate, collaborate, finance⁵.
It is necessary to adopt a low carbon pathway with awareness and optimisation as important components in order to transform tourism for climate action. Awareness: By measuring and disclosing the emissions associated with tourism-related activities and by establishing goals based on solid data. Optimisation: By using tools and techniques to scale up mitigation and adaptation in the tourism sector, with participation from all stakeholders.
Way forward
Accelerating the decarbonisation of tourism operations is at the highest priority. We have to enhance mitigation efforts to reduce emissions in the tourism sector, through investments to develop low-carbon transportation options and greener infrastructure. Tourism companies and organisations can be involved in carbon trading markets as a subsidiary option to reduce emissions. Circular economy processes such as reducing and reusing (user to user), repairing, refurbishing and remanufacturing (user to business) and recycling and repurposing (business to business) can reduce economic leakages in the tourism value chain as well as waste and pollution.
Also Read | Tales of Cities: Urban Resilience for Climate Change
Both global and location-specific research and evaluation initiatives are necessary to assess the need for and best methods for adaptation and mitigation, for example, forecasting existing and future climate change consequences; evaluating climate- related risks and vulnerabilities (for making climate-related decisions effectively) risk management), assessing adaptability and resilience, and evaluating existing and upcoming mitigation and adaptation efforts. At the national, regional, and destination levels, there is a need to increase the capacity for adaptation and mitigation in response to climate change across government agencies, tourist institutions, and organisations. Innovation throughout all levels of the tourism industry will increase potential returns, survival chances, and the overall destination's resilience.
Views expressed by Avinash Mishra, Adviser (Natural Resources, Environment & Climate Change Division, Tourism & Culture), NITI Aayog, GOI & Madhubanti Dutta, Young Professional (Natural Resources, Environment & Climate Change Division Tourism & Culture), NITI Aayog, GOI.
---
1. https://www.carbonbrief.org/global-carbon-project-coronavirus-causes-record-fall-in-fossil-fuel-emissions-in-2020/
2. Cut Global Emissions by 7.6 Percent Every Year for Next Decade to Meet 1.5°C Paris Target – UN Report
3. Climate Change Adaptation and Mitigation in the Tourism Sector Frameworks, Tools and Practices, United Nations Environment Programme
4. National Strategy for Ecotourism, Ministry of Tourism, 29th April 2022.
5. https://www.unwto.org/sustainable-development/climate-action