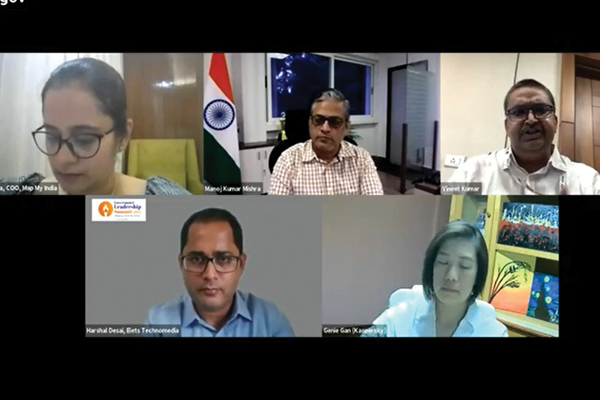 Harshal Desai from Elets Technomedia was the moderator for the panel discussion. He welcomed all the speakers, briefed the audience on the theme and set the tone of the conference before opening the forum for discussions. Desai said, "With the Digital India Mission, the government ecosystem has actively adopted digitalisation to turn the vision of ensuring good governance into reality. Through technology, the government is ensuring that the services are available to all the citizens online and the service delivery should be at the doorstep and processed in a transparent manner." Much done but a lot is yet to be done, he said, there are still many areas where technology penetration is required and the government needs to strengthen those. On this note, he opened the conference for discussions.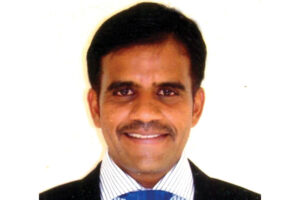 B Sundar, Special Secretary, IT, Electronics & Communications Department, Government of Andhra Pradesh, said, "Post bifurcation of the erstwhile state of Andhra Pradesh in 2014-15, we have started adopting technologies for a wide variety of tasks. In fact, we were one of the first states to implement a real-time government system where we used a plethora of technologies including AI, IoT and AI tools to help with monitoring government schemes, criminal activities, help us with mundane tasks like ensuring working of streetlights across the state and so on."
There were more important works that needed to be optimised through technology like there are government departments that use citizens' data which is fragmented and scattered across government systems. There was no common citizens' repository. Ideally, this repository should be at a single common platform so that there should least scope for tampering with the data. "However, because of the scattered data, the chances of tampering were immense and plugging these leakages were really difficult. It was like a cybersecurity scenario where you always have to be a step ahead to figure out what hackers are up to. On higher levels, there are algorithms working to safeguard the systems but at the ground level, at CSCs, the vulnerability to cyber attacks is more. Also, there have been instances when people have changed their credentials to avail of government benefits. So we realised that before adding more high-end technologies to our systems we need to strengthen the basic technologies that are in use." he added.
Adding to the creation of citizens' data repository and strengthening cyber framework in the state, he said, "We're in a process of building a common citizens' data repository. Next what we realised is that we have a huge volume of services made available online, nearly 500 services, however, nearly 48 per cent of the people are not availing benefits because of the lack of internet and access to smartphones." The government has been struggling with telecom service providers to get towers installed and increase the penetration of the internet in the state. "In the last two years, with our recurring efforts, we have been able to bring down the percentage from 48 to 39," he added.
Also Read: Towards Inclusive & Sustainable Urbanisation
Further, he said that bridging this digital divide is quite a task for the state's IT department. This is because the urban sect is already up to date with the technologies and long for more but to keep them awaited and bring the rural sect at par is difficult. This is to be understood that IT departments cannot work in silos. There is a need for collaborations with the telecom service providers, cybersecurity service providers, need for better infrastructure, and more. "So, my submission to this discussion is we need to understand how all our departments are functioning, bring them together and ensure a common data repository and then look at how many citizens are not able to leverage benefits and work to take them in," he concluded.
Further, he raised concerns regarding variation in the cost of telecom services and infrastructure across states and called for a common template to be implemented across the country.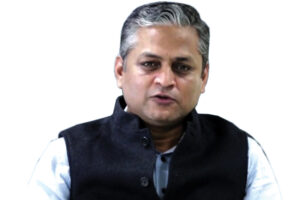 Manoj Kumar Mishra, Secretary, Department of Electronics and Information Technology, Government of Odisha, opened up by saying that the challenge to convert vision into reality is immense in the government majorly because the level of data availability and integration is quite low. "We have many departments and layers and bring all of these on one single platform through which technology can be leveraged is the hardest part," he added.
Addressing the significance of technology amid the COVID-19 pandemic, Mishra said, "As they say 'every cloud has a silver lining' so, if COVID-19 is the cloud then the IT department is the silver lining. IT Departments have never been given this much attention before… The pandemic has been a boon for us in a way that it has opened up
opportunities for the technology sector to flourish and grow at a pace like never before. However, we definitely cannot be thankful for such a tragic scenario that claimed millions of lives."
Speaking of challenges in terms of turning "vision into reality", he pointed out, "When the present government under Chief Minister Naveen Patnaik in 2019 for the fifth term, we had two big announcements. Firstly, he said that "I do not want my citizens to come to government offices unless it is constitutionally or legally mandated." This one statement encompasses a complete vision document. In Odisha, a state where the penetration of mobile signals are not there across the state due to tribal regions and mountainous regions, there were immense challenges to ensure digital government services to people. However, I am delighted to tell you that we have achieved 60 to 65 per cent of our goal by now and we're working on further increasing the penetration of the internet and digitalisation in the state. All thanks to Technology." If telecommunication initiatives like Jio would not have been there so many would have not been able to connect with the government, he added.
Also Read: Selecting Right Digital Partner for Transforming Records Management
"To make that vision into reality we had to do a business process reengineering in almost every government department and there were nearly 480 services that need to be automated. Technologically a solution can be proposed easily but making that technology available is another challenge," Mishra said.
Further, addressing the e-governance initiatives taken he said, "We came up with 'Moh Sewa Kendras'. In every Gram Panchayat, we created a physical government-aided facility so the villages do not have to travel.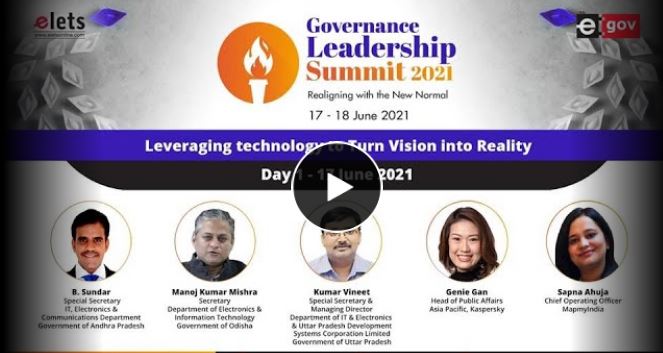 Therefore, people need not have to visit district headquarters but can avail all government services. available online, at the facility." In 2018, the state government came up with a farmer income augmentation scheme called KALIA – Krushak Assistance for Livelihood and Income Augmentation scheme. This was the first such scheme in the country. Even the Centre's scheme for farmers came four months later. To implement the scheme effectively we had to use technology." The biggest challenge was the authentication of the information available about the farmers and the land they own. To resolve it, gram panchayats were activated and people were asked to quote the land they own. Then a list of names with their quoted land area was put up in the same village so that if there is any discrepancies the villagers can make the government bodies aware of the fact. In this process, a huge number of applications were received and filed after data verification. Finally, beneficiaries were listed and benefits are provided to them through Direct Benefit Transfer (DBT) in their bank accounts, he added.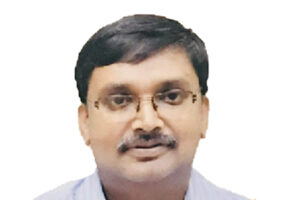 Kumar Vineet, Special Secretary & Managing Director, Department of IT & Electronics & Uttar Pradesh Development Systems Corporation Limited, Government of Uttar Pradesh, started off supporting Manoj Mishra's quote "we're trying to surpass challenges through technology." Speaking on e-governance initiatives in Uttar Pradesh, he said, "Considering the ecosystem of UP, we are focussing on faceless administration. As faceless it can be, as touchless it can be, as secure it can be as beneficial it will be for society. So, we have common service centres (CSCs) at all the places. We have one CSC per village in UP. Then we're using penetration of fibre optics and we've covered nearly 60 per cent of our rural areas. We're looking forward to implementing a cybersecurity framework. In this regard, we connected with National Cyber Coordination Centre (NCCC) so we can ave our data centre incorporated in the cybersecurity framework. We're trying to develop a data security lab so that we can provide services and information.
Adding to the initiatives, Vineet said, "We have our policies on IT for the adoption of technology and implement various interventions, manufacturing of electronic goods. We will also roll out a data centre policy soon." In a nutshell, the entire ecosystem of Uttar Pradesh is being developed in two phases. The first is G2C which should be as faceless and as smooth as it can be and as close or easily accessible to the user as possible. The second is G2B. We're trying to make 'Government to Business' operations as seamless as possible and bring in transparency. On similar lines, soon we will have the National Digital Health Programme in our state, he added.
Apart from the augmentation of G2C and G2B processes, the state is also aiming for improving the DBT ecosystem in the state so that no common man has to go to any government office or bank to fetch benefits of the government schemes. He concluded by saying, Uttar Pradesh is trying to develop an ecosystem that is transparent, secure and faceless.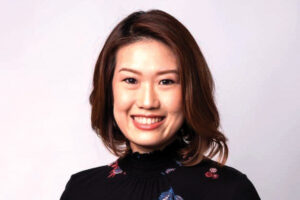 Genie Gan, Head of Public Affairs, Asia Pacific, Kaspersky, commenced her address by saying, "The overarching theme of the conference touches on a variety of topics like artificial intelligence (AI), machine learning (ML), data, Digital India, safe and secure cities, etc. All of these topics have been overshadowed by the COVID pandemic, however, these will always remain relevant as we're trying to adjust with the new norms and new ways of living."
The advent of new and advanced technologies like AI, cloud computing, even quantum computing, and more have transformed businesses. These have enabled micro, small and medium enterprises (MSMEs) and startups to grow rapidly. However, with the rise in technology, the emergence of cyber threats have also surged, she pointed out. Adding to the rising cyber threats and cyber attacks, she said, "For India specifically, cyber threat is a real problem and it has grown significantly after the onset of the COVID pandemic."
Also Read: Securing Cyberspace with Kaspersky
Citing data from Computer Emergency Response Team (CERT) India, Genie highlighted, "Nearly 1.2 million cases of cyber attacks were reported in the year 2020. This was three folds more when compared with cyberattacks in 2019." In the coming times with the adoption of newer technologies and 5G in critical infrastructure, there is a growing need to safeguard systems from cyber threats and strengthen cybersecurity measures, she added.
Besides the government entities, private companies are also not safe from such attacks. She said, "The issue is not just limited to the loss of competitive information such as patterns in intellectual property but also the loss of employees' private data, a company's DNA that rests on intellectual property, connected supply chains and more. All of this is highly important and valuable and needs to be safeguarded." As per estimates, one in two Indian companies has experienced data breaches involving a loss or theft of over 1000 records containing confidential customer information in the past two years alone. So the challenge is both widespread and local and will require granular cybersecurity solutions.
Sapna Ahuja, COO, MapMyIndia, said, "All the speakers have established the fact that digital transformation is important for the growth of the country and improve lives and sustainability. We strongly feel that for digital transformation to succeed, a geospatial transformation is also crucial." She cited speakers' remarks on challenges faced in consolidating scattered data and bring on a single platform. She said, "A lot of those data sets can be put together on a common platform, in comparatively an easier way, through geospatial technology."
"Today, geospatial technology is not about looking at maps only. It is about having intelligent maps that can process data and provide a single window to analyse various attributes to stitch the information coming from various departments, different sectors like education, health, rural development or urban affairs, etc. Putting all this data together and making actionable data out of it and being able to do evidence-based decision making are crucial aspects to enhance efficiency and effectiveness of the government," she pointed out.
Also Read: MapmyIndia join hands with DFI, launches Drone Innovation Challenge
Elaborating on the work of MapMy India, Sapna said, "For the last many years we have been working closely with the governments at Centre, state and city levels. Since the widespread of the COVID-19 in India, nearly from the beginning of April in 2020, MapMy India has been constantly making available information to citizens of India on the location of containment zones, treatment centres, health facilities, vaccination centres, and more. We've been aiding the government through our hyper-local real-time data to effectively manage the health services throughout the pandemic.
In addition, these technologies can be used as solutions for multi-modal transportation, multi-modal logistics, making taxation more transparent, making government processes more transparent, and more. So, MapMy India has been involved with various departments at different levels with the help of our mas, IoT, geospatial analytical capabilities. And, we would continue to be in the work to improve the lives of people across the country, she added.