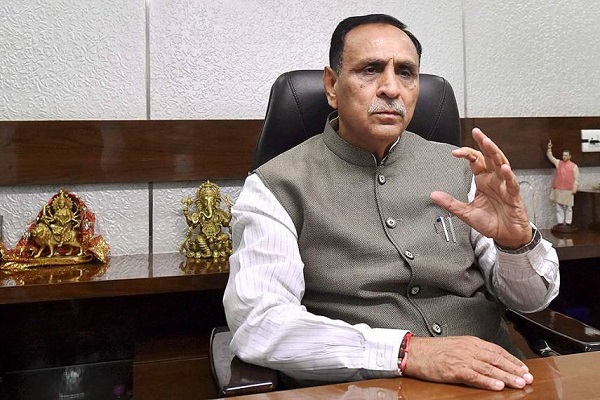 Chief Minister of Gujarat Vijay Rupani, on Aug 2, said the Government of Gujarat is working towards maximising the use of technology and create a faceless system to enhance transparency and do away with corrupt practices. He was addressing a gathering on the second of the nine-day celebrations to mark the completion of his five years as the CM.
During his address, the CM said, Gujarat is leading in terms of extending benefits of intern services to villages in the state under the BharatNet project.
Adding to the government's approach of the adoption of technology, he said, from the 'Seva Setu' programme, the government is now heading towards 'e-Seva Setu' to use technology to extend services to people on a daily basis. Under the Seva Setu programme, camps were held four to five times a year at taluka and municipality levels to aid citizens in availing the various government schemes' benefits.
He mentioned that the Gujarat government had recently made non-agriculture land approval and related services online. This has helped in enhancing transparency in the system and cut down on corruption. Also, services like e-tendering for mines and minerals have also reduced corruption, the CM claimed.
On August 7, 2016, Rupani became the CM of Gujarat following the resignation of the then CM Anandiben Patel and continued in the office after the BJP's victory in the 2017 Assembly elections.
Amid the celebrations, CM Rupani also launched the government's scheme for providing Rs 2,000 monthly to each of the 3,963 children who lost one of their parents due to the COVID-19 pandemic.
Also Read: CM Vijay Rupani launches 'Rojgar Setu' to aid youth in fetching jobs
While addressing the gathering on digital or technology-based initiatives in Gujarat, the CM said, "Gujarat has become the first state to connect villages directly through the internet. The BharatNet's e-connectivity with high frequency has helped people in villages and gram panchayats to avail 55 services through a computer without them requiring to visit taluka or collector office." The state government will soon come up with a facility where people can submit an e-application and immediately receive the required certificates, added the CM.
On the occasion, he launched the government's 433 Seva Setu camps across the state, a new scheme encouraging remarriage of widows through financial support from the government and he re-launched several projects for citizens of Rajkot including the online booking of city bus services and a GIS-enabled portal for various services.