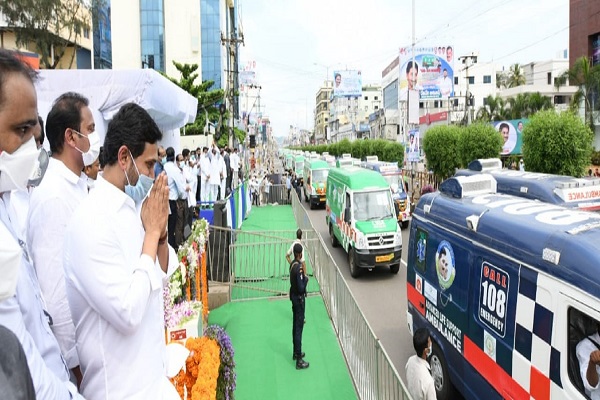 YS Jaganmohan Reddy, Chief Minister of Andhra to flag-off 1,088 vehicles of '108' and '104' ambulances, equipped with state of the art life support systems to provide better medical attention today.
As per the officials, for the first time, 26 neo-natal ambulances are also going to be inducted into the fleet of 412 new '108' ambulances, of which 104 are advanced life support vehicles and 282 are basic life support vehicles. Additionally, to cater to the remote villages, 676 Mobile Medical Units (MMU) of 104 emergency services are being introduced.
Also Read: COVID-19: Union Home Ministry releases guidelines for Unlock 2.0
On June 30, 704 COVID-19 cases surfaced in Andhra Pradesh taking the overall tally to 14,595. Of the total cases, 7,897 patients are undergoing treatment, whereas, 6,161 were in hospitals and 1,736 were in COVID care centres, according to official data.
Also Read: MEPMA strengthening Andhra's stand in fight against COVID-19 pandemic
According to the government data, since the onset of Unlock 1, June 1, the state has witnessed a rapid surge in coronavirus infections as a staggering 10,919 cases were reported this month.