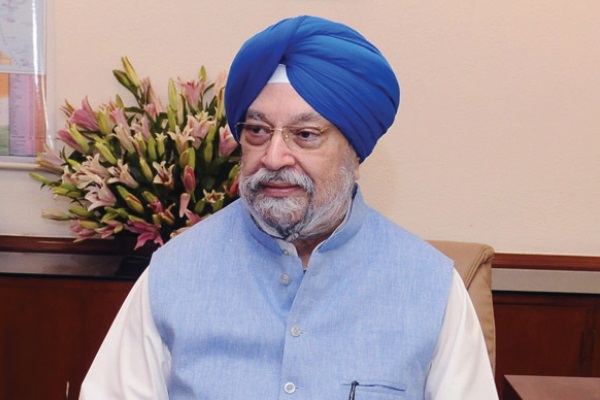 Hardeep Singh Puri, Minister of State for Housing and Urban Affairs (I/C), while addressing a webinar organised on the occasion of 5th Anniversary of Pradhan Mantri Awas Yojana (PMAY), Smart Cities Mission (SCM), and Atal Mission for Rejuvenation and Urban Transformation (AMRUT), said, "India has undertaken one of the most comprehensive planned urbanization programmes in the history of the world. The vision of our Prime Minister of a New India is closely intertwined with our flagship programme achievements. On May 12, 2020, Prime Minister launched the 'Atma Nirbhar Bharat Abhiyan' which focuses on providing relief as well as help to farmers, cottage industries, home industry, small-scale industries, MSMEs – which are the means of livelihood for crores of people who were adversely impacted by the lockdown measures."
Durga Shanker Mishra, Secretary, Ministry of Housing and Urban Affairs (MoHUA) was also present at the occasion. The webinar was organised by the Ministry to celebrate the achievements and boost implementations of the urban missions.
Also Read: Agra Metro Project: Major Boost to Economic Sector of Heritage City
Joint Secretaries and Mission Directors of AMRUT, SCM, PMAY-U, Principal Secretaries (Urban Development) of State Government and UTs, State Mission Directors, Municipal Commissioners/CEOs of Smart Cities, representatives of partner agencies / Bilateral / Multilateral Institutions and other key stakeholders also participated in the webinar.
Also Read: Smart Cities Enabling Local Governments To Fight COVID: Kunal Kumar
Some of the key announcements and launch events at the webinar included :
E-Book of the Ministry of Housing & Urban Affairs showing the progress and achievements of all Missions of the Ministry.

National Institute of Urban Affairs (NIUA) Website is revamped to strengthen it as a knowledge bank for emerging topics on urban development, while continuing to be a source of everyday resources for urban development functionaries and practitioners.

National Urban Learning Platformis a platform for digitally consolidating key skills and knowledge required for capacity building, which is a constant requirement for effective governance and nurturing leadership at city, state and national level.

NIUA Climate Center for Cities (C3) has been setup to consolidate and institutionalize and mainstream the learnings from experiences in our cities on climate change.

NIUA Center for Digital Governance (CDG) is an initiative to take forward the digital efforts of MoHUA and become the anchor to accelerate digital transformation of urban governance across all States and Cities.

Video Launch: Outcomes of PMAY- U: showing the progress and achievements of PMAY-U, along with testimonials of beneficiaries of the Mission.

E-Book Launch: PMAY(U) – Khushiyon ka Aashiyana: showing the progress and achievements of PMAY-U, along with testimonials of beneficiaries of the Mission

Video Launch: Outcomes of AMRUT: showing the progress and achievements of AMRUT, along with testimonials of beneficiaries of the Mission.

Book Launch: COVID Diaries: is a collection of personal reflections / opinion articles from members of Smart Cities Mission team as they navigate changes in their daily lives and work routines during COVID-19 pandemic.

Book Launch: The Smart Responses to COVID-19: How Indian Cities are fighting through Action and Innovation (Volume-1) compendium is an attempt to showcase how urban India has responded to the challenges posed by the pandemic.

City Finance Portal: First time effort of getting financial Statements of all cities on single platform to enable sharing and learning of best practices and to help ULBs in accessing market funds.

Cycles4Change Challenge: India Cycles4change Challenge is an initiative of Smart Cities Mission to inspire and support Indian cities to quickly implement cycling-friendly initiatives in response to COVID-19. The idea is to begin by creating low-cost interventions like pop-up cycle lanes and non-motorized zones, launch programs such as community-led cycle rental schemes and promote cycling usage through public events.
Also Read: Hardeep Singh Puri launches CREDAI Awas App & NAREDCO online housing portal
(With Inputs From PIB)