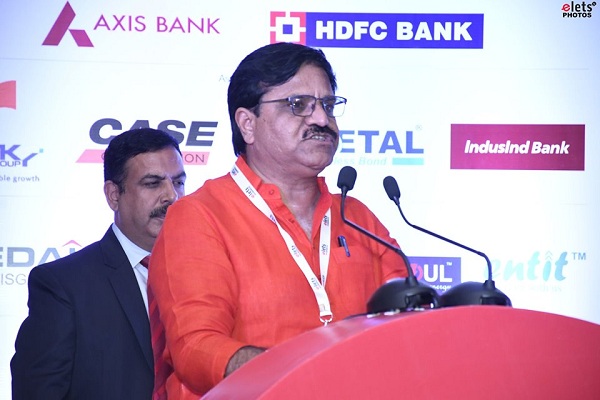 If we talk about the growth capacity, then Raipur will be counted as one of the fastest-growing cities in the country. People are also willing to invest in various capacities. Also, the city is peaceful where people can spend their lives in tranquillity, says Pramod Dubey, Mayor, Raipur Municipal Corporation, in an exclusive interview with Arpit Gupta of Elets News Network (ENN). Dubey gives his insights on the rapid infrastructural progress being made in Raipur Smart City.
In the past five years, what are the major works and innovations done by Raipur Nagar Nigam that resulted in Raipur being ranked among the top 10 Smart Cities in India?
We have done Area Based Development (ABD) by implementing methodical plans every year. We have started 'Kharun Bachao Abhiyan' for making our rivers pollution-free. In this Rs 303 crore programme, all the drain water that used to flow straight into the rivers is being treated by using Sewage Treatment Plants (STPs) and then released into the rivers. As a result of this, the river water that needed to be filtered four times is only required to be filtered once now. By doing this, not only the water will become clean, but we will also be saving a lot in terms of cost.
A lot of idol immersion used to take place in our lakes which was damaging the ecosystem. To save our lakes, we made temporary pools adjacent to the lakes for the immersion of these idols. The water going back to rivers from these immersion pools is filtered beforehand and the clay left behind is recycled to make other idols.
We have done major work on 40 lakes, in which all the incoming drain water is now pre-filtered. In fact the quality of the water in the lakes has become so good, that our groundwater level is being maintained very well.
We made the Nalanda Library which cost us around Rs 20 crores. This library runs 24*7, which is very rare in the country.
We have also started water harvesting in our gardens. Most people install water harvesting at their homes, but we started this in big gardens. This also helps in maintaining the groundwater level of our city. We have worked a lot on waste management. We have 100 percent door-to-door waste collection in our city. We have also started working on a plant where segregated waste can be sold.
Apart from this, we have decentralised the markets. And to make the city polythene-free, we have given two shops free-of-cost to the 'Mahila Swacch Sahayata Samuh' in each of our markets, so that they can sell reusable jholas or bags there. Also, we don't take any taxes from them. To improve parking, we have started making big multi-level parking spots. Two such decentralised parking spaces have already been completed.
We have installed open gyms in 185 gardens; they have been developed like big fitness centres.
We have made the Netaji Subhash Stadium and renovated the indoor stadium.
The common people want their city to be the most beautiful city in the country; we have tried to fulfill all their aspirations in terms providing a resilient and liveable city. In order to provide elderly care facilities to our senior citizens, we have made 'Siyan Sadan' and 'Bapu ki Kutiya'.
Apart from that, we have also developed system to provide birth certificate and other documents in a convenient and effortless manner.
By using technology, you have tried to make the city hi-tech. Intelligent Traffic Management System (ITMS) and Integrated Command and Control Centre (ICCC) have also been started. How much benefit people are getting from this or will get in the times to come?
The benefits from this have already begun. Today from our command centre, we can ensure surveillance across the city; be it the colonies or main roads. We ensure that ambulance or fire trucks are given priority on the road, by always giving them the green signal. We have adopted this feature in our ITMS.
For the safety of the city, we have already installed 499 cameras and we are about to install 299 more cameras soon. So for the city to become a completely safe city, we are heading in that direction very fast.
If we talk about the growth capacity, then Raipur will be counted as one of the fastest-growing cities in the country. People are also willing to invest in various capacities. Also, the city is peaceful where people can spend their lives in tranquillity.
The local government of Raipur city and the state government are the same. So can we say that the growth rate of Raipur will increase further in the coming times?
If the willpower is strong, any government can do a good job. The good thing is that our honourable Chief Minister, Bhupesh Baghel, started work from the grass-root level. He knows how to protect the holy animals such as cows, and he has achieved the same through the 'Gothan' programme. Also, to utilise drain water, he has started the 'Narva Garwa Ghurwa Badi Yojana.'
The practices that existed in our country 100 years ago are gradually coming back. This is the only way we can preserve our culture and heritage. In the past century, we have destroyed our lakes, killed our rivers, we made concrete jungles in our own backyard from where we used to get manure. River, lakes and drains have been the culture of this country but unfortunately, there was a rapid erasure going on in these areas.
Our CM Bhupesh Bahgel is on a mission to make a prosperous Chhattisgarh. He has named this mission 'Gadbo Nava Chhattisgarh.' When a someone makes a new house, if their plan becomes askew or if he/she becomes directionless, then that house is dismantled and built anew. That is why our CM has named the mission 'Gadbo Nava Chhattisgarh,' and we will do our best to achieve this new Chhattisgarh.
There are no shortages of any resources, and for their positive utilisation, our CM has taken big strides.