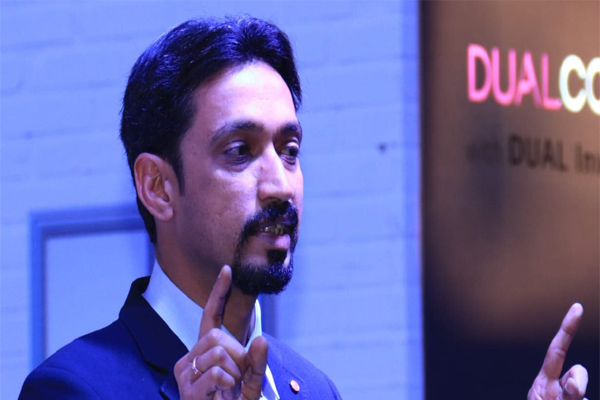 LG Electronics aims to inculcate latest technological innovations in our range of products, driven by consumer insights. We are also innovating in the existing product ranges and planning to come up with new products as well such as personal air purifier meant to be used for personal closed cabins, cars etc., says Amit Gujral of  LG Electronics, in an exclusive interview with Jyoti Bhagat of Elets News Network. Gujral also talks about the company's USP and how over the two decades, LG Electronics has become a household name in the country.
Excerpts from the interview:
LG has completed 22 years in India. How would you assess the journey of over two decades?
The understanding of the brand LG comes from two facts. Firstly, brand LG is present in almost every Indian household, which talks volumes about the brand in itself. Secondly, our brand brings an indigenous feel with it and does not exude the vibes of being a foreign brand. We have localised based on the consumers' demands. It was a conscious decision by us to take the route of health and hygiene products. We have implemented engineering and technology which enables hygienic preservation and care in our products, be it a refrigerator or water purifier. There is a conscious effort in every product range to ensure health and purity factor and not compromise with the hygiene. Over the 22 years, we have moved along with the sentiments of the people and technology innovations to grow as a household brand.
LG has a huge range of products. Which product range is most popular, or if I may say, profitable?
In terms of growth charter, we are experiencing growth in almost every broad segment. However, maximum contribution has been from the Home Appliances sector followed by Home Electronics, such as refrigerator, air conditioners etc. followed by television and other audiovisual products.
What are the new initiatives taken by LG?
Fundamentally, we have to understand that the belief systems among the consumers have changed as the level of awareness is very high today due to the technology penetration in our day to day lives through access of smart phones and affordable data. With this, our behavioural pattern has changed and we tend to believe what we experience more. Hence, the Go to Market (GTM) philosophy is working on three Es.  The Experiential Connect, the Engaging Connect and the Emotional Connect. Today, consumers are well aware of who is the best based on their knowledge. Hence, our focus is to offer experiential marketing and consumer engagement.
Secondly, we offer a unique engaging opportunity with the consumers when they visit our stores. We offer to install certain appliances such as television, water purifiers etc., at their homes for trial. We are the only organisation which is practicing the try and buy method.
Geographically, which are the states or cities in India which are the major contributors for LG?
I would like to say that the entire country belongs to us and we belong to the entire country. From all four zones, East, West, North and South, we are receiving positive response in terms of sales. That is where our strength lies that LG is one of the most trusted brands when it comes to home appliances. Our strength is that we are the largest after-sales service providing company in the country.
What is the distribution model of LG? How many channel partners are operating across the country?
There are around a hundreds of channel partners across India. We have to operate in three-four channels in this country. We have a combination of distributors and sub-dealers. In the Tier II or Tier III cities, we have a humungous network of sub-dealers. In the larger towns, the classical model of distribution is being followed. Our biggest strength is that we have the largest footprint in this country. Another USP we have is, we understand the consumer psyche and behaviour and offer the services accordingly.
In terms of industry, which sector has the highest traction?
For us, the impetus is more towards healthcare via daily use consumer durables, as our philosophy runs around the lines of offering health caring and hygiene enhancing energy conservative products.
What will be the key focus areas for the next few years?
We aim to inculcate the latest technological innovations in our range of products, driven by consumer insights. We are also innovating in the existing product ranges and planning to come up with new products as well such as, personal air purifier meant to be used  for personal closed cabins, cars etc.
We plan to launch this product range soon.
What is your focus in terms of products for the B2G market? 
For B2G market, our focus is on mobile phones as we are aligned with the Government of India's policies and schemes. Thanks to the Government of India's Digital India scheme, a lot of focus has come into making governance electronically monitored and systematic. This is possible through digital innovation. Similarly, in the scheme of National Health Mission, there is a good amount of impetus by the Government of India to have people connected and the best way to do that is through smart phones. In line with that, we have launched two new models, catering to the requirements stated by the Government department.
We also plan to contribute more in the Government initiatives wherever there is a need for energy conservation. For example, in the upcoming Government infrastructures, there is a need to install air conditioners or air coolers. In hospitals or hotels, there is a need for hot and cold water. While there is a need to invest separately for these requirements, we are deploying a common technology which enables one- time investment to serve both the requirements. This also contributes towards energy conservation, ultimately serving the larger purpose and vision. Recently, we have done the air conditioning of a nuclear power plant based in Andhra Pradesh. We are also in talks with various Embassies and Smart City projects to work together.