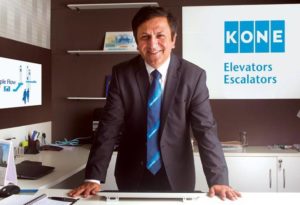 Innovation has been one of the most significant elements of Kone – a market leader in escalator and elevator manufacturing. While designing its products for the Indian market, the company provides a unique mix of global expertise and Indian requirements, says Amit Gossain, Managing Director, Kone India, in conversation with Harshal Desai of Elets News Network (ENN).
Please brief us on Kone India's operations and its growth in recent years?
Kone India has come a long way since its inception in 1984. Today, the organisation is supported by over 4,500 employees who are spread across the country at our more than 40 branches. We have our head office, factory and research and development wing located in Chennai. India is the second-largest market for escalators and elevators in the world – more than 50,000 units are sold every year in the country. We are proud to say that we are leaders in the industry with a market share of more than 20 percent.
We call ourselves a 'People Flow' company. We not only manufacture escalators and elevators, but also play a role of consultant. We also guide and educate our clients on the kind of escalators and elevators they should install and exactly where they should install them. We have been named among the 100 most innovative companies – 8th year in a row – by Forbes. We are headquartered in Finland, and Kone India is 100 percent subsidiary of Kone Corporation. Innovation has been one of the most significant elements of Kone. While designing our products for the Indian market, we make use of global expertise and consider Indian requirements – for example, elements of Vastu Shastra – as well.
Will you please tell us more about the manufacturing unit located in Chennai?
Our production unit in Chennai produces elevators for the Indian market as well as for Bangladesh, Nepal and Sri Lanka. The production unit also manufactures components for modernisation projects in other Asian-Pacific markets such as Australia, Korea, Singapore and Malaysia. We also have a training centre in Chennai where Kone's installation engineers and field mechanics are trained to meet Kone India's strong reputation for high quality and uncompromised safety, as well as the expectations of Indian customers, when installing and maintaining elevators and escalators. Kone's global technology and engineering centre is a testing and research hub, which supports the latest technology and development of future Kone solutions.
You have recently joined hands with IBM. Can you please elaborate on this partnership?
We have entered into a partnership with IBM with special emphasis on adding cognitive analysis into our servicing capabilities and rolling out solutions based on Internet of Things, and it is part of our innovation initiatives. With this collaboration, all our escalators and elevators across the world can be connected. In simple words, it means that with this technology, we will be able to monitor all our escalators and elevators 24X7. It will allow us to offer more streamlined services to our clients. In near future, our customers in India will also benefit from this technology.
What are the U-MonoSpace and U-MiniSpace elevators?
Our U-MonoSpace has been designed for low-to-mid-rise buildings. We are proud to say that these are the world's first machine room-less elevators. Besides, we have also designed the EcoSpace elevator, which are machine-room-less traction elevator, and these are quite apt for low-rise buildings from 2 to 15 stories. These elevators are also an energy-efficient alternative to hydraulic elevators, and can fit in an existing hydraulic elevator hoist way. The Kone U-MiniSpace elevator with a small machine room is often used in high-rise buildings.
What are your views on Internet of Things (IoT)? How is it going to impact your business strategy?
In India, buildings are getting taller and there is a need to manufacture smarter solutions. Internet of Things, which allows a machine to interact with another machine, actually enables us to develop smarter solutions.
What steps are being taken by Kone to reduce its carbon footprints?
In June 2013 the company launched a new high-rise elevator technology called 'Kone UltraRope', which enables future elevator travel heights of one kilometre. The product is light due to its carbon fibre core and a high-friction coating. Because of these qualities, elevator energy consumption in high-rise buildings can be cut significantly. Besides this, our EcoDisc Motor reduces the amount of energy lost as heat. We have designed motor control system and brakes in such a way that elevator doesn't make much noise.
Which part of the country is generating maximum revenue for Kone India?
Revenue is equally divided in North, South and West India with East slightly lower at the moment.
What are your views on India- Finland business relationship?
Both the countries have got good business relations. The Prime Minister of Finland had travelled to India last year. Finland Embassy is quite active and working on strengthening business ties with India. The Indian government is playing a big role in promoting cross border businesses. India's annual trade with Finland has crossed $1 billion. According to reports, Finnish companies have invested $419 million between 2000 and July, 2017 in India. Last year in November 2017, foreign minister of both the countries had met and reviewed bilateral relations.
What are your plans for the future?
Our plan for the future is to have the widest state-of-the-art product range to fulfil the needs of our customers in India and provide best of services in the industry.
Follow and connect with us on Facebook, Twitter, LinkedIn, Elets video