Madhya Pradesh is embarking on a new journey as it is trying to develop mini Smart Cities on its own. The State is trying to develop these cities in an eco-friendly manner adding a new chapter to the Smart Cities, says SS Rajpoot, In-Charge, Smart Cities Mission, Madhya Pradesh, and Director, National Institute of Governance and Urban Management (NIGUM), Bhopal, in conversation with Divakar Mukherjee of Elets News Network (ENN)
What are the initiatives undertaken by your department for Smart Cities in MP?
The Urban Administration and Development Department (UADD), Government of Madhya Pradesh, has a visionary outlook towards the development of Smart Cities in the State. The State believes that cities must be developed as Smart Cities as per the existing characters, potential and uniqueness of each city. Thus, nurturing the existing qualities and strengths of each city, a vision has been defined for each of them. Based on the respective visions, Smart City proposals have been submitted and they have passed the national level challenge. The implementation of these projects is underway. Seven Smart Cities from Madhya Pradesh viz. Indore, Bhopal, Jabalpur, Ujjain, Gwalior, Sagar and Satna are implementing various modules/projects envisaged under Smart City Proposals duly approved by the Government of India.
Learning from the Smart Cities Mission of India, the Government of Madhya Pradesh has initiated to develop 12 mini Smart Cities having a budgetary provision of Rs 300 crores spread over the financial year 2017-18 and 2018-19. This is being undertaken under Chief Minister's Infrastructure Development Scheme (CMIS).
Over and above, the Government has established a State Level Project Management Consultants (PMC) for Smart Cities to provide strategic guidance and technical and capacity assistance.
What common challenges are you facing in implementing Smart City projects?
The common challenges being faced by Smart Cities in Madhya Pradesh include land-related issues, functioning and capacity related issues of Special Purpose Vehicle, ICT procurement related issues, etc.
A State Level High Powered Steering Committee (HPSC) addresses and resolves the land related issues. The ongoing hiring of experienced sector experts for implementation assistance would take care of capacity related issues and smooth functioning of SPV in due course of time.
"Development of riverfronts, conservation of heritage building and their restoration, promoting sports tourism by development of world class, state-of-the- art sports stadiums and complexes, development of pilgrimage sites are few of the Smart City initiatives being taken up to promote tourism in the State."
How do you ensure improvement in basic facilities like transport, municipal waste, electricity, piped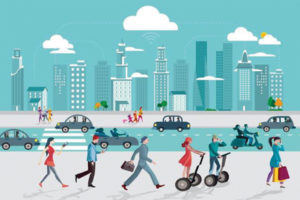 water sanitation and sewage for a majority of the urban population?
The mission guidelines promote convergence of various infrastructural programmes of the Government of India and Government of Madhya Pradesh for the provision of infrastructure like public transport, water supply, sewerage network etc. The benefit of clubbing such programmes is that it adds to various technological and IT components to enhance the service quality and monitoring of the infrastructure created.
We also assure that the projects which have revenue generation potential are explored to be implemented on Public- Private Partnership model to reduce capital investments and market risks.
What are your plans to make Smart Cities of Madhya Pradesh eco-friendly and citizen-friendly?
Green Energy, Green transportation and Green spaces are some of the initiatives in achieving eco-friendly Smart Cities. Some of the salient examples include riverfront development in lndore, Dumna Nature Reserve in Jabalpur, public bicycle Sharing in Bhopal, etc.
Also, differently abled universal design guidelines are being followed in all our ongoing projects ensuring greater convenience and recreation for all sections of the society. All our projects technology is the key enabler. Ongoing e-Nagarpalika programme having components of e/m governance is taking 23 services to urban citizens to all 378 Urban Local Bodies. Apps like Indore 311, Bhopal Plus, Mayors Express, Smart Map, Hello Ujjain, etc. will considerably ease the burden on citizens and save time.
How is the Public Private Partnership (PPP) model being approached in the Smart cities initiatives of MP?
Smart Cities of Madhya Pradesh have proposed 29 per cent funds coming in from PPP and other private sources like land monetisation, VCF, etc. Various PPP models are being implemented in the State which runs across all the 378 ULBs including seven Smart Cities. Examples include smart LED-based streetlighting (DBFOT model), Hub and Spoke Model of Public Transport System, Pharmaceuticals Benefits Scheme, intelligent poles, etc.
Madhya Pradesh is a culturally vibrant state, how will Smart City initiatives encourage tourism in the State?
Tourism influx is the result of rich culture and heritage. The State being gifted with many naturally aesthetic spaces has a huge potential in tourism. Smart City initiatives tend to further develop the tourist sites by developing and fostering growth in these natural, cultural and heritage sites. Development of riverfronts, conservation of heritage building and their restoration, promoting sports tourism by the development of world class, state-of-the-art sports stadiums and complexes, development of pilgrimage sites are few of the Smart City initiatives being taken up to promote tourism in the State.
For instance, Bhawartal Park Development and Wright Town Sports Stadium in Jabalpur; Khan Riverfront Development, restoration of Rajwada area, Chhatri and Safari Street Development in Indore; Sadar Manzil restoration in Bhopal; Mahakaal Area Development in Ujjain, and Maharaj Bada Area development, restoration of Baolis in Gwalior are just few of the examples for enhancing the State's tourism through Smart City initiatives.
Why has the PPP model not found success in waste management projects?
What strategies can make the model viable for the days to come? There are various reasons for the failure of PPP model in waste management in the country like mixed waste fed into the plants, low tipping fee, and lower purchase value of power by DISCOMs, etc. Madhya Pradesh has successfully overcome all these challenges by providing enabling policy framework and robust PPP structuring and thus, implemented waste management projects through PPP. To cite a few examples, the waste-to-energy plant of Jabalpur, wherein concession agreement has been signed between JMC and Essel Infra Project Ltd. worth Rs 178 Crores. Similarly, Indore and Bhopal have also achieved a high success rate in managing its solid waste under PPP mode, which helped us in securing the second rank in Swacch Bharat Rankings, 2017.
Follow and connect with us on Facebook, Twitter, LinkedIn, Elets video