Maharashtra's War Room has been the single most successful initiative from the Chief Minister's Office to speed up stalled projects and add a sense of urgency and efficiency to overall project execution, says Kaustubh Dhavse, Joint Secretary, Chief Minister Office and Officer on Special Duty to Chief Minister, Government of Maharashtra, in conversation with Kartik Sharma and Harshal Y Desai of Elets News Network (ENN).
What was the idea behind 'Aaple Sarkar' initiative started by the Maharashtra Government?
The Government of Maharashtra had revealed its plans to focus on Information Technology and Digital Transformation in the very first meeting which was chaired by Chief Minister Devendra Fadnavis in November 2014. The CM had highlighted government's vision to ensure that technology plays 'significant' role in the overall development of the State.+
'Accountability, Efficiency and Inclusion' were the three key elements, the government decided to focus on during its tenure in Maharashtra, and the Chief Minister was of the opinion that technology is a great enabler and could give impetus to government's efforts to ensure and strengthen the aforesaid three elements.
"We are the first state in the country which has made significant progress in Smart Cities projects. Nagpur is already on the verge of completing the Smart City project."
At that particular time, departments were busy in building their digital space in the form of web portals and several other electronic services. These departments were actually working in silos. The new government was quick to understand the issue and decided to create an integrated one single brand called 'Aaple Sarkar' which could bring all the departments together. The CM was keen to focus on Grievance Redressal Management more as he wanted to listen to the people of Maharashtra and understand their issues. Later, the government brought the revolutionary 'Right to Service Act' and today 376 end-to-end services are online. 'Aaple Sarkar' initiative has been extremely successful project.
What is the purpose of government's MahaNet Programme?
Digital connectivity is another area which the Government of Maharashtra wished to streamline within the State. The CM always believed that without connecting the rural Maharashtra with the mainstream IT system, the dream of overall IT advancement could not be completed.
MahaNet is a part of BharatNet Project. Under this project, the Government of Maharashtra will digitally connect 29,000 Gram Panchayats. The programme will positively affect the education and healthcare ecosystem and will ensure better access to governments' services and markets. With this programme, the Government of Maharashtra will be able to distribute necessary information in the best possible manner to people residing in remote villages.
What is the progress in Mumbai Wi-Fi Project?
It has been another successful programme of our government. Mumbai has become the first city to have Wi-Fi connectivity in public places. As our CM has commented, Mumbai Wi-Fi is India's largest public Wi-Fi service and it is one of the largest globally too.
The state government has also laid extra fibre when it was laying the fibre for CCTVs infrastructure. The wise move allowed the government to install Wi-Fi services within six months after installing the CCTVs without digging the road again.
What is the progress of Smart Cities in Maharashtra?
We are the first State in the country which has made significant progress in Smart Cities projects. Nagpur is already on the verge of completing the smart city project. The government has lined up 10 cities in Maharashtra which will become 'smart' very soon.
The way we planned the implementation part has actually become an example in the country.
To make a city smarter, it is of utmost importance to use our resources efficiently. For example, if you are creating infrastructure for CCTV, it should be ensured that work is not done from scratch to create infrastructure for Wi-Fi. Further, the city should have excellent solid waste management, streamlined traffic management system, amazing citizen services, etc. Special Purpose Vehicles (SPVs) are paving the way to faster implementation.
'eGovernance' is also an essential part of any Smart City and in order to ensure efficient and transparent eGovernance, the State Government is also planning to have a data base of individuals which will allow it to offer its services to citizens in a speedy manner.
We have several transport options in Mumbai – local trains, mono, metro, buses and taxis. We are working on Unified Mobility Card and making efforts to streamline the transportation within the city.
Are there any plans to build a dedicated web portal for Direct Benefit Transfer (DBT) scheme?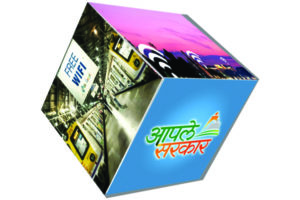 Yes, the Maharashtra Government is in the process of building a DBT Portal. This will allow the government to streamline the process. We have deliberated on this six month ago and formed a committee to ponder over this further. The committee is headed by Additional Chief Secretary, Finance, D K Jain. We brought secretaries of the four key departments which have beneficiaries under different DBT programme i.e., Higher and Technical Education, Social Justice, Women and Child and Tribal. With the help of these departments, we are working on streamlining the DBT process within the state – avoiding any kind of human intervention. The portal will be launched very soon.
What differentiates the Maharashtra Government with other States when it comes to implement various projects at a rapid speed?
Our CM is an evolved leader who delegates the work among his team. He has been able to demonstrate amazing ability to empower people in his team. Private players, who never wanted to come to Maharashtra to do business, are now showing willingness to start their projects in the state. They are happy with the kind of decision are being made. And the credit goes to our honourable CM. He has been able to create conducive environment for all. We have to also credit our IT Department under the leadership of V K Gautam, Principal Secretary – IT, Government of Maharashtra who has been able to translate CM's vision in reality. All in all, it is a great team work.
We have heard a lot about the CM's War Room? Can you please elaborate how effective it has been?
The War Room has been the single most successful initiative from the Chief Minister's Office to speed up stalled projects and add a sense of urgency and efficiency to overall project execution. It has also played a very important role in the speedy implementation of all our urban and rural projects. Our War room has received national recognition and several States are in touch to replicate the same.
What are your plans for the future?
We want to deliver what we commit. We will be focusing on implementing government schemes and projects in the next two years. We have also created IT Corporation and we are working on establishing this corporation as one of foremost IT companies in the country. We will ensure that our Chief Minister's vision is executed to the tee. Further, you must be aware that we are also working on building India's second International Finance Centre (IFC) in Mumbai, which will be set up in Bandra-Kurla Complex.
Follow and connect with us on Facebook, Twitter, LinkedIn, Elets video