Energy Efficiency Services Limited (EESL) is retrofitting LED lights, energy efficient ACs, ceiling fans, energy saver ACs, energy efficient water pumps at NITI Aayog office in Delhi. EESL is also installing chiller system in the NITI Aayog premises. This has resulted in an annual energy savings of 11.4 lakh kVAh, an annual monetary savings of Rs 1.02 crore and led to an annual CO2 reduction of 966 tonnes.
The total cost of the project is Rs 2.67 crore. EESL has retrofitted 3061 LED lighting, 591 energy efficient fans, 415 energy efficient air conditioners and installed two energy efficient chillers. Additionally, other energy efficient appliances such as energy efficient water pumps, APFC control and CEMS (Central Energy Management Systems), which tracks the buildings energy consumption has also been installed. With these interventions, BEE has certified NITI Aayog building with 5-star rating with Energy Performance Index of 72 (kWh/Sqm/annum), an official statement said.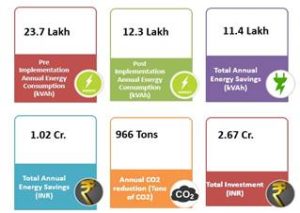 NITI Aayog initiated the energy efficiency interventions in March 2014 in consultation with EESL. EESL analysed the connected load of NITI Aayog building and based on the highest components of energy utilization, target areas for interventions were identified. Additionally, monitoring and verification of the interventions was also carried out through physical verification of the replaced energy systems with wattage and operating hours by EESL.
The retrofitting and installation is executed in two phases with different models of implementation process.
Phase-I was done through PMC (Project Management Consultancy) mode in which entire capital cost was paid upfront by NITI Aayog and entire savings arising out of lower electricity bills accrue to NITI Aayog.
The chiller systems which is already installed in NITI Aayog under Phase-II, where EESL has implemented the project in ESCO shared saving model through collaboration with CPWD (Central Public Works Department). Under ESCO model, the upfront capital cost is borne by EESL and the resultant savings from projects are been used to repay for EESL investments on deemed basis.