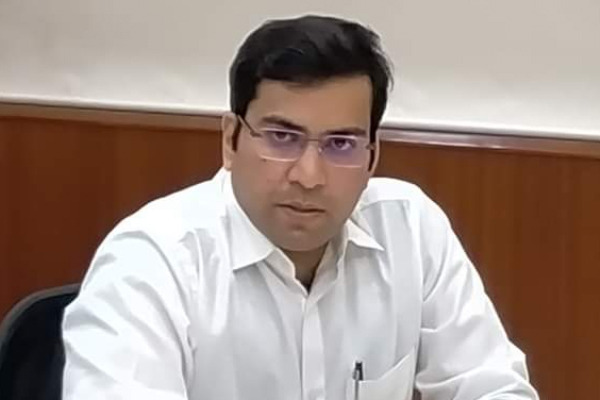 Focussing on heritage and tourism, safety and security, traffic management, efficient public transport and waste management, Jaipur Smart City Limited is leaving no stone unturned to ensure Jaipur transforms into a city of future, says Sandesh Nayak, Chief Executive Officer, JSCL, in an interview with Kartik Sharma and Harshal Desai of Elets News Network (ENN).
What are your views on Smart City Mission for Jaipur?
For Jaipur, we aspire to leverage heritage and tourism by incorporating innovative solutions which improve the quality of life for the citizens of the city. We have already prepared a proposal and started talking to various stakeholders within the city seeking their suggestions to implement our vision. Jaipur Smart City Limited (JSCL) is taking up projects mentioned under the Smart City Proposal (SCP) approved by the Government of India. We are considering every aspect of life in and around city while implementing our vision.
Who are these stakeholders?
The SPV (Special Purpose Vehicle) is taking up projects independently as well as part of convergence from line departments. These include Jaipur Development Authority (JDA), Jaipur Nagar Nigam (JNN), Jaipur Metro Rail Corporation (JMRC), Ministry of Tourism, Traffic Police, Department of Information Technology and PMC Consultants. Jaipur Vidyut Vitran Nigam Ltd. (JVVNL), Public Health Engineering Department (PHED) and Jaipur City Transport Services Limited (JCTSL) are the other stakeholders who will play a crucial role in developing Jaipur as a smart city.
How do you see technology as an enabler?
Technology is very crucial and we are certainly going to make the most of it, available in Jaipur. I strongly believe that we must use technology to strengthen operations and activities of all the departments. For example, if the available technology can indicate the quality of water we drink and the air that we inhale, it will boost the aim of making cities smarter. Besides technology, we are also focussing on building robust infrastructure in the city with emphasise on smart roads. Roads must be safe for citizens and we are working on plans to allow both pedestrians and vehicles move within the city smartly.
What are the challenges faced while executing the smart city plan?
Sticking to our smart city vision is the biggest challenge. Developing a smart city is indeed a herculean task and there are bound to be several challenges. But these challenges should not divert us from our goal and we must stick to our plan and move in the right direction. I believe these challenges can be sorted out with active participation from all the stakeholders. The real beauty lies in converting our ideas into reality in the best possible manner.
What are your focus areas under the smart city plan?
Heritage and tourism, safety and security, traffic management, efficient public transport and waste management are some of the key focus areas. Basically, these focus areas are divided into four verticals – Smart Heritage and Tourism Smart Civic Infrastructure, Smart Transport and Smart Intermodal Mobility.
What are your plans for Heritage conservation?
Two work orders amounting to Rs 14.62 crore and Rs 1.80 crore have been issued for conservation of heritage bazaars in the walled city and adaptive reuse of Rajasthan School of Arts, respectively. A project for solar roof top panelling with capacity of 100 KWP has been done at the cost of Rs 81 lakhs.
What are your views on major smart city components in Jaipur?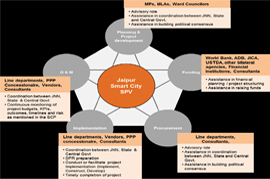 We have already floated five-seven projects. Most of them cater to smart transportation focussing on pedestrian mobility and safety, beatification of roads, management of utility ducts and other aspects of landscaping. We are working on big junctions and trying to make them safer. Wi-Fi, routers, etc are some other components that we are focusing on. We have also introduced e-toilets facilities. Automated waste collections centre, sewerage management, 24/7 water availability and smart meter installations are some other activities we would like to streamline.
Door-to-door collection (JMC), waste to energy (JMC), Tal Katora STP (JMC) and 24/7 water supply in ABD area along with smart metres (PHED) are some of the projects undertaken as part of convergence projects. We are also planning to beautify public places including Jai Nivas Garden, Tal Katora Lake, Pondrik Udyan, etc. We sincerely would like to have some good places where people can move around in their leisure time.
The smart roads include CCTV cameras, Wifi hotspots, VMS, ITMS, etc. The Smart classroom includes biometric attendance, smart board and tablets for students. The smart solid waste sorting centre is also a smart intervention with smart technology to help Jaipur City overcome the waste sorting issue and reduce the transit cost and time.
JSCL is taking up projects for smart parking at few identified places in the city. A project in convergence with Department of Tourism is being taken up as 'Krishna Circuit', which includes rejuvenation of the heart of tourism of Jaipur.