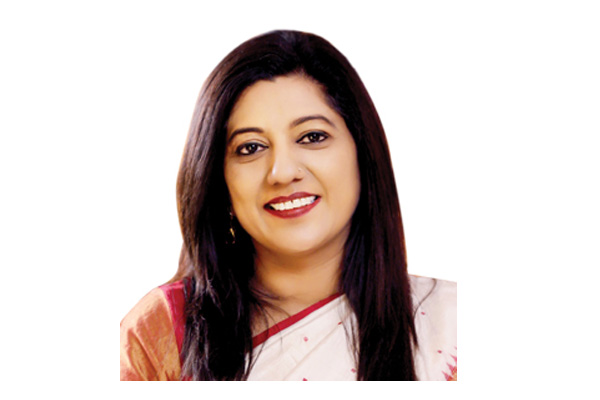 Armed with policies and schemes to promote research and innovation in the higher education and technical education sector, the Government of Gujarat is moving towards revamping the entire teaching-learning process to make the most of the existing opportunities, says Anju Sharma, Principal Secretary, Higher and Technical Education, Gujarat, in an interview with Hemangini S Rajput of Elets News Network (ENN).
Please tell us about important initiatives undertaken recently by the Gujarat Department of Higher and Technical Education.

Gujarat has about 60 universities, over 800 colleges and around 1.4 million students pursuing higher education. In January 2017, the Government of Gujarat has launched the Student Startup and Innovation Policy (SSIP) in order to encourage research and innovation to solve real-life problems of industries, society, community and government at large, and also to encourage students to become job creators. Recently, an open hackathon was
Recently, an open hackathon was organised at the education pavilion during Vibrant Gujarat Summit 2017. The event enlisted 'Problem Statement' for various sectors. It is the beginning of a new era which may replace the classical approach of parametric based research with innovative and useful minor/major research projects.
In 2015, Gujarat started 'Mukhyamantri Yuva Swavalamban Yojana' – a versatile scheme to support meritorious and needy students in the state. Under the scheme, economically weak students pursuing higher education are supported financially as well as by other related facilities on equal opportunity basis, irrespective of any reservation criteria. As per the government resolution, eligible students are entitled to get support for 50% tuition fees, equipment or book purchase, and for hostel expenses at all government, grant-in-aid and self financed institutes. It is expected to extend support to about 24,000 students with Rs 110 crore this year.
We have also started a novel and innovative programme for the first year students of degree and diploma engineering courses by developing a lecture series exactly as per the university syllabus and scheme with the help of eminent faculties from the state education sector. Curricula of 16 subjects of first and second semesters have been made available through the interactive lecture series, which is being telecast through DTH via BISAG.
Can you please share details of the recently launched startup and innovation policy?
How is it beneficial to students? The key goals of the startup and innovation policy are to produce 1% job creators out of 1.4 million students; enable 1,000 student-led innovations per year; create 500 student-led startups in five years; build innovation and pre-incubation ecosystem support in every university; and at least 200 institutes of higher learning. The policy aims at comprehensive implementation of activities related to innovation, pedagogy and entrepreneurship through Fab Lab, MOOC, co-workspace, pre-incubation, etc.
To implement this policy, a Rs 200-crore Student Innovation Fund has been created. Under this policy, assistance of up to Rs 10 lakh will be given for prototyping support for about 1,000 innovative ideas and assistance up to Rs 25,000 will be given to each idea to file for patent. Under the policy, we expect around 500 research projects per year. Interventions at the university and institute levels will be mentored by a state-level agency for the next five years.
What are the new changes the government wants to introduce in near future?
We are aiming to revamp the teaching-learning process in the state's higher education system. Introduction of an active learning mode with outcome-based programme is an important focus area. Effective robust implementation of Choice Based Credit System with flexibility to choose startup track from the first year itself and inclusion of a wide range of humanity related courses for useful overall carrier building of the students will be followed. Our universities are also in various stages of implementing online examinations for students.
The key goals of the startup and innovation policy are to produce 1% job creators out of 1.4 million students; enable 1,000 student-led innovations per year.
How many MoUs were signed during the Vibrant Gujarat Summit?
What is the status of foreign investment in the education sector of Gujarat? The response to investment opportunities in the state's education sector in the last three Vibrant Gujarat summits was overwhelming. During Vibrant Gujarat Summit 2013, a total of 54 MoUs were signed which increased to 96 in Vibrant Gujarat Summit 2015. During the recently-concluded Vibrant Gujarat Summit 2017, 192 MoUs were registered in education sector out of which 143 MoUs were for higher and technical education.
Due to proactive, inspiring and supportive environment in the state, there exist more than 60 universities and 800 institutes of higher and technical education today. Gujarat has become a self sustained state in terms of having adequate number of seats for each aspiring student aiming to pursue higher education.
To explore collaboration with foreign higher education sector, MoUs have been signed with Embassy of Denmark, Saxion University of Applied Sciences-Netherlands, British Council, Schulich School of Business-York University, etc, during Vibrant Gujarat Summit 2017.
What are the major challenges you face in terms of improving the state of higher and technical education in Gujarat?
Technological advancements have grown exponentially in the last decade and it is very significant to update the curriculum as per the new requirement on regular interval. Quality higher education needs to be made affordable to all.
Vacancies in teaching positions, low student enrollment and low paid faculty in some Student Federation of India (SFI) are some of the problems we are facing currently. Enhancing research standards and motivating students to go for holistic learning are some other important challenges.
Please share your views on what more needs to be done to improve higher and technical education in the state?
We need world class universities that have latest methods of learning with focus on research and innovation. Digital learning needs to be emphasised and education should be inclusive in approach.