CA Technologies has a long history of delivering software and solutions to help customers drive productivity, innovation and growth. The company is working with many government departments to drive the digital India mission, says Prashant Chaudhary, Senior Director and Head-Business Development-Public Sector, CA Technologies.
Tell us something about CA technologies?
CA Technologies is one of the world's largest, independent system software companies that continues to transform the face of business. With more than 20 years of experience and commitment, CA continues to focus on delivering value to customers and partners in India.
At the strategic level, we enable our customers with the right technology solutions for them to transform their business digitally in the application economy.
So, we work with the key public sector organisations including the Government of India working closely towards the Digital India efforts. We also partner with every such leading government organisation which is agile and wants to accelerate their services to the next level with the power of innovation. From India's business perspective, CA's primary focus is on three key solution areas including DevOps, Security and Agile management. In order to meet customer demands and introduce new innovative solutions, we are equally focused on technology development. We have CA's largest development centres – India Technology Center (ITC) based in Hyderabad and another R&D centre in Bengaluru. Together in these centres we have over 2,000 employees.
How your initiatives are helping in realising the dream of Digital India?
Government initiatives such as Make in India and Digital India are playing a large role in digitising India.
Today, CA technologies is the right partner of choice for the government of India, which is working at the macro level with the various government level stakeholders, state departments and the central government to bring digital India transformation of all the projects into a reality.
If you look at the digital India perspective and the vision of honourable Prime Minister Narendra Modi, a lot of programmes and initiatives like Jan Dhan Yojna, Aadhaar, etc. These are the best examples of Digital India project. They all have one common factor and that is technology which is driving the digital transformation. CA is actually helping government transform digitally and shaping the roots of the digital ecosystem.
Our innovation and technology partnership is key to the government departments. So we are working very closely with these departments in terms of providing them with the right technology solutions which in turn helps them to become digitally transformed organisation. Digital India encourages people to use technology in various forms like high-speed internet, digital identity, mobiles, bank accounts, etc. we are providing required technology for it.
How are you helping the government in making the smart city dream come true?
What we are proposing the government in terms of smart city is security solutions that provide a complete identity and access management platform that enables government to:
Securely deliver new online services quickly across Web, mobile, and APIs.
Enable secure collaboration among government and citizens.
Protect key assets from insider threats and external attacks.
Providing infrastructure management, with integrated application monitoring, helps enable IT and service delivery teams to keep staffing levels small, find and fix problems faster and to be more proactive in avoiding issues altogether, while giving them the tools they need to optimise physical and virtual infrastructure assets in smart city environment.
Also what we are proposing the government in terms of smart city is that they should look at our API management solution which allows them to create a platform which we can quickly port apps in a mobile platform in a secure manner. This will be a secured mechanism keeping the data privacy and the threats which arrive in terms of cyberattacks can be addressed there over.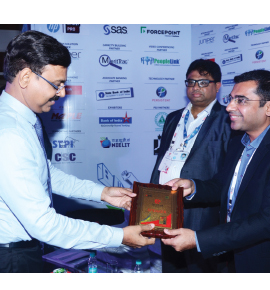 What is SaaS all about and how does it help the customers?
In today's economy, more and more businesses consider the SaaS model to be far more convenient rather than hosting software on-premises and investing heavily in data centres and infrastructure.
Business rather approaches partners like us who can come in right from the planning stage and leverages apps or applications instead of hosting data centres on premises and take the services from it.
Today the biggest challenge of the government and organisations is delivering excellent customer experience on apps. It is crucial for organisations to know not only about the consumption of the apps but also the behaviour of the particular user and the challenges faced by them.
SaaS not only helps organisation cut costs on infrastructure but also helps them with consumer insights helping them deliver better customer experience.
What are the challenges India is facing in its digital transformation and how optimistic are you in achieving that?
India is at the cusp of a major revolution with the need of digital transformation, more than ever now.
I have been personally working with various government bodies for the past 10 years. What I can tell very confidently is that we have come far away. The Government of India and the digital India platform is clearly focused on what it wants to transform.
If you look at the India's perspective which has happened in the past, talking about the initial e-gov policy and the projects which came out of it, data centres across everything. We are edited digitally and the IT infrastructure is ready. They have moved to next level of actually setting up of cloud, all the data centres. In the face of data two initiative, most of the data centres are ready for the cloud. If you ask me, we are all set to move to the next phase of data transformation and we are on the right track. The advantage which India carried today is that we don't have to go through the pain of testing and trying of the technology and then see what is right for us. Today there is so much of innovation happening in the technologies, we can just leapfrog and move towards the next technology which is available in the world which is deployed over there. Departments have overcome all the challenges and are moving towards the right direction. We are very positive about the digital India initiative and digital India transformation which is happening across the country.
Follow and connect with us on Facebook, Twitter, LinkedIn, Elets video