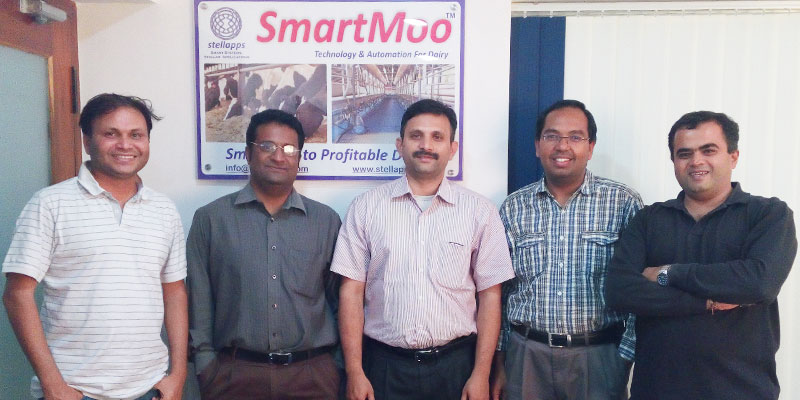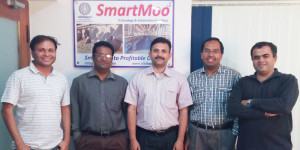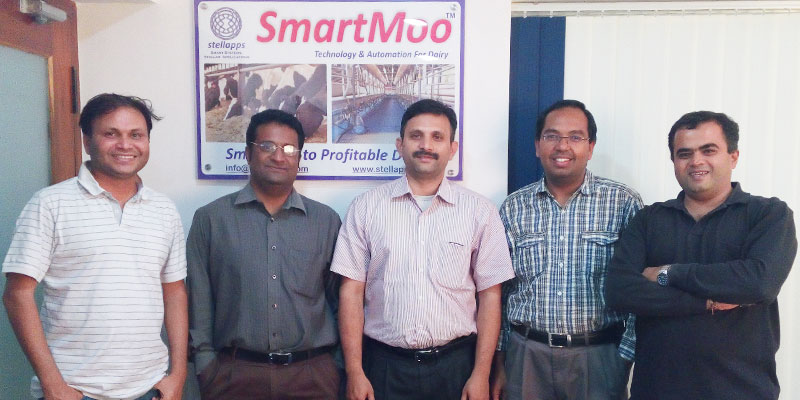 Using Internet of Things (IoT), cloud computing, data analytics and wearables, Stellapps Technologies is India's first company to take the power of technology to the dairy sector.
Stellapps targeted dairy farmers, cooperatives, milk unions, private dairies, and dairy equipment manufacturers, leveraging technology to improve agri-supply chain parameters, including milk production, procurement, cold chain, animal insurance and farmer payments.
The start-up is co-founded by Ranjith Mukundan (CEO), Ravishankar G. Shiroor (Business Development Head), Praveen Nale (Chief Technology Officer), Ramakrishna Adukuri (Head of Software Solutions) and Venkatesh Seshasayee (Head of Domain Solutions).
"Our SmartMoo  IoT router and in-premise IoT Controller acquire data via sensors that are embedded in milking systems, animal wearables, milk chilling equipment and milk procurement peripherals, and transmit the same to the Stellapps SmartMoo Big Data Cloud Service Delivery Platform (SDP) where data are analysed and crunched before disseminating the analytics and data science outcome to various stakeholders," explains Mukundan.
Stellapps today has over 200 customers across the dairy industry pan India. The start-up has also expanded outside India having sold its solutions to a Dutch company for deployments in Kenya and sales in Nepal.
The company's key clients include Hatsun, Thirumala, Heritage, Haldiram, Prabhat Dairy, Akshayakalpa, KMF, MILMA, AAVIN, Smart Dairy and Shri Laligurams.
"Almost all our customers give us repeat business because there is no direct equivalent to the solutions we offer. Hence we keep getting a continuous repeat stream of revenues from the existing customers while we continue to add new customers at a brisk pace," says Mukundan.
The startup plans to aggressively expand its business to other emerging markets in Africa, Southeast Asia, Latin-America, other SAARC nations and developed markets like Europe and the US.