Key goal of undertaking the 'Yatra' campaign is to connect the end-user community with our range of products, says Vivek Naidu, Vice-President, Information Management (India Cluster), Kodak Alaris. In an interview with Poulami Chakraborty of Elets News Network (ENN), Naidu talks about the company's new products and their future expansion plans. Excerpts from the interview:

Please take us through the journey of Kodak Alaris in the Indian market.
Our journey started in 1990, when digitisation started making its presence felt in the Indian market, and people learned to convert paper documents into digital images and started storing those in computer discs, unlike the previous practice of storing print documents. So, we started off with a new product range called document scanners. In the first decade, between 1990 and 2000, large-scale operations took place. We got associated with the Registrar General of India in the year 2000 in a very big way by becoming a dominant partner by producing scanners and that really marked the footfall of Kodak Alaris in India.
The second decade of our journey-2000 to 2010-witnessed various enterprises joining the digitisation wave. Today, a number of enterprises are providing digitised solutions to sectors like Banking, Financial Services & Insurance (BFSI), Healthcare, Education, Retail, Logistics, etc.
The third and ongoing decade from 2010 till now has actually seen the transformation from digitisation to information management. There are two broad components of digitisation – enterprise content management and customer experience management. Kodak Alaris is the only company across the globe that deals professionally with expertise on information management and stands us out from the pack. In India most high-end organisations are our customers, including private and public sector banks and healthcare industry.
What was the idea behind the launch of your new initiative 'Yatra'?
The key goal of 'Yatra' is to connect the end- user community with our range of products. We are not selling just commoditised point solutions, but end-to-end solutions, which also include technical skills, which is not very easy to learn in classrooms. For this project, we have embarked on a 14-city campaign, including Tier II and Tier III cities, and conducted a road-show of our products and service capabilities.
The idea behind 'Yatra' is to cultivate dedicated set of partners, who would be able to propagate and evangelise our set of products and services and gain businesses for them- selves. We provide the technology part, while the partners provide the implementation part and thus we enable people in developing parts of the country to consolidate their business model through our product range. We targeted about 500 partners across the country this year at different locations. We are providing them all the building blocks for a successful business model with our products, complementary to the IT infrastructure of their organisations.
And, it's not only for 'Yatra'; our overall goal is to cater to the customers in the BFSI sector, as globally maximum investment is made in technological inventions and implementations in the sector. We also look forward to catering to the government sector, as governments are also leveraging technology to improve information management, so as to further the goals of better governance as a part of the Digital India cam- paign being run by the Central Government. There are 31 mission mode projects (MMPs) and we understand that the business opportunity and goals in government projects are huge and big. Our other key focus area is the healthcare sector. The objective is to provide easier last-mile connectivity to the citizens by digitising all past clinical records of every single patient.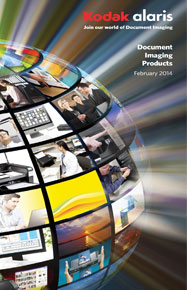 With the Digital India campaign moving ahead with full force, how do you perceive the evolution of digital documentation market in India?
As a matter of fact, this is the right time for businesses like ours, as there is a strong acceptance in the government sector in India that the way forward is digitisation and information management. A lot of research work is being done besides the various security measures being put in place. There is a think tank called, 'Digital Preservation' by C-DAC, with whom we work closely to get technology inputs to be implemented.
As far as the corporate sector is concerned, we have realised that the BFSI sector is an evergreen segment, right since the time when basic computerisation of bank branches started. Some banks use our software products for classification of complaints they get from customers.
THE IDEA BEHIND 'YATRA' IS TO CULTIVATE DEDICATED SET OF PARTNERS, WHO WOULD BE ABLE TO PROPAGATE AND EVANGELISE OUR SET OF PRODUCTS AND SERVICES AND GAIN BUSINESSES FOR THEMSELVES
Is Kodak Alaris using any specific marketing strategy to expand their presence in India market?
Our whole game plan is to work in close coordination with the clients, which will help us generate the frontline demands. That is why, one of our key strategies for this year is going to be to work closely with our cus- tomers and understand their needs, enhance their business knowledge, and our product knowledge and the multi-location facilities that we provide. We have outsourcing part- ners across the country, so that our products are available to them easily. The key to our success lies in enhancing the effectiveness of our partners and their ability to reach out to our clients, and providing them the right solutions, so as to win over their confidence.
Digital India is Rs 2.5 lakh-crore e-Governance initiative to happen during 2015-2019. How much prepared is Kodak Alaris to make the most of the opportunity?
The Government of India has a very decentralised and federated model of digitisation projects. It has mission mode projects in line with the governance pattern, and the governance structure for any of these is mission mode projects led by the Chief Secretary of the state concerned. Hence, we connect with this apex body in any state government, besides the nodal heads of each state government, IT Nodal agencies, etc. Our interface is to stay in touch with these people who are of paramount importance and convincing them about our solutions and products with respect to their project objectives.
About Vivek Naidu
Prior to joining Kodak Alaris, Naidu was working with Newgen Software Technologies Ltd as Vice President (Sales & Business Development). With 28-year experience, Naidu has exclusively handled Business Development, Customer Service, Consulting and Operational works majorly for Indian IT companies. He has sharp business acumen coupled with communication skills of a high order, and is very strong in operations monitoring.
Follow and connect with us on Facebook, Twitter, LinkedIn, Elets video