BangaloreOne – Karnataka's integrated citizen service centres that completed 11 years of operations recently – is ready for a major facelift under KarnatakaOne initiative, writes T Radhakrishna of Elets News Network (ENN) from Bangalore.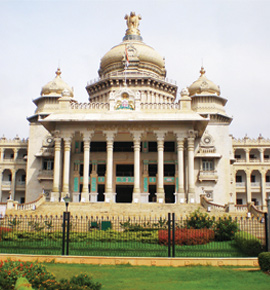 On April 2, 2005, the citizens of North Bangalore became the envious lot who could access 26 different government services provided by 11 independent departments through a state-of-the-art centres that the Government of Karnataka had set up. A few months later, the success of the pilot 'BangaloreOne' convinced the government to roll out additional centres in Bengaluru and also expand the successful concept to other corporation districts, such as Ballari, Belagavi, Davanagere, Hubballi, Kalaburgi, Mangaluru, Mysuru, Shivamogga and Tumakuru, under a project suitably names 'KarnatakaOne'.
Today BangaloreOne supports no less than 85 services across its 95 centres (main and mini kiosks) in Bengaluru and enables 20 lakh transactions a month, while Karnataka- One facilitates 44 services at all its 37 centres spread across nine districts and does 5 lakh transactions a month. But more importantly, the concept of shared services has established a business case, with revenue touching approximately Rs.150 crore each month.

And, the people are loving it. "I now get a little more time with my family, as paying bills or getting certificates issued is no more the painful and time-consuming process it used to be," says Sudhakar Shetty, a private employee from Mangaluru. There are several other reasons why the concept has clicked with the users. For instance, the system allows for different ways of payment. Cash, cheques, demand drafts, credit cards, debit cards, online and now m-payment — KarnatakaOne can deal with them all. The network of centres also puts BangaloreOne or KarnatakaOne within easy reach of people.
The government recently launched two digital-enabled 'service on wheels' buses for offering services. To meet the growing demand, the Department of e-Governance is open- ing 40 more BangaloreOne centres that offer services – both government-to-citizen and business-to-citizen -from collecting utility bills to booking tickets to payment of insurance premiums. "The department has been attempting to implement the plan of having one centre per ward in 198 wards under Bruhat Bangaluru Mahanagara Palike," says Krishna Bajpai, Director of Electronic Delivery of Citizen Ser- vices (EDCS), Department of e-Governance.
Getting Off the Ground
The concept of shared services was initiated in 2004, when the then government wanted to improve service delivery to citizens. Bangalore- One project was implemented through Private Public Partnership (PPP) mode, with minimal upfront investment from the government. A consortium consisting of CMS Computers Ltd and Ram Informatics Ltd was the implementation partner for the project. The consortium had a service level agreement (SLA) with the Directorate of EDCS to ensure services of exceptional quality.
All the participating departments make available essential data at a central site. A single application provides interface for all services, with connectivity between citizen centres, main data centre and back-end of participating departments. Each of the 2,000-sq feet uniformly designed citizen centres has 10-15 manned counters that offer service through the year from 8am to 7pm. Citizens can access any service from any centre. The citizen centres are designed to handle redundancy, additional load, offline services and disaster recovery.
The project took off following signing of an agreement with the PPP partner. The consortium of Ram Informatics-CMS Computers developed the application software, established BangaloreOne centres and installed all hard- ware cum networking equipment. The consortium has successfully run the centres since April 2, 2005 to September 30, 2015.
The government recently appointed CMS Computers Ltd as project partner for Bangalore- One and KarnatakaOne through tendering. The project contract is valid for a period of five years beginning 2016. "We have plans to strengthen customer call centre, state data centre (at Vikasa Soudha) and step up training facility to meet the growing demand," says M Ram Mohan, National Business Manager, CMS Computers.
Technology Roadmap
The project is based on a three-tier web-based architecture running on Oracle 9i Application Server Enterprise Edition as the Middleware platform software. The architecture includes multiple web-application servers, working on a load balancing mode. The front-end clients run Internet Explorer and can range from 10 to 20 at different locations. A redundant combination of Leased Lines and ISDN Lines has been established to link the web servers at the BangaloreOne Data Centre to each Bangalore- One kiosk. Each departmental server is also accessed by the BangaloreOne servers through leased lines with ISDN backup.
Karnataka took the application server route because it was the only way to maximise Banga- loreOne's reach through web technology. Accord- ing to the IT team working on the project, the process was simpler because most government departments had automated their processes, especially their databases, much before the launch of BangaloreOne. The Bangalore project was built on Oracle database, as most of the departmental databases were based on Oracle or SQL.
CMS Computers continues to provide technology support to all BangaloreOne centres. A total of 1,000 people are involved with the project either directly or otherwise. CMS Computers has hired staff to handle the counters at the centres.
Business Model
The PPP project was built on a Build-Own-Operate-Transfer (BOOT) model for a period of five years beginning April 2, 2005. Later, it was extended for another five-year term between 2009 and 2015. The State Government oversaw the project as the overall administrator and acted as the front-end. CMS Computers designed the project's IT architecture and provided the software, hardware and networking solution, while Ram Informatics came up with application development, management and maintenance.
CMS Computers is also responsible for staff salaries, infrastructure cost, setting up new centres and other resources, including security staff.
CMS Computers gets Rs 5 per transaction at Bangalore and an equal amount in the districts, which is shared between the partners. The Directorate of EDCS monitors the project daily with the technology partners, participating departments and other agencies.
At present, citizens within the jurisdiction of all BangaloreOne and KarnatakaOne centres in the districts are allowed to transact online. Over the past four years, BangaloreOne has registered one lakh transactions online each month, in comparison to 20 lakh transactions at the centres.
Benchmark
Karnataka is now taking the concept to Tier-1 and Tier-II cities in the districts under KarnatakaOne with single web interface. The government has already called for tenders for the procurement of computer hardware for its new centres. It believes that delivery of services to rural people in this manner will increase the State's productivity. When this happens, citizens can obtain all the necessary services in their villages, without having to visit the nearest town or city.
Eleven years on, KarnatakaOne has emerged as the benchmark for government-shared ser- vices initiatives. Plans are on to introduce franchisee model in some places in the State, but it is not clear as of now.
Follow and connect with us on Facebook, Twitter, LinkedIn, Elets video