With the Government of India setting datelines for computerisation of the public distribution system (PDS) by installing points of sale (POS) devices at all fair price shops (FPSs) in India, computer hardware companies dealing with POS systems are busy strategising business opportunities. The objective of the automation is to check pilferage of food grains, plug leakages and to ensure that right ration is distributed to the beneficiaries in the PDS. Today, there are 5.35 lakh fair price shops operating in India. As on March 31, 2016, as many as 91,000 POS devices were deployed. For 2016-17 financial year, the government set a target of installing three lakh devices. By March 2019, the aim is to cover all FPSs. Three pilot projects linking the PDS with Aadhar under direct benefit transfer scheme are underway in union territories – Puducherry, Chandigarh and Dadra and Nagar Haveli. Posiflex Technology (India) Pvt Ltd has the distinction of being the pioneer in deploying POS devices at FPSs in Karnataka. The company's Vice President Sales, D Baskaramoorthy, shares the market experience and its readiness for business opportunities in the public sector, in an interview with T Radhakrishna of Elets News Network (ENN)
What has been the market experience of Posiflex so far and which key goals you have accomplished?
Posix is a manufacturer, supplier, and trader of the POS systems and computer hardware. "e range comprises the POS devices, POS peripherals, handheld barcode scanners and Mobile Billing/POS machines. "e highly developed infrastructural facility at Posix undergoes regular upgradation and this has helped Posix in attaining a better position in the market.
When we began our operations back in 2001, we had kept three goals for Posiex: one, we wanted to create awareness of POS, barcode standards, and IT hardware usage among retail enterprises; two, to ensure reach of our products to Tier-1, II and III cities; and three, to position our presence strongly as a leading POS manufacturer and supplier in the industry. POS awareness was quite low in the beginning, but our regular visits to customers and awareness campaigns did help us accomplish our goals.
Today, the India oce has 65 members, who help various customer segments deliver technology solutions apart from the 350+ working in Taiwan and the USA, out of which 35 engineers are in R&D. e business turnover out of India operation is USD$13.5mn for the "nancial year 2015- 2016, while the global turnover is USD$100+ million. Posiex has also established branch oce in China, Germany, Argentina, Japan, Malaysia, Middle East, North Africa and Singapore. e Posix products are also distributed through distribution networks in more than 75 countries.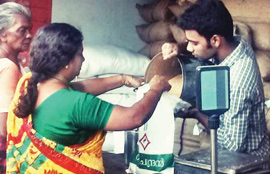 What is your go-to-market strategy? How do you deal with customers?
We have six National Business Partners (NBPs are equivalent to Distributors), apart from 300+ channel partners, who promote our products among their customers. Posix gets 50 per cent business from corporate houses and remaining 50 per cent through our channel partners in India.
Where do you see growth potential for Posiflex in the global market?
Which are the business sectors, you see as potential for your products? Modern Retail, Hospitality and eCommerce industry is the high-growth market segments for Posix. Today, Modern Retail is going the mobility way and this increased the demand and need for Retailers to go or mobile-based solutions. So, our latest technology product range nds perfect use in these segments. "ese terminals have been deployed globally across multiple industries and applications, including Retail, Healthcare, Hospitality, nancial institutions, public sector, manufacturing and more. "is successful growth is based on understanding and meeting our customer requirements so they can build successful businesses, which in turn builds ours.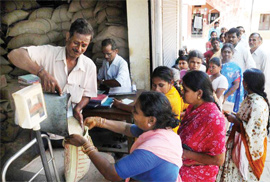 What has been the USP for clinching new deals?
Th"ere are four fundamental goals or USPs— Revolutionary Technology, Reliable Quality, Reasonable Price and Recognised Service— Posix is built upon. Our rst three-year warranty for certain products endorse our quality product and service commitment by setting up globally deployed service centers with options of Depot service, advanced exchange for next day replacement, extended warranty, on-site service, custom congurations, installation services and post-warranty support.
What is your vision for Make in India campaign? How ready are you for the opportunities in Public Sector?
Under Make-In-India, Posix is planning to setup its manufacturing unit. We are yet to nalise the location in the South India and at appropriate time we will be doing our investment.
Public sector is good opportunity for Posix. To begin with, we see PDS as a good prospect. In fact, Posix has successfully implemented POS in the PDS of Karnataka through one of our partners. is implementation of POS in the PDS of Karnataka was a great experience for us. It was "rst such large government project we deployed in India.
As we understand, the central and state governments share the responsibility of regulating the PDS. While the central government is responsible for procurement, storage, transportation, and bulk allocation of food grains, state governments hold the responsibility for distributing of the same to the consumers through the established network of targeted FPSs. State e governments also have responsibilities, including allocation and identi"cation of families below and above poverty line (APL and BPL), issuance of ration cards, and supervision and monitoring the functioning of FPSs.
Our Technology solutions and products bring in a lot of value in streamlining the operations of FPSs, for which the Government of India is planning to computerise all FPSs.
Follow and connect with us on Facebook, Twitter, LinkedIn, Elets video