The Punjab State Power Corporation Limited (PSPCL) was recognised as the best performing power utility in the country by the Central Board of Irrigation and Power in 2015. Er K D Chaudhari, Chairman-cum-Managing Director, PSPCL, informs Manish Arora of Elets News Network (ENN), about various IT initiatives undertaken by the Corporation
What are the various IT initiatives undertaken by the Punjab State Power Corporation Limited (PSPCL)?
PSPCL since its inception in 2010 has invested heavily in IT to provide better services to its consumers and improve internal efficiency. PSPCL under R-APDRP part-A scheme sponsored by GOI has initiated the use of IT in 47 major towns of Punjab at a cost of Rs. 225 Cr covering not only DS but also Grid Substations.
Under this scheme, offces have been made paperless; Grid sub-stations and distribution transformers are covered under Automated Meter Reading (AMR), thus making 24X7 monitoring of supply a reality. GIS mapping of around 26 lakh consumers has been carried out, thus making possible identication of high loss areas and checking e"ectiveness of loss reduction schemes.
The facility of making online payments has been introduced under the scheme, thus benetting the consumers. The billing of new consumers is being done from the next cycle itself which earlier used to take approximately three to four months.
Other miscellaneous jobs like change of name/change of load etc. are being done in a time- efficient manner. The complete transparency in the billing procedure has been achieved with the introduction of SAP in PSPCL. All reports are available online to eld and management for proper monitoring.
AMR for consumers has been started by PSPCL. The billing of all consumers in 47 towns covered under R-APDRP is being done on the same day (1st or 2nd of every month) and their collection is also being received upto 12th of each month, which has reduced the collection cycle.
With the introduction of AMR in PSPCL, human intervention in taking readings has been eliminated which has resulted in saving manpower. The proposal to extend this facility to consumers is also in pipeline.
Tell us something about 1912 complaint registration service.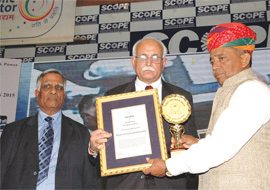 In order to provide an efficient grievances redressal mechanism to its consumers, PSPCL has launched single number 1912 for complaint registration. e consumer has to call or send an SMS to 1912 to register the complaint.
Each consumer is assigned a unique registration number and registration is conrmed via SMS. The registered complaint is automatically transferred to consumer area nodal complaint centre. A"fter resolution of complaint, the consumer is informed of the same via SMS again.
On closure of complaint, feedback is taken from consumers by third party. Incorrectly closed complaints are reopened by third party. Consumer also has the option to automatically re-open incorrectly closed complaints by sending SMS to predened computerised mobile numbers.
The common ePayment System has been developed, tested and implemented by the in-house IT Team of PSPCL. This application stands integrated with two gateways – BillDesk and PAYU. The consumer can select a gateway of his choice. On receiving the payment, the requisite details are in real sync with SAP and emailed to National Institute of Electronics & Information Technology, as per their pre-dened schedule. Moreover, this application stands integrated with the outlets getting payment for PSPCL through M/S Billdesk and M/S Basix.
     PSPCL Hall of Fame
PSPCL has been awarded as "Best Performing Power Utility in the Country" by the Central Board of Irrigation and Power on 1.1.2015.
?PSPCL has been rated the top rating of A+ amongst 40 power utilities in the country in the 3rd annual integrated rating of power distribution utilities of India done by the Ministry of Power, Government of India in July 2015.
SkochOrder of Merit Award in 2015 for India's best Smart Governance for consumer complaint registration and resolution through electricity call centre and nodal complaint centres.
?PSPCL's thermal plant at Lehra Mohabat has been awarded by the Central Electricity Authority under category of "Performance of ermal Power Stations" for its excellent performance in the year 2013-14.
Th?e plant had also received "Meritorious Productivity Award" for the years 2011-12 and 2012-13.
PSPCL has bagged four Par-Excellent and four Excellent Awards in this annual national level convention, where quality circles of various private, public and government sectors from all across India compete every year in national convention NCQC 2015, Chennai, conducted by Quality Circle Forum of India.
?PSPCL has bagged three Excellent and two Distinguished Awards in national convention NCQC 2014, Pune, conducted by Quality Circle Forum of India.
In order to ease the process of consumers in every department, the government is focusing on single-window system. Any such initiative by PSPCL?
PSPCL has introduced a single-window system for new connection/load change application for load 100-500 Kw. is system covers the whole process right from online registration of application up to the release of connection.
This system provides online real time interface with the Government of Punjab for mega projects. Real time status of request is available with consumer through single window and SMS. Multiple bill payment options such as ePayments, Gram Suvidhaa Centers, Easy Bill, Bill payment machines/kiosks etc., are also provided.
People are moving towards an era of mGovernance. Any mGovernance-related initiative by PSPCL?
PSPCL is in process of launching mobile app for its consumers. Facilities like updated status of bills and payments, including online payment facility, registration of applications for new connections, extension/reduction of load, change of name for existing connections, bill challenge, meter challenge, real-time status of supply schedule and power cuts will also be provided on the mobile app.
Follow and connect with us on Facebook, Twitter, LinkedIn, Elets video