At a time when majority of the government departments are rolling out online services to save citizens' time and enhance the efficiency of and transparency in the government machinery, Prashant Chaudhary, Senior Director, Sales – State Government and PSU, CA Technologies, in an interaction with Elets News Network (ENN), asserts that Cloud computing can immensely help the Government and private sectors change the way services have been traditionally delivered
How can Cloud computing be put to use to improve citizen-centric services?
With the evolution of the Internet, Cloud computing is expected to become the dominant model of enterprise computing because it has the ability to change the way organisations access and use ICT products and services. Notably, benefits of Cloud technologies are as relevant to the public sector as they are to the private sector. By adopting a Cloud-based strategy, governments can change the way IT services are delivered and consumed while at the same time realise benefits which also include reduced costs, improved organisational agility and transformation in overall service delivery. Cloud can be used to facilitate eGovernance in real-time. Majority of small towns in the country lack the requisite technological infrastructure, so Cloud computing can be a major boon because it enables quick project execution. With increase in the economic growth and all-round development, and the all-knowing and demanding citizens, governments are severely challenged in delivering key citizen-centric services such as healthcare, education, public safety, transportation and utilities. Cloud technologies can help to deliver all the citizen services efficiently and enable IT resources to be provided on demand, at scale in a multitenant as well as secured environment.
What are the Cloud-related products/ services that you offer?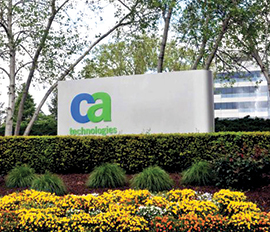 CA Technologies offers a host of Cloud-based solutions to many leading firms. Cloud computing can help bridge the gap between what your business needs and what your business can provide, but the transition process offers its own set of logistical challenges. To this end, we ensure that we work closely with our customers to help them select the best Cloud solution suited to meet their business needs. Some of the solutions we offer are as follows:
Management Cloud: At CA Technologies, we offer a Management Cloud portfolio, which offers solutions enabling the customers to make the right portfolio decisions, deliver exceptional service experience and empower the modern, mobile workforce. The Management Cloud portfolio was developed in response to the growing size and complexity of enterprise IT investments. It delivers comprehensive management for IT services, assets and projects with rapid time-to-value, ease-ofimplementation and a user experience that will drive enterprise-wide adoption.
Cloud Service Management: It helps organisations eliminate the long customisation and development cycles they usually undergo. It is rapid, flexible, personal, and powerful, and at the same time is responsive and adaptive. CA Cloud Service Management is service management with a breakthrough in time and is designed for the people who use it for delivering a flexible, personal experience that helps users resolve issues fast.
Can you tell us about some of your Cloud technology-based deployments that your company has implemented in India?
Many customers including the government entities have deployed our solutions in their data centers to cater to the demands of their departments and clients. Our partner ecosystem (the large system integrators) has jointly deployed our solutions and we have helped set up Cloud platforms for their customers, which they are using to offer managed services to their clients.
What is the scope of publicprivate partnership in the field?
Today, a number of organisations are rallying for Hybrid Cloud that is utilising private as well as public Cloud to perform functions within an organisation. However, organisations have a long way to go in terms of gaining a proper understanding of the hybrid situation. Still, organisations view hybrid Cloud as a consequence of uncoordinated Cloud investments rather than a strategy for getting more from their Cloud investments.
Cloud can be used to facilitate eGovernance in real-time. Majority of small towns in the country lack the requisite technological infrastructure, so cloud computing can be a major boon because it enables quick project execution
Compared to the global standards, where does India stand in terms of Cloud technology adoption?
Cloud technologies offer a host of benefits to every organisation. In India especially, the adoption of Cloud computing is growing. Recent reports suggest that the Cloud market in India will grow at 45 per cent CAGR to $14.8 billion in 2020. It is estimated that the private Cloud market will increase to $7.4-7.6 billion in 2020. The public Cloud market is expected to grow to an equivalent size at $7.0-7.4 billion in 2020. Multiple factors are expected to result in significant adoption of Cloud solutions. One of the primary drivers is setting up of local data centers. A number of large-scale enterprises have committed to set up Cloud-based data centers in India in the near future.
What are the grey areas, which you would like the government to focus on?
The government has recently rolled out its ambitious Smart Cities project. To this end, the government will need to use latest technologies like Cloud to help them in this initiative. This requires a public-private census to ensure the smooth completion of projects. The government needs to have bilateral arrangements for Cloud computing in place, and to cooperate with providers on adopting a universal operating system. For the government to realise the benefits, the government would need to outsource some of the work they have been doing. The outsourcing might simply involve consolidation across the local, state or federal enterprise, keeping things within the government peripheral. But some of it will need to go to private-sector providers that will have a larger reach compared to the government. There may be challenges that they will need to prepare themselves for, especially as this involves dependency on various parties. Efficiency and timeliness will be other aspects to consider.
Follow and connect with us on Facebook, Twitter, LinkedIn, Elets video