With the introduction of ASHASoft software and a number of Asha Sahyoginis working in the health domain in Rajasthan, the State is all set to make strides in effective delivery of healthcare services. Naveen Jain, Mission Director & Special Secretary, National Health Mission, Department of Medical, Health & Family Welfare, Government of Rajasthan, in conversation with Kartik Sharma of Elets News Network (ENN) talks about how the sector is witnessing a phase of transformation
What all in terms of eGovernance is happening in the healthcare sector of Rajasthan?
A number of initiatives have been undertaken in Rajasthan since the ascension of Modi Government at the Centre and quite a few programmes have also been launched. Primarily, our emphasis is on two things: one is how to use our limited resources in a better manner by using IT, and secondly, how to make our employees learn to use these IT tools effectively.
We are providing facilities to our patients by using various software. In addition to it, we are also using software and programmes for various services. For example, for our free drug scheme, we have an e-Aushadhi software. To make online payments and managing ASHAs online, we have ASHASoft, and to take care of the children who are discharged from various nutrition treatment centres, we have a voice messagebased software. Thus, we are using various programmes in various fields.
Rajasthan's experiment with ASHASoft software has worked out well. What makes it such a successful initiative?
The reason behind the success of this software is that we have 46,000 women working for it. These are known as ASHA Sahyoginis in Rajasthan, who get incentives based on their performance on 26 different parameters. When I was Collector in one of the districts, I found that making payments to ASHAs was not a very smooth affair. It was made in several parts and there were complaints regarding lack of transparency. This was telling adversely on their morale.
Also, when I asked these ASHA workers about what they were doing, the parameters and other dash-boarding details on which their work could be evaluated, I came to know there was no such mechanism.
Basically, there were two issues: one was lack of payment on time and the other, lack of monitoring parameters. One could see these two as problems, but we saw one problem as the solution to the other. We re-engineered the entire process of incentive payment. We brought out an ASHA incentive claim form, for which ASHAs were given training. Later, a software was devised with the help of NIC. We also issued various circulars and compiled them in a manual called ASHA Manual. It is very informative and anybody wanting to know about ASHASoft can go through it and learn about its programming.
ASHASoft was developed nicely and implemented brilliantly. The best thing was done by our team including the district-level ASHA coordinators and supervisors, who indeed worked hard. This team work made it actually possible to implement such a huge software in just three months' time.
ASHAs are, perhaps, the most basic unit of any healthcare system. How challenging it was to raise such a structure starting with this basic unit of healthcare delivery?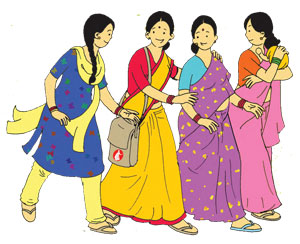 Firstly, it is a basic unit, and secondly, the limitation is that out of 46,000 ASHAs, 26,000 are just Eighth standard pass or even below. So, it was a real challenge to train them in implementing a system which is based on IT. There could have been various apprehensions and confusions. However, ASHAs were so much fed up with the existing system that they were ready to experiment with just anything. So, we started off with their training programmes.
We are providing facilities to our patients by using various software. In addition to it, we are also using software and programmes for various services. For example, for our free drug scheme, we have an e-Aushadhi software
We anticipated that one day there would be a shortage of these claim forms. So, we published six lakh forms in advance. 12 of these forms were compiled in a booklet and 50,000-plus booklets were printed, which were distributed among the 46,000 ASHAs. We are hopeful now that more and more people would get involved in the process in the future.
English language could be a problem for ASHAs. How did you overcome this?
There is no issue of language, as the form is in simple Hindi and quite compatible with our software; whatever data one feeds is easily accessible.
Can you tell us a little about your voice-based initiative?
In childcare, we were facing a very big challenge, as Rajasthan is known for malnutrition related problems. While SNC is a software approved by the Government of India, we developed another software called NPC with the help of UNICEF. Now, both these software have been integrated with an existing application. As parents take away their children after they are discharged, we feed their mobile numbers in our software. Prior to the day they are supposed to visit the hospital again, four messages are sent to them just to remind that such and such is the date for their child's follow-up in that particular hospital.
However, sending text messages was not considered a foolproof method, especially for those coming from villages, as people found it difficult to read the messages. So, we have now switched to voice messages. Messages have been fed into the system and people will start getting alerts soon. We have already checked the prototype and are now ready with our system. Only a formal inauguration by the Chief Minister is awaited.
Healthcare e-Initiatives in Rajasthan
ASHASoft: ASHASoft is an online system which facilitates the user to capture beneficiary-wise details of services given by ASHAs to the community, online payment to ASHAs in their bank accounts and generate various kinds of reports to monitor the progress of the programmes. To ensure their timely and seamless online payment, ASHA software popularly known 'ASHA Soft' has been conceptualised. It was rolled out in all districts of Rajasthan for 47,000 ASHAs on 26th Dec, 2014.
e-Aushadhi: It monitors the overall drug distribution chain in the state up to Primary Health Centre level (covering over 2,500 govt. health institutions) and makes real-time data easily available to stakeholders at various levels for facilitating the strategic decision-making process.
e-Shubhlaxmi: It has been introduced to simplify the process and increase utilisation of the 2nd installment of Shubhlaxmi Yojna, which remained unclaimed by mothers due to lack of awareness, complex processes or other problems.
Arogya Online: It is an electronic management of health information to deliver safer, more efficient, better quality healthcare to the citizens of the state. It is operational in 15 District Hospitals.
PCTS and HMIS: The Health Statistics Information portal facilitates the flow of physical and financial performance from the district level to the state headquarters and the centre using web-based Health Management Information System (HMIS) interface. Pregnancy, Child Tracking and Health Services Management System (PCTS) is an online software used as an effective planning and management tool for improving the health service delivery up to the grass-roots level.
IMPACT Software: Integrated System for Monitoring of PCPNDT Act helps in online monitoring of effective implementation of PCPNDT Act, 1994.
RJSSY: The RJSS Y (Rajasthan Janani Shishu Suraksha Yojna) system is designed and developed to help the online monitoring of health services delivered to the pregnant women and children (up to 1 year) under RJSS Y.
e-Upkaran: Aimed at improving public health facility through centralised inventory management system, e-Upkaran is being utilised to monitor the status, usage, repair, maintenance status of equipment and rationalisation of logistics.
Do you use technology for the provision of medicines as well?
When the Rajasthan Medical Services Corporation Limited was incorporated in 2011, those behind it also took care of the future IT requirements. C-DAC came out with the solution, which is now known as e-Aushadhi. The software and its implementation were simply up to the mark. Further, it was implemented starting from our warehouses up to the drug distribution centres level. So, whenever a medicine comes to the Corporation after purchase, it is entered in the software. Also, when a medicine is prescribed by a doctor to the patient, an entry of issuance is made in it. In this way, the software also takes care of the availability of stock at various centres, in the warehouses of the Rajasthan Medical Service Corporation and at different PHCs and CHCs. It is a mandatory practice to make an entry of every drug purchased by the Corporation or sent to warehouses for distribution to various centres.
What are the upcoming initiatives in the field of healthcare in Rajasthan?
We have been instructed to make two programmes: one regarding our equipment purchase mechanism, as we purchase a lot of equipment to be supplied to different healthcare institutions; and the second one, to address complaints from the end-users with regard to the quality of services these equipment deliver.
Using technology, we have devised a system called e-Upkaran. This covers all the 2,500 facilities of Rajasthan, including medical colleges and hospitals. e-Upkaran is able to give information about the number of equipment that are not functional, the ones sent for repair, status of repair and the likely time required for it.
Tracking of repair and maintenance is the first module. The second module is the usage module. Sometimes, we see that a machine is working perfectly, but due to some mischief or some other reason, hospital administration is unable to use it. So, it is important to know how many equipment were not used at all. In this way, we can take stock of the equipment under maintenance and the ones not used at all.
What is your vision for eGovernance in health?
We are thankful to our Hon'ble Chief Minister, Ms. Vasundhara Raje Scindia, because she has a vision of IT and she always says that governance is more important than government. We have taken it in the real spirit and our department, with a very limited workforce, is trying to implement this. Whatever innovation technology can bring, we will ensure that it is implemented properly so as to impact the system positively. One of the weak aspect of governance, however, remains that although we create data, we do not necessarily analyse it. But we have decided that whatever system we will use, we will ensure that the data are used for taking informed decisions.
Follow and connect with us on Facebook, Twitter, LinkedIn, Elets video