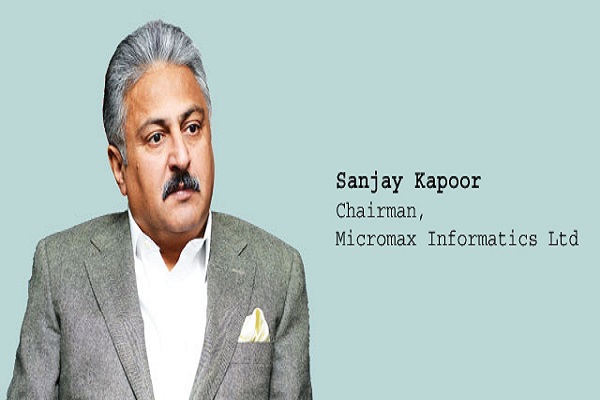 Moving beyond the perception of global handset makers about India, Micromax developed an insight on the requirements of an Indian consumer, and we are a favourite brand today, says Sanjay Kapoor, Chairman, Micromax Informatics Ltd, in conversation with Souvik Goswami of Elets News Network (ENN)
Tell us about the genesis of Micromax and its journey so far.
Our exciting six-year journey has been based on two interesting phenomena – first, emergence of next-generation entrepreneurs, and the other, to bring about future technological disruptions to market. The amalgamation of these two phenomena has created one of the finest companies like Micromax. It was the time when India and other emerging markets across the globe were dominated by global players and there was very little room for local brands. In such a scenario, a group of four people came together as entrepreneurs and saw an opportunity in the fact that the global brands believed in 'one-size-fits-all' concept and would also not necessarily understand the Indian consumer's behaviour. One of the key insights that metamorphosed the entire Indian handset market was the fact that India was a multiple SIM market and most of the people were carrying multiple phones with them. So, we realised the importance of dual SIM phones and then pursued a product design around that. It acted as one of the watershed events in the history of feature phone market in India, and then there was no looking back. In a country like India, which has a severe power issue, Micromax realised that Indians need phones with long battery life. With this fact in mind, we came up with mobile phones with 30-day battery life. Micromax also gave emphasis to women as an important segment and 'Bling' series was born out of that innovation. All these made Micromax one of the favourite brands of Indians.
How did Micromax handle the shift from feature phones to smart phones?
The company was put to acid test when the market was migrating from feature phones to smart phones. The key question was whether company can be as successful in the smart phone market as compared to feature phones market? Feature phones work around two applications – voice and SMS, but smart phones are about entertainment, data, security and plethora of other things. And, once again we emerged successful. Hence, today the market share of Micromax smart devices is much more than in the feature phone market. We showed it to the world that it is a company, which can take the challenges head on.
Share with us the future plan of Micromax.
The company is witnessing transformation of sorts. In this regard, we need to completely professionalise our processes to take the company to the next level, apart from becoming a billion-dollar company. We are putting efforts to convert the company into a Device and Services company from a devices-only entity. Amidst all this lie various opportunities. Going forward, we aim to take the brand from India to other emerging markets of the world, apart from Bangladesh, Sri Lanka, Nepal and Russia, where we already have an overwhelming presence. Moreover, out of the two types of markets — operator-dominated market and open market, we are focusing primarily on the second one.
Also Read: Threats to Banks Rain From Skies
We are also looking at other business avenues, like accessories, embedded services, etc. We are aiming to be amongst the top five device brand companies of the world. Hand-held devices, tablets and TV screens – all these will be the smart devices of the future and we are focussing on that.
'Make in India' campaign is on roll now. How can this help the Indian device companies?
Let me give you a larger picture of it. At present, almost all the devices of the world get manufactured mostly in China, apart from Taiwan and Korea. China actually dominates and it is a high-risk strategy for the whole world to put all their eggs in one basket. Outside China, India is the most potential market, as the local markets should also have a high demand where manufacturing takes place. I think our Prime Minister is right when he talks about 'Make in India' campaign.
However, we need to keep in mind the definition of manufacturing. The manufacturing of smart devices involves many factors. To me, the biggest factor is to understand the requirement of the local customer. Then comes the software-hardware designing part of the phone, and components and assembling of parts. We did a preliminary study and now work on insights in India only. We design software in Bengaluru facility and hardware designing is done in a facility in China and assembling of phones is done in other parts of that country. I think with this 'Make in India' campaign, more and more large manufacturers will be interested to shift base in India and we will be happy to become the anchor customers for them. According to me, India is the best country apart from China to make this transformation. On the other hand, the government should have the right policy and better incentives to offer to the companies.
e-mode to m-mode shift is taking place in India. How can Micromax fit into the scheme of things?
I think India has already moved to m-mode. For most of the Indians, the only computing device they have ever owned is a mobile phone and it is more powerful than what PC was a decade back. Micromax is already playing a pivotal role in empowering consumers. We were amongst the pioneers to have identified that world-class products need to be made available to Indian consumers at affordable prices. The fact that we are selling more than 3 million devices every month is a testimony to how we are emancipating the Indian consumers through smarter devices. It is heartening for us to see how India is today connected to the world through mobile phones.
Also Read: Cashing in on Tech Edge
Do you think that the 'Digital India' programme will be the game changer?
Five important verticals of the "Digital India" campaign are – Accessibility, Devices, Applications & Content, Storage and Analytics. India will never be deprived of digitisation for paucity of devices, applications or content. but I think the major challenge for us will be the access. We don't have video-ready network yet. Plus, spectrum is also very expensive. Besidea, storage and analytics also need to be more powerful. So, I think the government should focus on these aspects to make the 'Digital India' campaign a real success.
What are your expectations from the government in terms of doing business in India?
At the outset, I would like to congratulate the new government for creating such a positive sentiment for India Inc across the world. Going forward, the government should persistently pursue the reform agenda. I strongly suggest that the government work in partnership with the India Inc in a manner that the task of policy making remains with the government, while execution is left to the industry.