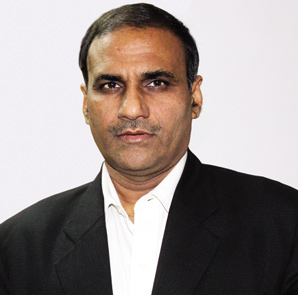 In the Department of Revenue & Land Reforms we are incorporating modern technologies to provide error free services to the people
How has been your overall experience, and how do you look at Information Technology in modern governance?
When I joined the service in 1992, things were at its nascent stages every process was manual. Now, there is an increasing trend towards using IT applications in the service-delivery system because it smoothens the process, brings transparency and puts accountability, and therefore to some extent, limits the corruption in the system. For example, in my department, that is, revenue and land reforms the biggest challenge is to update the land records. Earlier, the process was so cumbersome and manual that by the time we updated the entire record, the previous data had already become obsolete, as the whole process used to take about 30 to 40 years. However, with modern technology, one can complete the survey within three years. We are updating the records, and have planned to complete it within three years.
The government is doing aerial survey of the land, and there is a plan to use technology to make the process error-free and make it people friendly, how has the development been on that front?
Yes, we are using modern technologies to make the process error-free and people friendly. Aerial photography with ground truthing is being used to survey the land. On pilot basis, five districts planning to move to other districts too. We are still at initial stage, so the data which have already been captured, processed and verified are yet to come in public domain. By using high technology, we are aiming to achieve fours things: first, people should have access to their revenue maps and land records from any part of the country, secondly, the data must be linked with registry offices, so that the moment a person sells a piece of land, the record should automatically be updated, third, no one should be able to do fraud as system will not permit to sell a piece of land parcel if it is not in the name of the seller. As of now, if a person wants to sell a piece of land, he needs to submit the certified copy saying that he holds the land and wants to sell it.
On the basis of certified copy, registry office starts the process of execution of sale deed. In the present system, there are certain grey areas, like the records are not available with the registry office. So, whatever records a person submits, registry office takes decision on that. And sometimes, it is quite possible that somebody may play the mischief with the system, for example, there are four brothers who have not divided the ancestral property, one of them can sell the land by submitting a false affidavit stating that he has only two brothers. And, it has turned to be a usual problem in the state. However, now with the help of technologies, everything is being done automatically and online. Fourth, online mutation, mutation means cancelling the land in seller's name, and entering it into buyer's name. It is a very lengthy process and also generates lot of land disputes. But with the online process, as soon as one registers a piece of land in the name of somebody, the mutation takes place automatically.
Use of modern technologies for streamlining the process is indeed commendable, however, what about the infrastructure? Do you have adequate infrastructure in place and skilled staff to handle this?
As far as infrastructure is concerned, we have already constructed about 203 modern record rooms where the data will be stored at the Anchal level. Also, we have put Wide Area Network (WAN), internet connectivity and other basic things in place and a technical person has been assigned to handle it. We call it Kisan Seva Kendra― it is already operational in 203 blocks, and by June end, all 534 blocks will be covered. All the records have been digitised, and it is now available online.
At the block level things have improved, however, challenge lies with villages. We need to provide good connectivity and adequate power supply to villages. Also, available skilled manpower is not adequate in number. We have requested SC/ST Welfare Department to train people to serve our purpose. After doing aerial survey, we can't use traditional ways to handle the data, so we need trained skilled manpower.
"We need to provide good connectivity and adequate power supply to villages"
Banka, Nawada, Jamui and West Champaran have dense forests; aerial survey may not give the best results, so how have you planned to cover these districts?
The four districts which you have mentioned have more than 40 to 50 percent coverage of forest. Initially, we decided to opt for the manual method, but when we have given this offer to the agencies, they surveyed the field and presented a technical report which says that about 50 to 60 percent survey will be done aerially and the rest manually. So, for these four districts, it is going to be both aerial and manual mapping.
Large numbers of cases of land disputes are pending in various courts in Bihar. What are you doing to reduce the dispute?
We have taken reports from the districts and there are about 8,000 cases in our Public Grievance Redressal Cell. I have analysed the data, and basically they are of two types. One is that plot has been sold to more than one person, while another is that farmers don't know about the boundaries of their land. The first problem will be taken care of as soon as we integrate the registration and revenue offices. We have already put records of nine districts on the website, and land disputes have substantially gone down in these districts. I feel, as soon as revenue management becomes transparent and available to every person, the land disputes will reduce sharply.
What are the major initiatives the department has taken or planning to take?
Getting information of the land is very difficult, so we have introduced the MIS system of reporting. Under the system, we have given passwords to the field offices. They are supposed to fill it up on daily basis. This has helped us in updating the land records.
Secondly, we are planning to make a very exciting innovation in the future and that is the disaster management through the digitised data. As soon as we complete this aerial survey, we will have XYZ co-ordinates. Scientifically, this information is very helpful for understanding and the management of the frequent floods. Bihar loses major revenue in flood management. With the help of this technology, it will be easier to understand the level of major rivers and requirement of immediate evacuation or relief. It is all about linking all the digitised data to the disaster management. We are supplying data to 9-10 departments. The department like forest may use it to check how much deforestation has taken place on a particular day by superimposing the present satellite data with the survey data. Similarly, the Road Construction Department is already using it for the information of encroachment area. And Water Resources Department is using it for the information of catchment area, and if a dam is washed away then in which way the run-off will take place.
It is hard to find the actual status of a particular co-operative society in the state. What are you doing to streamline them?
We have about nine thousand co-operative societies. Their accounts are not in proper order. It is true that nobody can find the actual status of a particular co-operative society. We are planning to put all the co-operative societies on computerised system so that we can monitor it from the central server. Right now, it is at a nascent stage. At the end of this, or the next financial year, we will be in a position to implement it.
"Exciting news! Elets eGov is now on WhatsApp Channels 🚀 Subscribe today by clicking the link and stay updated with the latest insights!"
Click here!