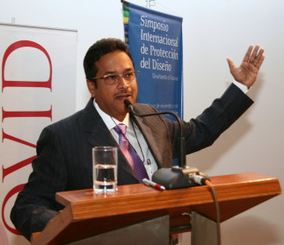 A country like Bangladesh has done 20 billion apparel export, whereas, India with lot of talent is still lagging and has been able to achieve only 13.4 billion in export of textile of apparel. At low end market, India has been wiped out by Cambodia, Vietnam, Bangladesh and Srilanka. Therefore, Dr.Darlie O Kohsy, Director General, ATDC in an interview with Mohd Ujaley says "Our focus should be to bring better value, technic, aesthetic and quality to Indian products and for that the major challenge is to add-up more technology, compliance with international system and modernisation of product categories" 
ATDC is working very efficiently to enhance textile sector in the country. Tell us about some of the achievements of ATDC.
ATDC has been appointed as a nodal agency by Ministry of Textiles to spearhead the pilot projects of skill development. We have already trained 5,000 people and we are hopeful that soon we will provide training to 48,000 more people.
As per 12th Five Year Plan, Ministry of Textiles has been allocated a fund of Rupee 1900 crore. We have sought 326 crore from the allocated fund for training 2, 50,000 people and 15,000 trainers in a period of five years.  As far as budget provisioning is concerned, there have been abundant support from the government and sufficient funds have been allocated to us from time to time.
Recently it was seen that Planning Commission had to slash budget as the allocated fund was not used. What steps are being taken by ATDC to utilise funds effectively?
You are correct. I agree that some of the other agencies of the ministry are on very early stages in achieving their targets.  But our experience of working with the government is very encouraging.
We have opened 1050 centres across the country covering 22 states. We have 44 centres in north, 26 in south and also in various other parts of the country. Five states – Odisha, Bihar, Rajasthan, Chhattisgarh, and Tamil Nadu have exceeding done well and have trained over 5,000 people over a year. We have classified states as per cluster of apparel sector and requirement of the training. We have been able to do it because we have used the budget available to us in a rationale and efficient way.
Research is very important for the growth of any industrial sector. Are you satisfied with the research work being done in textile sector for product innovation and consumer understanding in the country?
By in large, the contribution of Indian industry in research and development (R&D) is estimated to be less than two to three percent, and that is also heavily dependent on pharmaceutical and automobile sectors.When I was director of NID, Ahmedabad, I found a very strange thing that there was no research textile chair in the country, even IIT Delhi did not have it. We set-up the first research textile chair called John Bissell Chair.
Research as you have rightly pointed out, has not been given enough attention. Even at NIFT to which I am founding member, I always used to say that fashion research should be given prominence but there also funding was very limited. That is why we have set-up first ATDC-JUKI TECH Innovation Centre to strengthen the Apparel Industry, especially the SMEs, to adopt new technologies for increasing productivity, efficiency and quality for better price realization and better global competitiveness.
Do you think that textile industry and especially Indian designers have adequately focused on Indian Textile?
Earlier, we hardly used to focus on textile sector. However things have changed after set-up of NIFT in 1987 and economic liberalisation policy of 90s. We have started focusing on textile and fashion. Almost all the designer between Ritu Kumar and Rahul Mishra, have done a great deal of celebration of India. Best example, in recent times is Sabyasachi Mukherjee who only focuses on Indian fashion.  In last two edition of Lakme Fashion Week there has been a special day for Indian textile and apparel.
So things have changed now because of the enormous efforts of Indian designers in promoting textiles. People now really know much more about Indian textile than they knew in the past.
What role can technology play in the enhancement of textile sector?
Both food and fashion required technology to ascertain the demand and to fill up the inventory. When we set-up the innovation lab, we said that digital pattern making will come into force and IT will take over on merchandising.Four years back when we started campaign, many people did not believe but today it is the reality. To crash the time of fashion cycle, and to ensure that time taken from concept to wardrobe is minimum, you are required to use IT and digital technology. Earlier all manufacturer were only using paper pattern, today almost all are digital pattern maker. From pattern making to merchandising, to reaching the consumer, and to the post analyses of purchase behaviour, you required IT influence and interaction, therefore technology has seminal role to play in textile sector.
Government has put huge emphasis on Handloom sector by giving them loan, subsidy, creating cluster, etc. but it seems to have not worked well, you headed the Kerala State Handloom Corporation. How do you look at it?
In my view the generous subsidy given in 1977 damaged the skills of handloom industry across the country. The good weavers, who knew very good weaving, wanted to earn money by weaving easy fabrics. Also, government started giving 40 to 50 percent discount, so people stopped respecting the value, beauty and aesthetic of such products. Also, the traditional workers who were expertise in designing were vanished and young people were not interest to carry forward the old legacy. The tradition is languishing as we are not willing to pay according to the work that goes into it. Today, the contribution of handloom in entire textile industry is only eight to nine percent, whereas power loom is proving 70 to 80 percent. Textile industry has completely changed in past two to three decades.
What are the major challenges you see in the textile industry and what could be the way forward?
A country like Bangladesh has done 20 billion apparel export, whereas, we are such a big country with lot of talent but we are still lagging and has been able to achieve only 13.4 billion in export of textile of apparel. At low end market, we have been wiped out by Cambodia, Vietnam, Bangladesh, Srilanka. So, we will have to bring better value, technic, aesthetic and quality to our products. Also, we need to think if we want grow at eight to nine percent, we will have to move to different range of products. Above all, the biggest challenge for apparel industry is to add-up more technology, the penetration of IT is less than 15 percent in apparel industry. Technology up-gradation and it adoption and better skills for employee  and compliance with international system and modernisation of product category is some of the areas I feel, textile industry needs to focus to achieve sustainable growth.