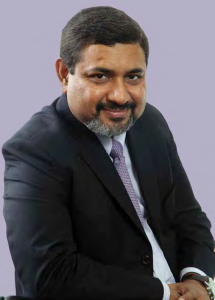 Amar Babu
Managing Director, Lenovo India
---
"We at Lenovo see a "PC + Evolution," not a "Post PC Revolution," in which the PC remains at the heart of an ecosystem of tablets, smart phones and smart TVs," says Amar Babu
---
Please tell us about Lenovo's plans for Indian market. What is the next milestone for Lenovo as far as the Indian operations are concerned?
According to the latest IDC figures (Asia Pacific PC shipment tracker for Q4, CY 2012- OND),Lenovo occupies 13.2 percent market share in India's PC market and is a strong second,almost neck to neck with the leader.Successful implementation of the 'Protect and Attack' strategy –a 360 degrees approach, has resulted in tremendous growth in all business segments for us. We will continue to drive growth through the effective execution of our Protect and Attack strategy, where Lenovo will continue to protect its strength in the Enterprise business (current market share at 16.4 percent as per IDC) and attack the Consumer business (current market share at 13.5 percent) and SMB Business (market share at 7.5 percent).
Our main goal of 'Unstoppable India' will be our focus as we aim to become one of the leaders of the PC+ Era, which will be dominated by four screens (PCs, Tablets, Smart phones and Smart TVs). While we continue to provide next generation solutions in smart devices, we will drive a balanced growth across all geographic regions, customer segments, and product categories. With innovation, we not only aim to differentiate ourselves from the market and continue to be a leading PC+ brand, but also get recognised as one of the most respected technology companies in the world.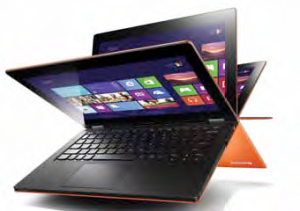 There is rapid rate of obsolesce in the personal computer industry. What are you doing to ensure that your devices are always up to date?
We at Lenovo see a "PC+ Evolution" not a "Post PC Revolution" in which the PC remains at the heart of an ecosystem of tablets, smart phones and smart TVs. Our focus is to keep innovating,while building on our existing competitive strengths, which will set us apart in the PC+ era.We have a balanced product portfolio which includes a range of desktops and laptops at every price level for the consumers and the enterprise users. Besides that, we consistently bring in new form factors such as Ultraportables, Hybrids,Business convertibles, which give us an edge over our competitors. We have seen demand for ultraportables and hybrids from our enterprise customers. Keeping this in mind, with the introduction of new form factors, and adding advanced and award winning product features,we constantly strengthen our offering through innovation. Our leadership in Innovation was recognized at CES where we won a record of 50 awards. Our strong portfolio, filled with innovative products (e.g. Horizon, Helix, K900) is what sets Lenovoapart and continuously ensures the next stage of profitable growth
---
"To boost the prospec ts of the Indian IT industry, there is a pressing need for driving IT penetration in the country"
---
Tell us about your best-selling laptops in the Indian market.
Recognised as the number one commercial notebook vendor worldwide, Lenovo's flagship enterprise offering is the ThinkPad – the most reliable brand of laptop, computers and tablets for enterprise users. ThinkPad X1 Carbon is one of the bestselling ultrabooks owing to the increasing demand for the ultra-portable devices in the enterprise segment. It is an Ultra-light,durable, secure, and stylish Ultrabook, which weighs only 1.36Kg. Introduced at CES earlier this year, Lenovo IdeaPad Yoga has become a best-selling hybrid convertible in the consumer segment. It is a touch-screen ultraportable which turns upto 360 degrees and can be operated as a tablet as well. Lenovo also offers a range of award winning convertible Ultraportables like ThinkPad Twist and ThinkPad Helix which offer SMB owners the mobility of a tablet coupled with the processing power of laptops.
These days many State governments and also the government at the Centre are coming up with policies to distribute free laptops or tablets to students from below poverty line families. Is Lenovo participating in social sector schemes such as these?
The state governments that are coming up with the projects for distribution of free laptops to students issue RFPs to the industry. Post the RFP issuance, Lenovo evaluates the RFPs and responds appropriately.
Many vendors are launching cheaper handheld tablets that are mainly meant for students.Is Lenovo planning to enter the Indian educational space through its devices?
The scope for growth in the education sector is great and Lenovo is geared to meet the demands.Lenovo focused on participating in key government projects related to e-Governance and government sponsored education projects. Lenovo provided customised laptops to about 365,000 students across the state as a part of the deal with Electronic Corporation of Tamil Nadu (ELCOT).The projects where tablets shall be distributed to students will also be through the RFP issued by Government organisations and Lenovo shall evaluate these RFPs and respond appropriately.
What is your view of the devices market in India? What kind of policies should the government come up with to further increase the size and scope of the Indian computing market? Tell us about your expectations from the
government.
To boost the prospects of the Indian IT industry, there is a pressing need for driving IT penetration in the country. The Government has failed to rectify the anomaly in the tax structure by not addressing the inverted duty structure.The industry was hopeful of the inverted duty structure, by way of effectively making the direct import by end-customers or trading of computers advantageous, in comparison to manufacturing of computers in India.
What is the future of personal computing? What kind of personal computing devices will we have,let's say, 10 years from today?
The future of PCs is in The PC+ era, which is in full swing right now. While there is still opportunity in PCs, most of the new growth in the coming years will be in PC+ devices (convertibles,tablets, smart phones, smart TVs). There will be a dominance of new form factors and device categories – like smartphones, convertibles,tablets and smart TVs. We are proud to share that Lenovo is one of the companies which is driving innovation through the creation of new product categories, such as convertibles (notebook/tablet hybrid) and a multi-user table PCs (such as the Horizon) that enhance the customer experience and differentiate us from the competition.
Follow and connect with us on Facebook, Twitter, LinkedIn, Elets video