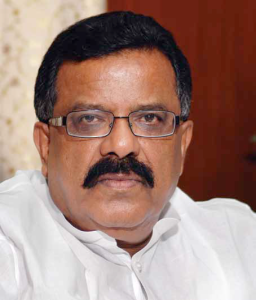 "Safety of 13 million passengers that Indian Railways serve every day is of paramount importance," says K J Surya Prakash Reddy, Union Minister of State for Railways Government of India, in conversation with Nayana Singh
The Indian Railways are hailed as the lifeline of the nation.Millions of people use the trains run by Indian Railways every day.Currently what are the main challenges before Indian Railways?
The basic challenge that Indian Railways faces today is that of capacity constraint on High Density Network Routes. Indian Railways has identified seven HDN routes comprising of 212 sub-sections covering the length of 10509 km. These together constitute 16.4 percent of the total route carrying 58 percent of the entire railway traffic.
To enhance capacity building and strengthen HDN routes, we have started 47 doubling and 229 traffic facility projects with total cost of `15061 crore. We have prioritised capacity augmentation works by channelising flow of funds. These High Priority Works are of low cost, having relatively shorter gestation and positive bearings on the overall system by means of increasing capacity, operational flexibility and movement fluidity. They reduce congestion, de-bottleneck important routes and give immediate relief by helping in capacity enhancement.
What steps are you taking to ensure that these projects get completed on time?
A priority list of railway project is drawn for comprehensive and continuous monitoring to avoid any slippage in their target of completion on account of fund and other matters. 238 High Priority Works were prioritised with requisite allocation of funds in 2012-13. These included 12 works of New Line, 25 works of Gauge Conversion, 27 works of doubling, 121 works of traffic facilities, 46 works of S&T and 7 works of Railway Electrification. Out of these, 100 works have been completed by 31.3.2013 .This is a major achievement and such prioritisation is proposed to be continued to enable optimal use of scarce financial resources. For the financial year, 2013-14, 402 works (including 125 works carried forward from 2012-13) have been identified as High Priority Works. These include 14 works of New Line, 21 works of Gauge Conversion,47 works of Doubling, 196 works of Traffic Facilities, 115 works of S&T and 9 works of Railway Electrification.
---

"Indian Railways has been a pioneer in the use of IT applications for interaction with the customers"


---
Tell us about the initiatives that you are taking to ensure that there is easy availability of trains to people who need to travel. Some of the routes in the country tend to get very crowded during the festival seasons. Are you thinking of increasing the number of trains for such routes?
Indian Railways announces a number of trains every year in Railway Budget on the basis of demand pattern. Introduction of new train services in various parts of the country is a continuous ongoing process. In addition, every year for clearance of extra rush of passengers during peak season, festivals, special events, Indian Railways run special trains between various important destinations. We keep in view the pattern of traffic,commercial justification, operational feasibility and availability of resources.
What steps are you taking to ensure efficiency of Indian Railways through the incorporation of latest IT Technologies?
Indian Railways has been a pioneer in the use of IT applications for interaction with the customers. Various IT projects have been implemented which have impacted and improved the efficiency of the Indian Railways.We have launched Freight Operation Information System (FOIS) which involves Rake Management System (RMS) and Terminal Management System (TMS). RMS handles the train operations and TMS is responsible for commercial process. We have commissioned reporting and monitoring equipments at more than 2000 locations. TMS provides information about congested terminals and congested routes through which wagons can be diverted to non-congested destinations or moved through non-congested routes. We have also started Radio Frequency Identification (RFID) of wagons for accurate accountal of wagons. A pilot project on 500 wagons was successfully carried out. We have also expanded to cover 20,000 wagons. Integrated Coach Management System (ICMS) has been started which monitors the information of passenger trains and coaches. Punctuality Analysis and Monitoring (PAM) and Coaching Operations Information System (COIS) modules are being used extensively.
Brief us on the internal e-governance systems that you are implementing in the Indian Railways?
Indian Railways had installed Control Office Application (COA) which is responsible to maintain the data entry of the running trains by section controllers. It enables better planning of trains by making the train movement on the adjacent sections of the adjoining divisions visible to the section controllers. It provides information to the other applications such as the National Train Enquiry System (NTES), ICMS and F.O.I.S. at all divisional control offices.We have Crew Management System (CMS) which is an Application for management of the booking of train crew (Drivers and Guards). It enables better utilisation of crew, calculation of their mileage bills and provides information to the crew through information kiosks. It has been implemented at 352 crew lobbies and is planned for remaining 200 crew lobbies. Biometric verification of the crew is planned and is under testing at 5 locations namely – hakurbasti,Tughlakabad, Delhi, Ambala and Moradabad.Various applications are under different stages of development and implementation for management of the workshops and loco sheds .Workshop Information System (WISE) has been launched at Raipur Wagon Repair Shop in August 2012.
Please tell us about Railway Energy Management Company (REMC).
Railway Energy Management Company(REMC) is a joint venture with the RITES and Indian Railways. It is entrusted to undertake projects for harnessing wind energy in a time bound manner and at a faster pace. It has already planned to set up 25 MW of windmill in the state of Rajasthan for which a consultancy contract on Centre for Wind Energy Technology (C-WET) has been signed. These windmills are expected to be commissioned by July 2014. Further, it is planned to set up additional 127.5 MW of windmill plants for which the location, power evacuation arrangements etc. are being examined
Please tell us about the steps taken to improve the hygienic conditions in Indian Railways?
Intensive mechanised cleaning of coaches in the coaching depots through professional agencies is being carried out. Heavy duty machines such as high pressure jet cleaners, floor scrubbers,vacuum suction cleaners etc. are deployed for the purpose. This has already been implemented in 95 coaching depots on different Zonal Railways. This mechanised cleaning is continuously being expanded to cover more number of coaches and in the near future, 25 more coaching depots are planned for implementation of this scheme. On Board House Keeping Scheme (OBHS) has been prescribed in all Rajdhani, Shatabdi, Duronto & other important long distance Mail/Express trains for frequent cleaning of coach toilets,doorways, aisles & passenger compartments during the run of the trains. This scheme has been implemented on about 385 pairs of trains.Around 200 more trains are planned for coverage under this scheme.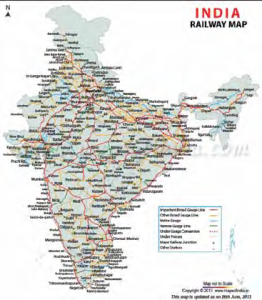 One great area of concern is related to the sanitation and health related issue on our Railway platforms. What steps
should be taken to ensure cleanliness in railway platforms and trains?
Cleanliness is always on high priority of Indian Railways. Considering the passengers who turn up in millions at the stations and on trains every day, maintaining an acceptable level of cleanliness is a never ending challenge. Indian Railways have taken several steps to improve cleanliness in stations.Indian Railway is decreasing manual efforts by deploying more and more mechanisation. Around 350 stations have been brought under mechanised cleaning and progressively more stations will be taken for cleaning efforts. We are conducting intensive checking at all important stations at different levels for ensuring proper cleanliness. The senior management is responsible in maintaining a strict vigil in this endeavor to ensure that there is no slackness at any level.Clean Train Stations (CTSs) have been nominated to ensure thorough cleaning of passing through trains between 6 am to 9 pm. So far, 29 stations have been nominated as CTSs on Indian Railways.Apart from this for ensuring better hygienic conditions in trains, On Board House Keeping Services (OBHS) have been deployed in important trains for proper upkeep of running trains.
India became the first developing country and the 5th country in the world to roll out the first indigenously built "state-of-the-art" high horse power three phase electric locomotive when the first such loco was flagged off from Chittranjan Locomotive Works (CLW ).
CLW has been achieving progressive indigenisation and the cost of locomotives has come down to the level of `13.65 crore.
Diesel Locomotives Works, Varanasi has produced state-of-the-art 4000 HP AC/AC diesel locomotive in April this year. These locos are capable of hauling 4,800 tonne
freight trains at a speed of 100 KMPH and can run continuously up to 90 days in one stretch without any major maintenance.
There has been talk of having bio toilets in the trains. Please tell us about it.
We are planning to have bio toilets in train which will eliminate the direct discharge of human waste on the tracks. It has been  developed jointly with the help of DRDO. Nine trains have already been provided with bio toilets service. Rag picking and garbage disposal contracts have been provided at important stations for ensuring cleanliness of areas in and around stations. So far around 400 stations have been awarded with rag picking and disposals contracts. We have also launched various awareness campaigns through print and electronic media. Sanitation work at most of the stations in different zones is maintained by Commercial Department. The sanitation and cleanliness at railway stations is governed by Sanitation Manual issued by Commercial Directorate. Special Inspection Groups (SIG) groups consisting of Senior Officers of Commercial,Engineering and Medical Departments regularly inspect the stations to monitor the cleanliness levels.
Are you developing systems to ensure that the food being served in the long distance trains is of good quality and healthy?
It is a continuous endeavor of the Indian Railways to provide good quality hygienic food to Railway passengers. Accordingly, a New Catering Policy, 2010 has been introduced on 21.07.2010 with a mandate for effective quality assurance programme. Feedback regarding quality of services is always taken from passengers through opinion cards. Emphasis has also been made in New Catering Policy 2010 for conducting surprise and periodical inspections by Zonal Railways at various levels. Periodical surprise inspections are carried out by Zonal Railways at various levels. About 34565 inspections have been carried out in the last one year.
With our honest and sincere efforts, I foresee a very bright future for the railway sector. The improvements in our railway system will make it more convenient and safe for people to travel and it will also lead to growth of the nation's economy
Follow and connect with us on Facebook, Twitter, LinkedIn, Elets video