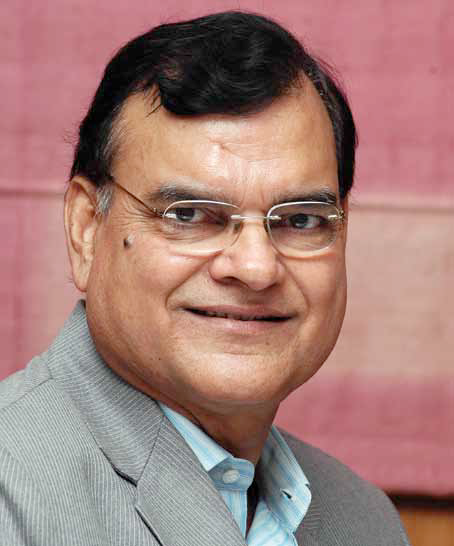 R K Upadhyay
Chairman & Managing Director
Bharat Sanchar Nigam Ltd (BSNL)
"BSNL has already installed quality telecom network in the country. We are now focusing on improving the network and introducing new telecom services," says R K Upadhyay
Connectivity is today being regarded as the key element for bringing social inclusiveness and all round economic development. Please share with us the details of the most important initiatives that BSNL is doing for creating a socially inclusive telecom network?
BSNL has about 38,000 electronic telephone exchanges out of which 28,000 are located in rural areas. In fact, there is no telecom operator in the country that can beat BSNL when it comes to reach in different parts of our country. We are present in every part of the country, even the most inaccessible areas. Only place where we don't have our network is the top two cities – Delhi and Mumbai. Our country has 6000 blocks which accounts to an average of four telephone exchanges in each block. All these telephone exchanges are connected through optical fibre. We have virtually connected every village panchayat through these telephone exchanges. All these digital telephone exchanges are broadband enabled, which means that we are in a position to provide broadband connectivity to a very large section of the rural population. In the urban areas, we are providing broadband connections through various technological platforms like DSL connection, optical fibre to the home, 3G Data Card and CDMA network. BSNL is the only service provider, which is making focused efforts to bridge the rural-urban digital divide in ICT sector.
While it is understood that BSNL is doing a great job in connecting the entire nation and reaching out to rural India, how profitable
are these ventures?
You see, you can't analyse every initiative of a Public Sector organisation like BSNL from the perspective of profits. Our rural landline operations are not commercially viable, but they are very essential for inclusive social development. BSNL gets it viability fund through government. We also provide connections in the remote areas of North Eastern India, J&K, and Andaman islands. These connections are being provided through satellite bandwidth. But revenue which BSNL generates through these services is far below the operational expenses. So BSNL is requesting government to provide viability fund to conduct connectivity operations through satellite medium.
Telecom is turning out to be a very dynamic sector, technologies change at a fast pace. What steps are you taking to ensure that you are always in a position to offer latest and best technologies to your consumers?
 BSNL has always been in the forefront of implementing new technology. We have a long history of bringing new technologies to the country. We want to offer our customers the benefits of new technologies. We were the first company in the country to introduce systems like high speed internet, fibre to home, and CDMA network. We are market leader in landline connections throughout the country. BSNL has undertaken several steps to modernise its electronic telephone exchanges across the nation. We have introduced CDR (Call Data Record) billing system, which will replace traditional billing systems  BSNL has developed plans to convert complete landline telephone exchange into NGN (New Generation Network) based on IMS. It will enable us to launch prepaid services in landline. It will facilitate convergence into our mobile and landline connections. We have optimised our mobile for data network. Currently all the three verticals of BSNL which are CFA (Consumer Fixed Access), Consumer mobility and Enterprise business have different IT systems. We are planning to converge our IT system.
Do you feel PPP mode is profit able, result oriented and fruitful in telecom and IT space?
A well designed public private partnership (PPP) system would be as useful in communication and IT domain, as it is useful in other infrastructure sector. That is my point of view.
"BSNL is the only service provider in the country that is totally focuss ed on bringing the fruits of the connectivity to the rural areas"
What are the ways by which you are using ICT to bring transparency and efficiency within the organisation?
We have moved completely towards e- tendering in our procurement system. It has brought much more transparency in the system. We are implementing countrywide ERP, which will bring even more efficiency and transparency in the system. I would like to tell you that BSNL is also one of the first companies in the country to introduce modern billing system. The new billing system has made it easier for the consumers to follow the charges that they are paying.
Can you please share with us your vision with respect to the future of telecom sector in India?
You see, the population of this country is more than a billion. A large section of the country continues to reside in rural areas. So the New Telecom Policy of 2012 has placed great emphasis on bridging the gap between urban and rural areas. There are still 60,000 villages in the country which do not have any mode of connectivity. The first priority of BSNL is to provide connectivity to all areas, whether it is inaccessible areas of Siachen glacier or the North-Eastern regions of the country. We take pride in the fact that BSNL serves its customers with a wide bouquet of telecom services, namely Wireline, CDMA mobile, GSM mobile, Internet, Broadband, Carrier service, MPLS-VPN, etc. However, in price sensitive market like India, telecom operators have to strive to a very low cost model. Government has taken various effective steps which have further encouraged telecom operators
Follow and connect with us on Facebook, Twitter, LinkedIn, Elets video