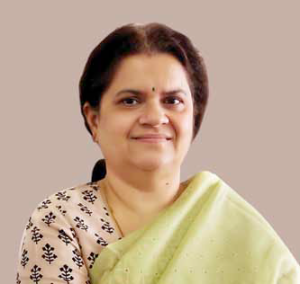 Medha Gadgil
Principal Secretary, Home,
Government of Maharashtra
In your opinion what are the main challenges of handling prisons. What are the ways by which ICT is being used to address these challenges?
Currently we have to handle a total of about 22,000 prisoners. This number includes both under-trials and convicts. We have 43 different Jails in all over the state. It is a major challenge for us to ensure that all the prisoners are housed in suitable prisons. The major difficulties are usually related to the court appearances of the under-trail prisoners. It is natural that every under-trail wants to appear in court as he wants his case to be decided in a speedy manner. While taking prisoners to court we have to ensure that there is adequate police escorts. At times it so happens that police escorts are not available as there are multiple duties. They have to attend bandobast, festivals,etc. So we came to the conclusion that a good solution for this would be to adopt technology. Now we are facilitating the trail of prisoners through video conferencing in prisons and courts.
Please elaborate on the ways by which video conferencing is proving helpful.
There is no doubt that this is proving to be a very helpful solution; we have been using it for the last 4-5 years now. This has helped us save a lot of cost. We have installed monitors in jails and the court premises. An under-trial prisoner has to appear in the court of law multiple times. This also has saved a huge manpower because the under-trial prisoners require security escorts. Apart from video conferencing, we are also promoting the use of Skype and other such conferencing tools for saving even more costs. Solutions such as Skype do not require much investment. Besides video conferencing, we are undertaking modernisation of prisons by installing CCTVs for enhancing security.
What infrastructure you have installed for video conferencing?
We have computer system and monitors installed at both the places – in the court and in the jail. Both the places are connected through internet connectivity. A prisoner can appear before the court by sitting in the jail. This solution has been accepted by the court as well. The use of technology will bring in greater efficiency, everything even in the inventory management.
---
"BESIDES VIDEO CONFRENCING,WE ARE UNDERTAKINGO MODERNISATION OF PRISONBY INSTALLING CCTVs FOR ENHANCING SECURITY"
---
How Prison Management System will help in managing prisons?
The Prison Management System will be very shortly implemented in all the jails across the state. Manual prison management is proving a challenge for us due to complexity and sensitivity of the task. At present, jail officials have to perform a lot of tasks manually which will be replaced soon by the Prison Management System. There are issues like calculating parole, entitlement of a prisoner which is done manually at present. Once the prison management system is installed we will be in the position to do such tasks through computers. We have started it in the Arthur Road jail; we faced some glitches which we are rectifying. We are planning to install PMS in this financial year in other jails as well.
Follow and connect with us on Facebook, Twitter, LinkedIn, Elets video