Balwant Thakur, Regional Director, Indian Council for Cultural Relations, Ministry of External Affairs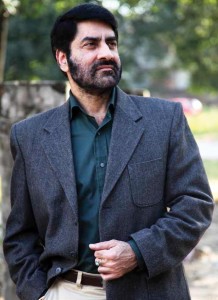 Regarded as an icon of Indian cultural identity, Balwant Thakur was conferred the highest Indian honour for art, culture and music, the Padamshree award, this year. Born on 25th of December 1960 in the hilly village of Bakkal in district Reasi of J&K, he grew up singing and dancing with traditional performers. His father Hari Saran Thakur was a patron of traditional performers and he had also represented the State at many national events. Balwant Thakur was greatly inspired by the artistic activities of his father and at a young age he decided that he would devote rest of his life to art and culture
Today you are regarded as an icon of Indian art. You have achieved this status despite making a humble beginning in a small village. Tell us about your journey as an artist.
As my father was a patron of traditional performers, I had good exposure to arts during my childhood. Art is something that came naturally to me. There has never been a time in my life when I have not been impressed by it. After completing my primary education in village, I shifted to Jyotipuram, where I studied till 12th standard. As Jyotipuram was a metropolitan town, it gave me exposure to a broader expanse of culture, and enabled me to acquire leadership qualities. I joined an evening group, and began to assist them in their allied jobs like publicity, backstage work, house management, etc. Slowly I gained enough confidence to form a group called 'Seven Stars' with six of my friends; we staged plays like 'Sabhya Saanp' and 'Kanyadaan'.
Later I shifted to Jammu and graduated in Business Management and Economics from MAM College. During this period I started writing for Radio Kashmir, Jammu, and presented talks, short stories, poetry, and short plays in their Yuva-Vani service. I continued acting, directing and writing plays for the inter-collage competitions. My ultimate ambition was to do post graduation in dramatics, but I was forced to join LLB (professional) to fulfil the aspiration of my parents. Three years in the University turned out to be a turning point in my career. I worked hard and managed to bring top honours in Dramatics for University of Jammu in Zonal and National events.
---
"Theatre has immense power to bring positive changes in the society"
---
The establishment of Natrang was obviously a turning point in your career. Tell us about the work that you have done through Natrang.
I started Natrang in 1983 with the help of some of my colleagues from theatre in order to attain a degree of creative liberty. Natrang made a mark on the artistic space in the first year of its existence. We surprised everyone by winning the State Academy award for best production 'Chauraha,' which I had directed. After that we further strengthened Natrang by producing and directing successful plays like 'Neeli Jheel' 'Nanhen Kandhey Nanhen Pair' 'Singhasan Khali Hai' and 'Rang Nagri'. In 1984-85, I wrote two plays 'Ek Sangharsh Ka Ant' and 'Yeh Laash Kiski Hai', the later won best short play award in many All-India play competitions. By this time I had already made a mark in Punjab, Himachal and Haryana by winning best director awards in the All-India cultural competitions. After that the Sangeet Natak Akademi, New Delhi, selected my play 'Kaun Nachaye Naach' for the North Zone theatre festival held at Chandigarh. For last few years, I have been giving my fulltime to theatre, which has always been my main passion, and I have also launched few new projects under Natrang.
You have served as the Secretary of Jammu and Kashmir Academy of Art Culture and Languages. What were your key achievements in this position?
In 1995, I was assigned the task of reviving the cultural life of Jammu & Kashmir, which was then passing through problems related to militancy and other issues. I joined the State Government as Secretary of Jammu & Kashmir Academy of Art Culture and Languages. This is an organisation of 317 employees and is primarily responsible for the development of art, culture, languages, literature, and arts education of the state. During my eight years of service, I gave shape to over 3000 programmes including many National and International events. I also brought top honours for the state and made a history by winning best Tableaux award five times in eight years during the Republic Day Celebrations in New Delhi. Today I look back at the years that I have spent as the Secretary of Jammu & Kashmir Academy of Art Culture and Languages with some amount of satisfaction. But it is also true that art is everlasting service, you have to keep working to achieve even better results.
You have started an initiative called 'Theatre for a Social change.' Do you believe that through effective use of theatre and other artistic mediums society can be transformed?
That is what I believe. Theatre has immense power to bring positive changes in the society. If used properly it can bring revolutions. We must learn from the developed countries which have perfected the way of using these mediums to raise the intellectual levels of their citizens. You see, in the city of St Petersburg, in Russia, there are over 200 theatres; in comparison, our towns and cities hardly have any theatres at all. In most of our towns you can hardly find one or two theatres, and even those would be in a defunct state. How can you expect theatre to change society for the better, when we are not doing enough to promote such arts in the country? What we need right now is a political will to promote intellectual initiatives in the country.
How you can expect theatre doing wonder and miracles to change the mindset of the society. We need to promote literature, visual art, and performing arts, which unfortunately we are not doing currently. For instance, in 2010, we took a major initiative to revive the dying cultural tradition of Kashmir. Involving over 1000 traditional Bhand Pather performers, with the help of eminent playwright Moti Lal Kemmu, we brought together twenty prominent Bhand Pather groups spread over the entire length and breadth of Kashmir Valley and trained them in new techniques of production. The resultant work became very popular throughout Kashmir.
Currently, you are serving as the Regional Director of ICCR-Jammu Chapter. Tell us about the work that you are doing for art and society in this position.
Our mandate at the ICCR is to take India to the world and bring world to India. Through our cultural initiatives we strive to bring nations together. With the coming of ICCR in Jammu, the people of this city are being exposed to the best aspects of world culture. We are having series of International performances in Jammu and I am sure that these will broaden the vision of our spectators. Such exposure also helps our artists to develop a global vision and gain an insight into the latest trends in international arts.
Follow and connect with us on Facebook, Twitter, LinkedIn, Elets video