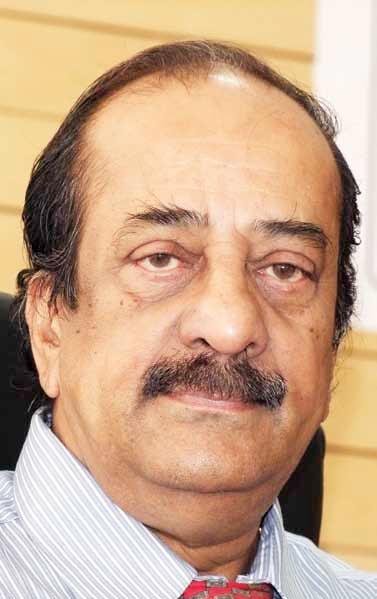 K Swetharanyan
Managing Director, Kyocera Document Solutions India Pvt Ltd
K Swetharanyan, has been at the forefront of Indian Office Automation Market Development. In his past stints of over 25 years in the  India Office Automation market, he has lead Indian Operations of MNCs. He has been a trend setter for India, especially in pioneering the launch of Digital Documentation devices in India
Kyocera is a well known name in Japan. What kind of work are you doing in India? Please provide us with an overview on the operations in India.
It was in 1948 that Kyocera was established in Japan. The company has pioneered the use of fine ceramics as an alternative to steel and plastics. Today with 40 manufacturing plants, Kyocera has more than 40,000 people employed in 25 countries all around the world. Kyocera Document Solutions India Pvt Ltd was formed on 4th March 2008 as a wholly owned subsidiary of Kyocera Document Solutions Corporation, Japan. The Indian subsidiary was established with the view that it will help in gaining a better understanding of the Indian consumer who is using Kyocera Document Solutions products. The Indian subsidiary is growing at a fast pace. From a turnover of `80 crore in first year of operations in India, we had already come up with `120 crores this year. In next three years, we expect the turnover to grow to `500 crore.
What kind of policies should the government come up with to bring further growth to the businesses like yours? Tell us about your expectations from the government.
You cannot change the policy only for office automation companies. Today office automation is a part of IT, printer and those kinds of systems. Naturally they should promote industry like ours. You see the growth in the IT sector is capable of fuelling large amount of growth in the overall economy, the people in the country will benefit from this. Our solutions are in demand from every sector. Growth in retail can give huge impetus to office automation. The government should come up with a policy that favours the opening of more retail outlets. The power companies also need to grow. Basically we need to build lot of new infrastructure. Also, digitisation and e-Governance should be aggressively pursued in the government sector. Already lot of work is being done for e-Governance, so basically things are moving in the right direction. It is a matter of pride for us that our machines are installed in the Rajya Sabha. We also have our machines in the Railway Bhawan.
What kind of customers are you focusing on? Are majority of your clients from government sector or from the private sector?
I would say that in the office automation business, basically 45 percent to 50 percent of the clients are from the government side. The rest could be from the corporate side. In India, we are supplying solutions to BARC. In BARC we have around 600 to 700 machines installed. We have supplied machines to the Nuclear Power Corporation, and also to many PSU banks, private sector banks, insurance companies, etc. Many top players in the private sector use our machines. Companies like Adidas, Volvo, Coca Cola, to name a few. But thing is that lot of sales is also happening through our channel partners. They are selling to the government sector, to small and medium organisations and also to SOHO (Small Office/Home Office). Basically I would say that we are there in every customer segment.
Kyocera is known for its environmentally friendly concept of printing. Tell us about the ECOSYS concept.
ECOSYS is one of the basic concepts of Kyocera. ECOSYS stands for Economy, Ecology and the Systems. We have developed this solution in view of the fact that all companies must struggle to balance ecological concerns while trying to minimise running costs so as to guarantee economic viability, all the while ensuring that their document management solution offers adequate network functionality. With regards to economy, I say that if you buy a device, the cost of the machine and the running cost during its entire lifespan should be lowest in the industry. It is possible that you might find a lower priced machine elsewhere, but the cost of running it will be much higher. The total cost in case of Kyocera machines is very less, as we follow a long life component concept. The toner that is used is of high yield variety. For instance, if a machine from another company yields 3,000 copies per cartridge, then our machine  will give the double. With such efficiency and durability the machines are quite environment friendly.
Some of your office solutions come with a security feature. Tell us about it.
We do have software solutions that can be offered in the network. For instance, there is the issue of examination papers – we learn from the media that the papers are getting leaked on many occasions. This leads to a big scam. So we can have a solution where the question paper for the examination does not get printed before the examination starts. The students arrive at the examination hall and only half an hour before the exams, the central command is given to the printer and the paper is printed. The examiner at the examination hall can identify himself with a secret code and he can print the papers to be distributed to the students. Such features can be embedded into the network. We have also developed printers that are incorporated with biometric features. Unless the user puts his thumb impression, the printer will not work. Many government departments that are handling classified information show interest in such printers.
India is considered to be a very cost sensitive market. So from the perspective of an international company like Kyocera do you think that there is enough potential in India for making a profit.
Absolutely. We see great potential in India. This is the world's fastest growing market and Kyocera Document Solutions is growing a high pace in the country. However, I do agree that India is very cost sensitive market. People prefer to buy the low-end machines. If you look at the USA and Europe, there is hardly any demand for low-end machines; they prefer to buy the heavy ones, which are much more efficient and durable. In India, people buy low-end machine and expect it to do the work of a high-end machine. The machine gets worked 24 hours a day. It is designed to bring out 5,000 copies and we try to take out 10,000 copies. As the economy grows, the demand for high-end products will also grow. So we are quite optimistic in the long run.
Technology is constantly evolving. Can you give us a peek to new ideas in office automation we can expect from Kyocera?
We continue to innovate for new products, solutions and technologies. Our basic focus is to develop new series of efficient machines that are more durable and less costly, while being environment friendly. In fact, I would like to point out that the power consumption in our machines is the lowest. Our machines have the lowest power consumption, longest life, lowest running cost and are enabled with all kinds of useful software.
The modern printer is a multi-function device, it is meant to copy, fax and scan. Some clients have very unique needs, they might need security printing. In this case we have to have a system for user identification. As far as new technologies are concerned, I would say that sky is the limit.
Follow and connect with us on Facebook, Twitter, LinkedIn, Elets video