Aiming to be a valuable partner that grows together with customers, he says
KYOCERA Document Solutions Inc., one of the world's leading document solutions companies, has announced the change of its President. To illustrate the new direction of KYOCERA Document Solutions, the new President,Takashi Kuki, has released the essential Management Message to the public as below:
At KYOCERA, in order to deliver products and services that delight our customers, we take the 'Customer-First' Principle as our top priority. To ensure customer satisfaction,we aim to be a partner that delivers new value to our customers' operations, with employees who relentlessly pursue their dreams, work enthusiastically and achieve self-determined goals.
About Company
KYOCERA Document Solutions has more than 50years' experience in copiers and MFP, and over 25 years in printers development and manufacturing. Since its establishment, KYOCERA Document Solutions commits to develop products to incorporate"Ecology" and "Economy" based on the philosophy of "Environmental Friendly Management". KYOCERA Document Solutions also comments to offer reliable, safe and clean products and satisfactory services to demonstrate core "Customer First" principle and, at the same time,improves environment performance and strives to be the Global Reliable Enterprise.
KYOCERA Document Solutions India Pvt. Ltd.- a wholly owned subsidiary of
KYOCERA Document Solutions
Corporation, Japan, was formed in 2008, to cater to the Indian customer better. KYOCERA is based out of Gurgaon and has 16 branch offices in major cities. They are supported by a strong dealer network of over 200 dealers across the country.
To learn more about KYOCERA Document Solutions,please visit www.kyoceradocumentsolutions.com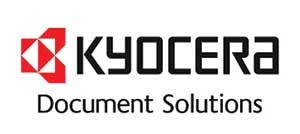 KYOCERA Document Solutions Inc. is the company that undertakes the document solutions business in KYOCERA group, which has consistently opened up new worlds by leveraging leading-edge technologies in a broad range of fields from fine ceramics, electronic devices and communications services to environment and energy markets.
For more than 20 years, we have minimised environmental impact by developing long life,low-waste printers and multifunctional products. We have worked continually to build long-term partnerships with our customers by optimising total usage cost of a product through the minimisation of the number of consumable parts that require frequent replacement.
In recent years, customers' business environments have become more diversified and globalised, and requirements for borderless streamlining of operational process as well as quick decision-making have increased.At the same time, the volume of documents handled on the business front line has grown exponentially and the issues involved with document processing are multiplying. Built on our strong foundation of hardware sales and maintenance, our extensive consulting services and self-developed business applications enable us to better understand customers' business environments and solve document related issues through our total document solution approach.
KYOCERA Document Solutions will continue to grow together with you, and be a partner that will contribute to your business growth.
Follow and connect with us on Facebook, Twitter, LinkedIn, Elets video