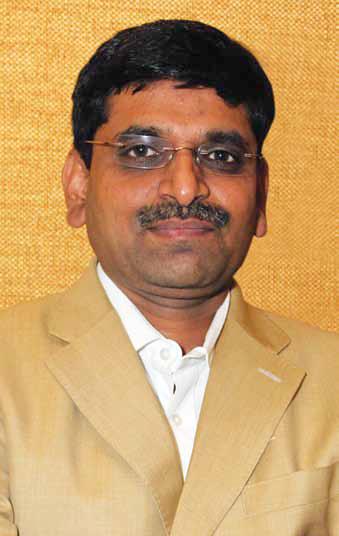 Surya Prakash Madrecha
Chairman & Managing Director, Trimax IT Infrastructure & Services Ltd
"The various e-Governance projects that have been launched in the country present the government and the private sector companies, like ours, a range of novel opportunities to create systems that can bring lot of benefits to the common citizens," says Surya Prakash Madrecha
Please provide us with an overview of the role that Trimax is playing in the e-Governance space.
We are a system integration company. Our core competence lies in the areas of Managed IT Services, Data Centre and Cloud Services, customised industry specific solutions, turnkey solutions and application services. Having managed critical projects for numerous State Governments we have by now proved our expertise in handling large and complex projects. We are constantly enhancing our strengths in the application and the mobility space. We are creating many new applications in the transport space. Trimax is already working with four state governments in the country to create and manage transport applications that work on revenue based models. We do all the investment and we get our revenue on a basis of the tickets that get sold using our platform.
Your transport related applications are being used by Maharashtra government and few other states. How does your application work?
We started the implementation of our transport applications from the state of Maharashtra. Up to 60 lakh passengers travel per day by  using ticketing and passenger management systems developed by us. We manage the entire backend of the system. We have also developed solutions for BEST in Mumbai. One of our solutions is Smart Card. You can buy a Smart Card that will be valid for one month or three months. The Smart Card can at a later stage develop into a Common Mobility Card that will work on different kinds of transportation networks. You can use it in a bus, in a train and even for payments at toll stations. We design and develop smart applications like e-ticketing, online reservation system, fleet management, application hosting, laying network connectivity between transport hubs, and supplying and integrating hardware, including electronic ticketing issuing machines. The ETIM – ORS (Electronic Ticket Issuing Machine – Online Reservation System), developed by Trimax, is being appreciated by many stakeholders in the transportation space. The solution has been deployed in BEST and MSRTC. The ETIM – ORS offers the benefits of centralised administration and revenue assurance. It leads to fleet optimisation and business re-engineering. There is effective cash management and the customers have access to many new conveniences. We are implementing our solutions at the Rajasthan State Road Transport and we are also in the stage of taking our solutions to Uttar Pradesh.
In India it has often been said that it is difficult to do business with the government . In your opinion what are the major challenges in working for the government?
There are challenges in whatever you do. In government too there are challenges. For instance, while creating the RFPs (Request for Proposals) all the issues are at times not taken care of. So when the project comes to the implementation stage, new issues emerge and this can lead to escalation of costs. And when we are working in the rural areas the problems that come up are basically due to lack of infrastructure. We can manage connectivity related issues on our own, but we can't do anything about the issue of power. If the power is not there, then your IT systems cannot work. e-Governance can only takeoff in the country, when there is availability of good quality electricity in every part of the country. A project cannot be completed if the government starts insisting that they have done their part of the job and the IT company insists that it has done its part of the job. A project cannot be considered complete unless and until, it starts delivering results on the ground level. Before launching any new project, we have to proactively think of the ways by which we can resolve all the basic issues that might emerge at some point of time.
You started the company in 1995. How has the journey been so far?
We started in 1995 with zero capital. Today we have more than 3000 employees on board. We now have about 12 regional offices all over India. About 35 percent of our business comes from the government side, and rest of it comes from the enterprise, banking, PSUs and the SME segment. The SME customers don't have to go to multiple vendors for multiple solutions. We can serve as a one-stop-shop
for the solutions for all kinds of needs. Our basic advantage is that we have now developed a Pan India reach through our 600+ support offices, which are strategically located to enable us to reach any customer location in just four hours. A part of our revenue also comes from the banking side. For last four years we have been the partner with BSNL for providing Managed Network Services in India. We count many leading PSUs as our customers. Trimax has developed and it currently operates a Data Centre in partnershipwith ITI Ltd. We are the sole provider of services to the customers of this Data Centre. The partnership is based on a PPP model. We are looking forward to a turnover of over Rs. 950 crore in the coming financial year. We have enjoyed the journey so far, we have had lot of interesting experiences and we have built many valuable relationships.
Is there any chance of the company going public in the next few years?
That will also depend on the market conditions. As of now we don't have any funding related issues, so we are not planning to go public for the time being. But that can change in the future, if the market conditions become better, we might take a re-look at our position.
When you think of an IT company, you usually think of multinational corporations. But Trimax seems to be an exception in this space, as its business is mostly concentrated within India. Are you planning to launch operations in other countries?
Slowly we are trying to explore other nations. But we are essentially going to be extremely focussed to managing and growing our business in India. In the next 10 years, the IT business in India, especially in the e-Governance space is going to grow at a healthy pace. The kind of IT revolution in governance that we have witnessed in USA and Western Europe in the last 20 years, is going to come to India in the next 10 years. We plan to bag a share of this business in the country. Four years ago we had started some offices in China and Hong Kong, but we have closed those offices, because we believe that India is a country with maximum amount of potential. As we are from India, it is our responsibility to serve the nation, so we will continue to grow our business in the country and thereby serve the nation.
Trimax is currently handling many e-Governance related projects for the Government of Rajasthan. Please tell us about the work that you are doing in the state.
We have implemented the SWAN project in Rajasthan with Airtel. We have been instrumental in creating the infrastructure for the Rajasthan Excise Department. In fact, I would like to point out that for the last four years Rajasthan has been a key focus area for Trimax. We have a team of more than 200 people based in the state. In each district we are having people on board who are engaged in providing e-Governance related services to the people.
Trimax has a good track record in Data Centre space. Tell us about the work that you are doing in this area.
We have set up 31 Data Centres for a leading insurance company in India. We have also been chosen to operate these 31 Data Centres for the next five years. The state of the art Data Centre that we operate and manage for ITI Ltd is located in Bangalore in an area of 1,20,000 sq feet. We have also launched our own Tier III Data Centres in Airoli, Navi Mumbai. Due to our wide ranging experience in building, hosting and co-locating Data Centres, we have bagged the project to establish the State Data Centre in the State of Jammu & Kashmir. We will also be providing the operation and support related services to the SDC in Jammu & Kashmir for the coming five years.
As you are active participant in many e-Governance projects launched by the government, can you provide us your view of the initiatives.
I would say that the various e-Governance projects that are being launched in the country the government and the private sector companies like ours will lead to news systems that can bring lot of benefits to the common citizens. We must not loose sight of the end customer when we are launching e-Governance projects. Public satisfaction is a must. If the public is not satisfied, then the initiative has very little value. The good thing about e-Governance projects that have been launched in the country is that the pubic is responding very positively.
Follow and connect with us on Facebook, Twitter, LinkedIn, Elets video