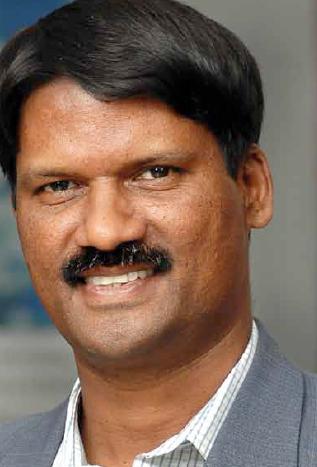 V L Kantha Rao
President & CEO, National e-Governance Division (NeGD),
Department of Electronics & Information Technology (DeitY),
Government of India
"Given the wide spectrum in which NeGD today functions, and the request for kind of support that are being received by us, I visualise NeGD to evolve into a kind of a Think Tank where the blend of public and private sector professionals will help us define and refine our country's vision of e-Governance," says V L Kantha Rao
eGovernance has attained considerable amount of traction during the last few years. Please provide us with an overview of the work that NeGD is doing in the area of e-Governance.
The National e-Governance Division (NeGD) has been formed to support the Department of Electronics & Information Technology (DeitY) in programme management of the National e-Governance Plan (NeGP). NeGD also performs the role of the Secretariat to the Apex Committee on NeGP. Specifically, NeGD provides support to DeitY in the areas of programme management, technology management, capacity building, citizen engagement, evaluation of projects, etc. As part of the capacity building for NeGP, we are directly responsible for staffing and training of the State e-Mission Teams (SeMTs). DeitY has entrusted NeGD with the implementation of the World Bank assisted e-Bharat project. In recent times, we have played the role of catalyst and think tank for new and evolving thoughts around the EDS Bill, HR Policy for e-Governance, Citizen Engagement and Social Media Frameworks, National e-Governance Academy, Mobile Service Delivery Framework etc., on case-to-case and need basis. NeGD has also been extending support to other Ministries on formulation, implementation and various other aspects of their e-governance projects.
The State e-Mission Teams (SeMTs) have been set up in many states and union territories. How effective have the SeMT teams been in furthering the cause of e-Governance in the country?
I believe that SeMTs have played a path breaking role in furthering the cause of e-Governance at state level. It is perhaps the best capacity building support that NeGP has provided to the states. In a recent study of the SeMT initiative, states have overwhelmingly suggested the continuation of the placement of SeMTs. They stated that the presence of these highly qualified personnel has provided the much needed support to the state's IT department and has enabled the states to develop a state-wide, comprehensive and cohesive view of e-Governance projects. SeMTs have been instrumental in extending professional support to track the implementation as well as provide necessary inter-linkages between various e-Governance projects.
Please provide us with an overview of the capacity building work that NeGD is doing in different parts of the country.
NeGD undertakes capacity building at several levels. At the state level, through our implementing agency NISG, we conduct Specialised Training for e-Governance Programme (STeP: http://step.nisg.org/) that is aimed at building basic sensitisation and skills at all levels of governance. Next, we undertake highly specialised programme to develop Chief Information Officers (CIOs). The CIO programme is focussed on building specific skills required to manage large e-governance projects. Finally, we conduct Leadership Meets in states which are directed at the political and bureaucratic leadership to ensure awareness about and support for e-governance programmes at the highest level. In addition, we conduct specific training programmes as needed by the states and the central ministries.
In what ways has NeGD contributed through the creation of core policies and by providing technical assistance, R&D and awareness?
As I stated earlier, NeGD plays a very important role in development of new ideas and does necessary research to enable informed policy formulation. Some of our notable contributions include EDS Bill, Citizen Engagement and Social Media Framework, Mobile Service Delivery Framework, HR Policy for e-Governance, Integrated Public Service Delivery Framework,
RFP Toolkit, Interoperability Standards, etc. For each one of these, NeGD undertook necessary research, coordinated stakeholder consultations and held intensive discussions with states and ministries. All this was done in a time bound manner and I am happy to say that today our outputs are being implemented as policy measures by the government.
NeGD is also providing technical assistance to Central Ministries and State Line Departments. Tell us about the work that you are doing in this vertical.
The mandate of NeGD is to support the DeitY in the implementation of the NeGP. Since NeGP spans across various central ministries and states, we interact and provide necessary support to them in the areas of programme management, capacity building, technology management, etc. We are an integral part of many MMP technical committees such as CCTNS, eBiz, MCA21, etc. We are also playing an important role in formulation of new MMPs such as Education and Health. Given our unique mix of skill sets, ministries and states are increasingly approaching us and we are happy to be of help to them.
e-Governance has seen lot of developments during the last few years. But the expectations of the people from the e-Governance area are also growing. So how do organisations like NeGD keep pace with the expectations of the people?
NeGD is not a project implementation agency, and does not come in direct contact with the public. However, I NeGD is alive to the changing scenario in the field of public service guarantee and citizen charters. Electronic service delivery would increasingly become the medium of service delivery by public authorities and NeGD has a critical role to play in enabling implementing departments in keeping pace with people's expectation through its research, assessment and awareness based activities. Towards this end, various initiatives on which NeGD has worked – EDS Bill, Citizen Engagement Framework, Mobile Service Delivery Framework, etc would be supportive. In addition, we are also working on compiling best initiatives in electronic service delivery and helping in rapid roll out of such methodologies across the states to enabling implementing departments meet the raising expectations of the public in a faster timeframe. We are enhancing our capacity building initiatives to help build sufficient capacities within the government to cope with such rising demands.
Tasks for NeGD Programme Management of NeGP, inter-alia including facilitating and supporting DIT in undertaking the following tasks and responsibilities assigned to DIT under NeGP:
Facilitating implementation of NeGP by various Ministries and State Governments

Providing technical assistance to Central Ministries and State Line Departments

Serving as a secretariat to the Apex Committee

Undertaking technical appraisal of all NeGP projects to examine issues such as overall technology architecture, framework, standards, security policy, service delivery mechanism, sharing of common infrastructure etc.

Human Resource Development, Training and Awareness Building

Framing core policies, technical assistance, R&D, awareness and assessment and creation of organization structure

Acting as a Central Agency for an effective implementation of Capacity Building Scheme inter-alia involving provisioning of manpower at various SeMTs across States/ UTs
Positioning of a Capacity Building Management Cell for effective management of manpower at SeMTs together with management of other Scheme activities including training, setting up HR policies, etc.
In your opinion what are the key successes achieved by NeGD during the last few years. Where would you like to see NeGD in next five years?
In my opinion, NeGD's success is a result of its unique blend of skill sets and therefore our successes too have been in areas as diverse as our human resources. On one hand we helped DeitY draft the EDS Bill and on the other the HR Policy for e-Governance. While one set of experts worked on the Integrated Framework for Service Delivery Framework other drafted the Citizen Engagement and Social Media Frameworks. While one team focussed on looking at integrating Mobiles in Public Service Delivery, another worked on standards for inter-operability framework for e-governance. As the expectations of citizens on public service delivery attain higher standards and as new technologies emerge, e-governance is striving hard to meet these demands. With such an evolving domain, I visualise a greater role for NeGD in the coming years.
What are the strategies and the systems that NeGD uses for conducting the technical appraisal of all NeGP projects?
The appraisal of all projects is done in a holistic manner. Some of the key elements that we look for are – (1) government process reengineering, (2) leveraging of core service delivery infrastructure i.e. SWAN, SDC, CSC etc., inter-linkages with other related MMPs, adherence to e-governance standards, capacity building, change management, awareness and assessment and, most importantly, citizen service delivery and service levels.
Tell us about your vision for e-Governance in the country? Provide us with an overview of the role that NeGD is playing in facilitating the implementation of NeGP objectives by various Ministries and State Governments.
In my view, e-Governance is the future of service delivery to citizens. Citizen Charters and Public Service Guarantees that are being notified by governments can be best achieved by e-governance. In a few years, e-governance would transform the way services are delivered in the country. This larger goal requires tremendous effort on part of government departments. NeGD would play an important role as a promoter of electronic service delivery as well as provide the necessary support.
The field of e-Governance is changing at a fast pace. Tell us about personal views on how you see NeGD developing over the next few years.
Given the wide spectrum in which NeGD today functions, and the request for kind of support that are being received by us, I visualise NeGD to evolve into a kind of a Think Tank where the blend of public and private sector professionals will help us define and refine our country's vision of e-Governance.
Follow and connect with us on Facebook, Twitter, LinkedIn, Elets video