"With an average of 20 kilometres of new roads being built in India every day, improving the country's road transport infrastructure is a key priority for the Government," says Dr Mukesh Aghi, CEO, Steria (India) Ltd
---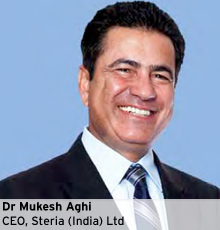 Give us an overview of the role that Steria is playing in the transportation space.
For over 40 years Steria, Europe's leading provider of IT-enabled business services, has been providing technology driven solutions to airports, MRTS systems, city traffic managers and fleet operators. The company's solutions touch the lives of millions in cities like Singapore, London and Paris. From 70 percent of French highways to taxis at Heathrow airport, the company provides ubiquitous solutions. Steria is improving the lives of over 4.5 million Singapore residents and the productivity of the city's businesses through streamlined and customer-friendly bus transport system, smooth traffic management, and an efficient taxi dispatch system.

What kind of services are you planning to provide in India?
As the vehicle population in India grows, local, state and national governments are being overwhelmed with vehicle data and security obligations. Steria and its partner Neology, has developed a unique set of affordable, reliable and highly secure RFID vehicle solutions to meet the needs of governments and corporate fleets. These include: ownership and current registration data that can be stored in RFID windshield tags; non-stop electronic toll payments; Pollution-under-control management systems and traffic flow analysis. Today Steria is helping airports, traffic and fleet managers in India, to bridge the demand-supply gap anytime, anywhere.
The roads in India's urban areas are terribly congested. What kind of solutions is Steria coming up with to deal with urban congestion?

There are a number of solutions that can be used for easing traffic congestion. Steria's intelligent Traffic Expert solution offers the ability to acquire real-time traffic information and to enforce speed control, ramp metering and traffic regulation. Modular and scalable, Traffic Expert supports safer, smoother travel with traffic information and management, in-vehicle telematics services and tunnel control and management solutions. We also design and implement car park management and control systems with Steria Parking Expert providing data in real-time.

Tell us about your Passenger Information systems.
With the right information accessible when and where it is needed, it is possible to keep traffic flowing and provide a smooth passenger journey through airports and cities and across rail networks. With extensive experience in delivering solutions for providing multi-modal transport information (public transport, taxis, private operators), Steria is helping to improve transport efficiency across UK and Europe.
What are the main features of your Manag Airport solution?

Our ManagAirport® solution is a rich information resource. It provides airports with a comprehensive picture of their infrastructure utilisation and acts as a decision support tool, thus enhancing the quality of service to passengers. It is designed to manage resources (runways, conveyors, luggage, etc.) in line with flight plans, provide information for passengers and partners and control the quality of airport services information management. Steria offers an end-to-end portfolio of airport management systems. Steria's solutions have been tested over time at world's leading airports like Charles D'Gaulle, in Paris, and Heathrow in London.
Your SIRIUS system solution for the Ile de France highways network is considered to be the most important road traffic system in France.

Steria's SIRIUS system solution for the Ile de France highways network is the most important road traffic system in France. In a long-term collaboration, the first version of SIRIUS was implemented by Steria in 1989. Today, SIRIUS II is the biggest road traffic management system in Europe. With a return on investment (ROI) of just one year, it is designed to control and improve traffic flow and safety during rush hours. SIRIUS also keeps road users informed on traffic conditions 24 hours a day, 7 days a week. The system incorporates automatic data collection from 6,150 in-pavement electromagnetic loops that pass data for processing and onward distribution via variable message signs, radio or the internet.
Are you developing such solutions for India?
With an average of 20 kilometres of new roads being built in India every day, improving the country's road transport infrastructure is a key priority for the Government. There is already an acceptance of the need for intelligent transport system. We are leveraging secure RFID based solutions to enable faster, smoother and a smarter traffic management system in partnership with Neology to bring about efficiency and reliability in this area – bearing in mind the various needs of the Indian customers.

Tell us about your solutions for traveller security.
With more and more people wanting to travel, safeguarding them on their journeys, whether locally or across borders, is a huge operational challenge. And as the global population grows, there will be increasing pressure on our transport infrastructure. Safeguarding travellers, whether they are driving themselves or through rail, road or airways is critical. Steria provides solutions that address these concerns. Our systems enable better surveillance and control and provide the information needed for effective emergency and crisis management. They include the control and supervision of air traffic, video surveillance for road networks, passenger screening and the regulation and monitoring of heavy goods on roads. We provide user control systems, such as speed radar, access control, ticketing and biometrics systems that can restrict access to authorised personnel or smooth the flow of passengers through busy transport networks. In Germany our infrastructure monitoring solution for air traffic controller Deutsche Flugsicherung (DFS) controls radar sites, air traffic control systems, networks and applications in the airport towers and control centres. In Singapore the Land Transport Authority uses a Steria solution for maintenance and electronic data management to ensure high levels of passenger safety and service.
---
"Steria's SIRIUS solution for Ile de France highways network is the most important road traffic system in France"
---
Parking poses as a huge problem in many of our urban centres. What kind of solutions has Steria developed for these areas?
In case of parking management, we have the Parking Expert, which is an efficient car park management solution covering all operations, from access control to information for town, railway station and airport car-park users, with a high focus on quality and security. The solution gathers car park data in real-time and generates data flows to feed business applications such as ERP, CRM and BI. It includes full-scale integration with existing information systems (towns, stations, airports, etc.) and a complete set of functions (equipment monitoring, equipment control, customer management, billing, user/ operator information). In France, Parking Expert formed the basis of a management and control system developed for seven park-and-ride car parks for the SMTC (Toulouse joint public transport union). This fully digital solution includes features such as Ticket management, Multimedia data processing, and complete equipment supervision from Entry-exit barriers to message broadcasting systems and information dashboards.
Tell us about your solutions for e-ticketing, e-payment and other solutions.
Reducing the environmental impact of travel such as CO² emissions and noise pollution is a key requirement in a sector that is one of the biggest sources of greenhouse gases. Steria is working with a number of clients to help them deliver their strategies for greener, more sustainable transport and promoting green behaviour amongst travellers. Our e-payment and e-ticketing cut the need for paper tickets, making it easier to travel with a single e-ticket for several means of transport. We are also contributing towards the building of greener airports, rail stations and other infrastructures for public use.
What kind of solutions do you have for toll management?
Steria provides efficiency and reliability in electronic tolling solutions, bearing in mind the need for security and high quality, necessary for maximum business benefits. We provide cutting edge, interoperable and scalable solutions for all the e-tolling demands. Our package comes with customised application software, RFID tags, readers, antennas and writer trays. Toll operators can also select a customised package that matches their needs. Steria also provides complete outsourcing capabilities on the e-tolling projects by managing key technology elements such as clearing house integration, reporting, data feeds and a host of other IT applications. Our solutions integrate with inductive loops, barriers, cameras and lane controllers. Some inherent benefits and features of our solution are tamper resistant tags for higher security, read range in all conditions, electronic authentication and ISO 18000 6C compliant amongst others.
Follow and connect with us on Facebook, Twitter, LinkedIn, Elets video