"In an EKO counter, a no frills SBI account can be opened in just 15 to 20 minutes," says Abhishek Sinha, CEO, Eko India Financial Services Ltd, in conversation Nayana Singh

---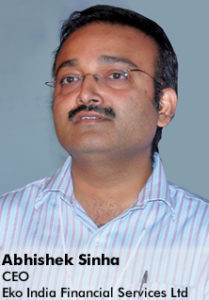 Give us an overview of the range of services that Eko is providing.
Eko is involved in branchless banking. In 2006, RBI came out with a business correspondent regulation, which stipulates that a special agent, who operates from beyond the bank premises, can serve customers on behalf of the bank. Eko has partnered with SBI and ICICI. For providing business corresponding facility to the customers of these two banks, we are taking advantage of many retail shops, cyber cafes, telecom shops, pharmacies and travel agencies. One can walk into these shops, open a bank account, and conduct all kinds of banking transactions. We also offer mobile, DTH and insurance payment services. Eko has  its presence in Delhi, NCR, UP, Bihar, and in Jharkhand. We cater to about 1.5 million  customers. We have transactions of 3 to 4 crores on a daily basis.

Tell us something about the SBI mini savings account.
The SBI mini savings account is a great concept. Normally opening a bank account takes lot   of time. But in an EKO counter, a no frills SBI account can be opened in just 15 to 20      minutes. This type of account has a limitation in terms of the value that can be transacted and the balance that can be maintained. Once this account is created, the customer can walk into any SBI branch and upgrade the account. Thus the bank account will have the same benefits as that of a regular savings account, but the process involved is much simpler. These are interest bearing accounts. The deposit insurance is of up to Rs.100,000.
Please provide us with an overview of your Financial Literacy drive.
Eko does not subscribe to the idea of Financial Literacy. The term 'financial literacy' gives an impression that the customer is a beneficiary, instead of being a real customer. Our  marketing strategy is focussed on communicating a certain value proposition. In case we fail to live up to the promise, the customer comes back to us and protests. We have created a comic that sheds light on our savings bank account products. We also have a user manual explaining how one can open an account at an Eko outlet; how mobile transactions can be carried out. Our marketing is mainly through various street plays, we also distribute leaflets, and we typically find new customers at rural haats, which are the marketplaces.
Tell us about your ideas for reaching out to marginalised sections of the population.
For best results the Financial Inclusion initiatives should be like the telecom networks, which seek to connect every citizen in the country. The mistake that we made in Financial Inclusion was that we stored and housed an account in a particular place that was separate from mainstream banking. Thus, we created small islands of customers. Business  Correspondent is a good model for enhancing the scope of Financial Inclusion. For effective  promotion of Financial Inclusion, we have to have the right infrastructure and right  products. All operations have to be connected with mainstream banking.
How do you see the e-Governance projects that have been launched in India?
The e-Governance projects that have been launched by the government are positive moves as they bring accountability and transparency to the process of governance. The Right to Service is a great framework which has been implemented by various state governments, such as the AP state government. As a citizen, I would love to interact with the government directly, rather than through bureaucrats.

Tell us about your involvement in the devising of e-Governance solutions.
Eko is focused on providing financial services. We undertook a project in Sheikhpura Village   of Bihar with the help of which almost 500 health workers could receive their incentives directly in their bank accounts. They have complete control over their bank account and can walk into any local retail store and withdraw money.
Follow and connect with us on Facebook, Twitter, LinkedIn, Elets video